5 Things I enjoy About the Krannert Art Museum
September 20, 2022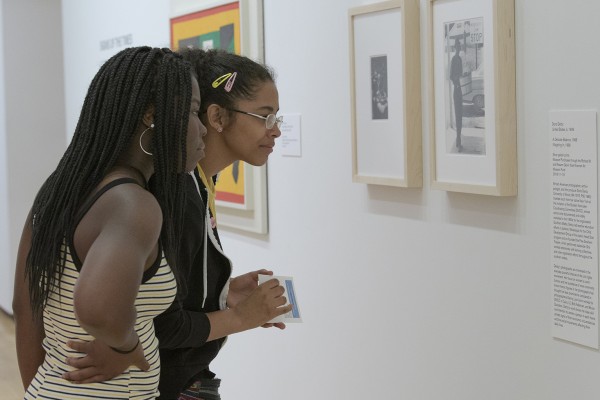 Written by Marcus Flinn, Communications Manager of VCC
The first time I visited the Krannert Art museum (KAM for short), it was back in 2016 and I did not have a greater appreciation of what this place had to offer. As the second largest general fine art museum in the state of Illinois, I had to make another stop in light of National Museum Day on the 17th of September. What I recently discovered went beyond my expectations, so I decided to compile a short list of the 5 things I enjoy about Krannert Art Museum!
Over 11,000 Works to Discover
You heard that right. In total, there is a permanent collection of 11,000 artworks from 4th BCE to the present, dispersed and divided between two main floors. On the main floor, you will find tapestries, masks, paintings and mixed media, sculptures, pottery, and everything in between. On the far-end of the main floor, you'll pass an automatic door where it reveals paintings from the Classical, Baroque, and Tudor period. On the lower floor, you'll find much-older artworks and artifacts—this is my favorite section. Down there, you will find relics from Ancient Greece and Egypt that are thousands of years old! On their website, they have a comprehensive search tool where you can navigate and identify any work of art in the museum.
Accessible to the Public
Krannert strives to be accessible to visitors of all ages and abilities, and does a great job at locating accessible parking as well as providing the locations of automated doors, parking, and public transportation in the building and surrounding areas. Krannert dedicated this page on their website on accessibility. From there, you can find out information on elevators, blind/low vision supports, and more. Furthermore, Disability Resources & Educational Services (DRES) created an accessibility map of Krannert Art Museum. This resource shows the locations of automated doors, parking, and public transportation in our building and the surrounding area. Did I also mention it's free to the public?
Inclusivity is Their Mission
One aspect of KAM's mission is that they are continuously working to provide space for diverse and contemporary artists. In doing so, previously marginalized voices have a platform and are visible and celebrated in the art community. KAM also has a robust collection of artwork from world cultures, past and present, and strives to engage with a diverse range of audiences, from students, faculty, and local and broader communities to inspire knowledge and conversation. "Black on Black on Black" is the next exhibition slated for September 24th through December 10th. According to the commentary on its Krannert Art Museum website page, this significant initiative marks a "re-visioning of the Faculty Exhibition recognizes the legacy of Black knowledge and production in ways that supports the ongoing efforts by the School of Art & Design, Krannert Art Museum, College of Fine and Applied Arts, and the University of Illinois Urbana-Champaign towards addressing and celebrating our unique diversity, equity, and inclusion."
Staff is Knowledgeable and Friendly
When entering Krannert, you'll discover staff walking every corner ready to answer any questions you have about the works displayed. This is a resource I greatly appreciate as it adds another layer to the museum experience. While I was on the lower floor, a staff member walked me through the Ancient Greece section and educated me on the tools they used while making pottery! The staff at the front desk can also provide helpful information for your visit. No matter if you're a first-timer or a frequent visitor, pick their brains—they are there to help!
It is a Hub for Education, Events and Performances
The beauty of art is that it intersects with many other mediums; poetry, art talks, lectures, spoken word, and an array of musical concerts populate KAM's event calendar all-year-round, and is a wonderful extension of what the museum has to offer. You can also expect a couple of special exhibitions that run in for a few months before they're rotated out. Right now, you can enjoy "Fake News & Lying Pictures: Political Prints in the Dutch Republic" until December 17th. For school tours and field trips, KAM is offering virtual tours which you can check out here.
Closing Thoughts
Krannert isn't just a museum, it's an opportunity for knowledge and a greater understanding of various cultures, past and present. It's a place to come together—to facilitate education and conversations beyond the artwork. The next time you're looking for something to do, I highly recommend visiting the Krannert Art Museum. Have you been to KAM lately? What did you enjoy about it? Let us know on Facebook, Twitter, TikTok, and Instagram!