Support Local During COVID-19: Urbana's Market at the Square
May 1, 2020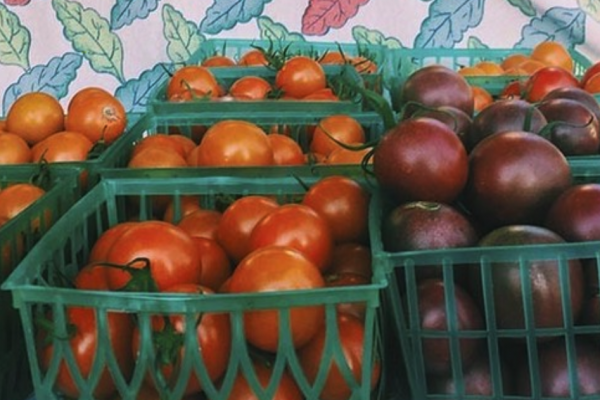 In the greater Champaign County area, local businesses aren't just businesses. Our neighbors, family, and friends are all working to keep things as normal as possible amidst the COVID-19 precautions as outlined by the Governor of Illinois and the Champaign-Urbana Public Health Department. These challenging times serve as a reminder to residents in the greater Champaign County area just how wonderful our local businesses, restaurants, and community truly is. If there's ever a time to embrace #OutsideofOrdinary, it's now.
Urbana's Market at the square
Farmers Market season is one of the most exciting times in our area. With great markets all across the greater Champaign County area, there are several ways to access fresh, locally-grown food. With COVID-19 changing the way we shop, new guidelines are going to help everyone stay safe while enjoying these essential markets.
Urbana's Market at the Square is the first market to kick off this season, starting May 2.Urbana's Market at the Square, The Champaign Farmers Market, and UBA's Market in the Square have put together guidelines in collaboration with the Champaign-Urbana Public Health District for the safe operation of the markets in 2020.
Shoppers excited to visit the market should review all guidelines in place for operation. Shopper specific guidelines include:
1) Stay at home if you are feeling unwell
2) Follow CDC guidelines by wearing masks and practicing proper hygiene. *For the health and safety of our vendors, patrons, and staff, if you are not wearing a mask you will not be permitted into Urbana's Market at the Square
3) Avoid touching your eyes, nose, and mouth
4) Do not touch any product that hasn't been purchased and bagged by the vendor
5) Do not consume food on-site
6) Maintain the required 6ft. distance between other shoppers, vendors, and volunteers
7) Wash hands upon entering and exiting the market
8) Be ready to order when it is your turn
9) Limit attendance to one member of the household
10) When possible pay with credit or debit card, and SNAP. *In an effort to keep shoppers and vendors safe, vendors may opt not to provide change for cash payments*
11) If using reusable bags you must place the purchased products inside the bag yourself, wash/sanitize bags at home after every use
12) Wash all products thoroughly before use or cooking
If you plan on visiting and shopping at Urbana's Market at the Square, please take the time to review all precautions and guidelines for the market.
It's up to all of us to ensure a safe and healthy market experience.
Follow Urbana's Market at the Square on Facebook, Twitter, and Instagram. Visit their website here.
HOW TO SUPPORT LOCAL BUSINESS DURING THE CORONAVIRUS
As we see a reduction in business to our area, we continue to encourage the support of our local businesses and the hospitality industry. As of Sunday, March 15, it is state-mandated that bars & restaurants close. Please note that carry-out and curbside pick-up options are available. As of May 1, new rules apply via a stay-at-home extension with looser guidelines for curbside operation and outdoor recreation. We are collecting information on these options and posting them here, but also encourage patrons to follow their favorite spots on social media for updates or call for more information.
We will continue to post updates on our Business Updates and Cancellations page as we receive them, but encourage everyone to take guidelines from the Illinois Department of Public Health and the CDC seriously.