2022 Boneyard Arts Festival Preview
March 30, 2022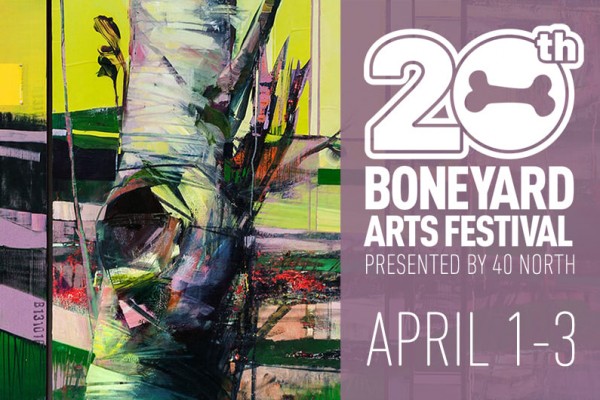 From Terri Reifsteck, Vice President of Marketing & Community Engagement, and big local art supporter
Celebrating 20 years, the Boneyard Arts Festival returns this weekend to Champaign County. Happening April 1–3 in over 70 venues representing over 100 artists, this annual event is like no other arts festival around, and that's a really good thing.
Brought to us by 40 North | 88 West, the Champaign County Arts Council, the Boneyard Arts Festival sets the standard for what it means to be a community. In fact, it exemplifies why Champaign County is a place to live and visit as you see first-hand what collaboration, innovation, and art do to transform a community.
In the months leading up to the festival, artists connect to create extraordinary shows that demonstrate the many disciplines and talents this community has to offer. Local businesses offer up their space and buildings are repurposed to serve as pop-up galleries to provide these artists a home during this one, special weekend. Festival goers have the privilege of discovering it all in three full, and impressive days.
Yet it can feel a little overwhelming if you don't have a plan to tackle the weekend. In a community of this size, it's easy to go from one show to another so you can get a look into the immense, and diverse talent that we so often overlook. I've put together my recommendations on those spots that I'm excited to see that can serve as inspiration for your arts-filled weekend. For a full schedule and description of all venues and artists participating, visit boneyardartsfestival.org. Be sure to check the times as many venues will be open multiple days during the weekend.
FRIDAY
When I clock out on Friday, where's my first stop? Easy, Dixon Graphics featuring Lisa Kesler's giclee prints of her colorful, abstract art. Also, there's tacos. From there, I'll head to 40 Point One, an art gallery located inside Consolidated Communications. This spot will host several talented local artists including Darin Doty, Ben Cohan, Wes Morefield, and Julia Hermosillo. Just down the road, the reGroup Art Collective will host over 25 artists in a 7,000 sq. ft. space. There are too many artists to list here, but let me just say, "Wow." I'm blown away by the potential for this show and I'm pretty sure my credit card is already tired.
Friday is generally my Champaign day, so I'm going to head back downtown where multiple local businesses will feature some incredible artists. Art has the power to educate and transform perspectives, so I love going to see shows that represent the diversity of people that live and work here. Fire Doll Studio will host artist, Olly Greer, who's egg-themed art represents the trans community. From the artist, "There are many ways to cook an egg just as there are many ways to make a body a home." Likewise, the art at Fleurish puts the spotlight on sign language through artist Kris Fisher's work on recycled windows, surfboard, cardboard, tennis shoes, and trucker hats. Pizzeria Antica hosts a Women Artist's Night on Friday only with five female artists alongside live Brazilian music in the upstairs space. New to Boneyard this year is Golden Weather Goods hosting four local, female artists. Make a plan to go back on Sunday to make your own macrame plant hanger with artist, Macy McCall.
I'll also sneak over to get a preview of OHOK Things new studio. Artist Madelyn Witruk painted our Outside of Ordinary mural, designed by David Michael Moore, so I'm excited to see her have space in downtown. Venturing over to the former Merry Ann Diner's space, Suite 107 hosts 10 artists all utilizing different mediums and styles. I loved the use of this space in 2020 so excited to see what this year brings.
Numerous other downtown locations within easy walking distance of each other include The Lair Hair Care & Lounge, The Blind Pig Brewery, and PACA Architectural Salvage Warehouse.
Saturday, I'll be making plans to return to these downtown businesses with live events happening—Pour Brothers, The Literary, Jane Addams Book Shop, and Esquire Lounge.
Before calling it a night, I'll hit up a few spots in Midtown that are all on the same block, making for an easy way to end my day. Gallery 112 is another one of those locations where the artist line-up blows me away. Hosting nine artists, this is a must-stop for me where again, I'm sure my I'll be taking home a bit more than I have space for at home. Next door at Gallery 114, you'll have an immersive experience with video/sound/and photo artist, Peg Shaw, paintings from Joan Stolz, and installation that's sure to impress from Ann Coddington. Across the street, artist Jason Rackow will have textured paintings on display at the Habitat for Humanity ReStore.
Not bad for a Friday night.
SATURDAY
I'll have the full day on Saturday to explore, and it's a good thing as there are SO MANY stops I want to make. Except for my few returns to downtown Champaign, Saturday is my Urbana day.
Starting my morning at Lincoln Square Mall, I can check several spots off my list. BÄM! Boneyard Arts Market is brought to us by Norden German Design Studio who does the popular Little Red Hut and the Mistletoe Market. Two dozen artists will be setup at this pop-up fair with plenty of artisan goods. Go ahead and take all my money. While in Lincoln Square, I'll pop into Made in Urbana that has been delighting us with their 3D printed goods on TikTok. Cloud Mountain Kombucha will have three artists on hand, including Symmetry who uses the by-products of kombucha to create sustainable items. I'll likely pick up one of their refreshing beverages made from locally-sourced ingredients while there. Across the way, International Galleries will host two local artists, Sasha Rubel with paintings and prints, and Tarot Deck by Debbie Stewart.
Before heading into downtown, I'm going to swing by some other interesting Urbana venues, including the stunning Prairie Glass House. Here, the Immaterial Gallery will host seven photographers with varying perspectives that I'm sure will both challenge and impress me. Heading to Urbana Park District's Anita Purves Nature Center, I'm excited to see Lynn Hawkinson Smith's "Save the Birds, Save the Earth" exhibit with 36 illustrations of birds seen in our area throughout the year.
Putting a spotlight on Japanese Culture, the Japan House asked over a dozen artists to re-imagine a Kokeshi Doll, a traditional folk art piece. Seeing a few of these posted on various artists Instagram has me itching to go ogle them through the windows at this campus spot.
Heading back into downtown Urbana, numerous businesses play hosts to artists while two beloved galleries put a spotlight on their collections. Bohemia, who frequently features products from local artisans, while host three artists under the theme of "with love for botanicals and the Earth." This is a great stop with mom during the University of Illinois Mom's Weekend. Across the street, The Gilbert Gallery features over 30 artists of every medium and style. A few doors down, Cinema Gallery hosts 50 Midwest professional artists, but will feature two Taiwanese artists showing their oil on canvas paintings. The Independent Media Center (IMC) will host six artists, from teachers to an 11-year-old. Bring your kids for a dance party outside with DJ CK and Blackmau.
Heading into the evening, there are several downtown spots to check out. At the Boneyard Creek Crossing, you'll find a family-friendly Culture Fest with various activities and live music. Refuel with the food trucks they'll have on hand. The Cohen Building will host an event video art installation, Submerge. Live music will be on hand with video art complimenting the performances. Analog Wine Bar will do a live painting show at 9:00 p.m. with two artists, Clara de la Fuente and Sheila Parinas.
Saturday will be a very full day; I'll be exhausted but energized by the vibrancy found in our area.
SUNDAY
Sunday is the countywide day, where you can find many stops outside of Champaign-Urbana. It's also a great day to go to places that you missed Friday & Saturday.
Saving one of the best stops for the last days, High Cross Studios in Urbana hosts this year's signature artist, Kim Curtis. Her painting selected as the image for the festival brings joy and peace with a harmonious color story.
I'm also intrigued by the offerings at Sagovac Studio. This spot looks to bring some high energy with musical performances and demonstrations. I love the mix of pottery, woodworking, and illustrations/comics.
Hua Nian will open her Urbana studio, showcasing her incredible breadth of work. I have a small piece of hers and would love to add to that collection. Likewise, another local artist and teacher whose artwork adorns my home, Shannon Percoco's nature-inspired work can be found at the Museum of the Grand Prairie, located on the scenic grounds of Lake of the Woods. I've missed this next stop the past few years, so I'm making it a point to head out to Broken Oak Art Gallery & Studio in White Heath. In their country-setting their atmosphere is exactly how I want to spend my Sunday. Ending the weekend, I'll stop at Riggs Beer Company to see glass artists, Jason Mack and Robert Essex doing live glassblowing demonstrations, and may even try my hand at it before I sip on that Hefewiezen.
There are dozens of stops and artists that I didn't cover here that all deserve to be discovered. The beauty of the Boneyard Arts Festival is that you can build your weekend about what speaks to you. Download this handy guide or pick it up at various venues, including Visit Champaign County, break out the highlighter, and make a plan.
This festival is one of the highlights of my year as it truly embodies the spirit of our community and showcases what's possible when collaboration and innovation happen.