The Sounds of C-U
February 28, 2021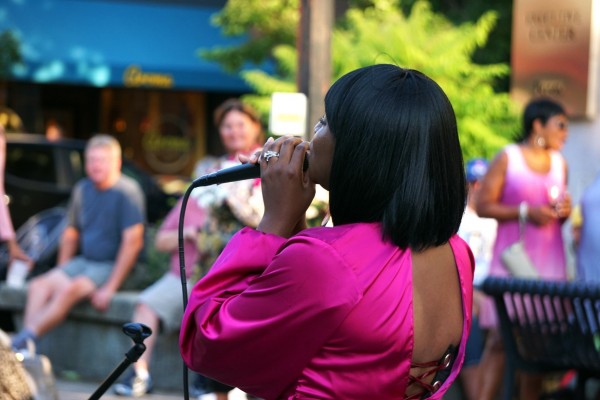 The saying "the music never stopped" reigns true when it comes to the sounds of the greater Champaign County area. The number of influencers that have hailed from our community spans all years and genres, ranging from Alison Krauss to REO Speedwagon to HUM. On any given day you can catch a show, with venues ranging from world-renowned performance centers to intimate dive bars. Just consider this our entertainment bucket list, compiled with the music lover in mind.
Music Festivals & Events
Friday Night Live | Fridays, June 3–August 19, 2022
We're ready to bring back our local musicians to downtown Champaign on our warm summer nights. Find a spot on the many patios at our bars and restaurants, or wander the area to see four locations showcasing everything from rockabilly to big band every Friday night from Memorial Day to Labor Day.
Party with the locals in downtown Urbana during the annual Folk & Roots Festival. Celebrating its 11th year in 2019, this grassroots festival brought together national, regional and local artists for over 80 performances throughout the community, with headliners Dom Flemons, Veretski Pass and Lilli Lewis. Highlighting the vibrant music scene in Urbana, this festival showcases a variety of venues and intimate settings, from hotspots Rose Bowl Tavern, Blackbird and the Sipyard, to the Urbana Free Library and the Community Center for the Arts.
You'll hear everything from Jug Bands to Gospel to Singer-Songwriters and have the chance to take part in workshops, dancing and storytelling for a weekend filled with meeting new friends and creating musical memories.
Pygmalion | September 2022
Reaching 15 years of entertainment in Champaign-Urbana, Pygmalion, a premier indie-rock event held every September, is one of the best music events in the region. The festival features a mixture of curated components: music, literature, comedy, tech, and makers. The festival continues to change over the course of time, incorporating more cultural aspects of the Champaign-Urbana community and alongside some of the best and brightest performers and artists from around the world.
Live Music Hot Spots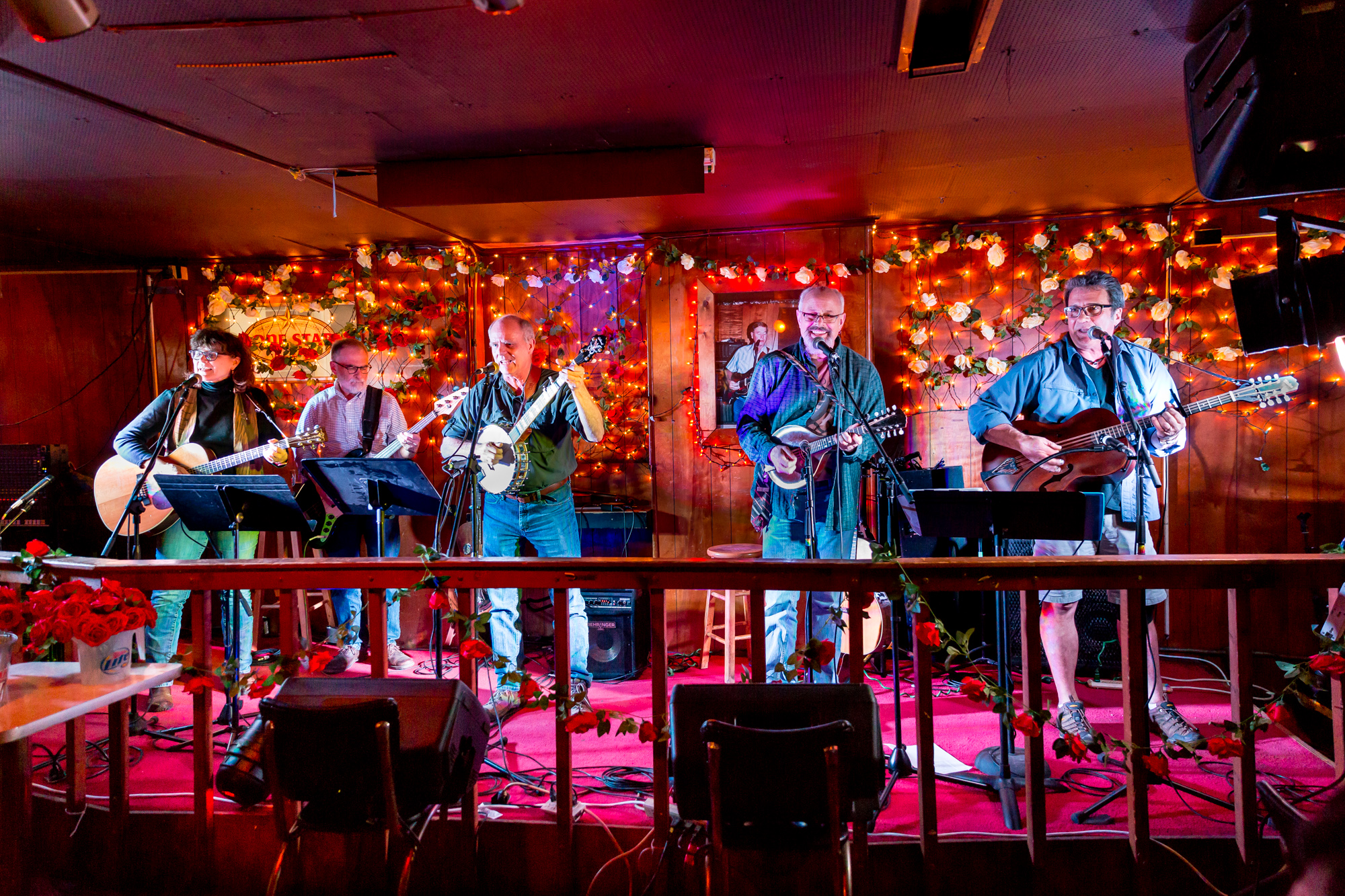 Rose Bowl Tavern—It's the vibe of the Rose Bowl Tavern that keeps people coming back. As the Home of Country Music for decades in Urbana, new owners—musicians Charlie, Marten and Sam—are committed to keeping that legacy alive. While they've featured everything from bluegrass, blues, funk, soul, Americana, klezmer, Cajun, rockabilly, swing, karaoke, and DJ's to alt-country, outlaw-country, honky-tonk, western swing, classic country, and more, one patron stated, "it is The Home of Country Music, but what country?"
Pour Brothers —At this pour by the ounce brewery in downtown Champaign, the owners state, "music is our food—it's what gets people to stay and enjoy themselves." Showcasing the outstanding talent of Central Illinois, you can regularly catch live music inside and outside the historic building. They invite patrons to take a break from the hustle and bustle of life, join up with others in the community at their long, shared tables and connect over their passion for good beer and music.
Neil St. Blues—This new downtown Champaign locale wanted to focus on music to add to the dining experience, bringing good food, good music, and dancing all under one roof. Several nights during the week, and a late-night DJ on the weekends, Neil St. Blues showcases local talent, but also brings in musicians from outside the area. Plan a night out to enjoy their southern, soul food while listening to blues, jazz, and much more.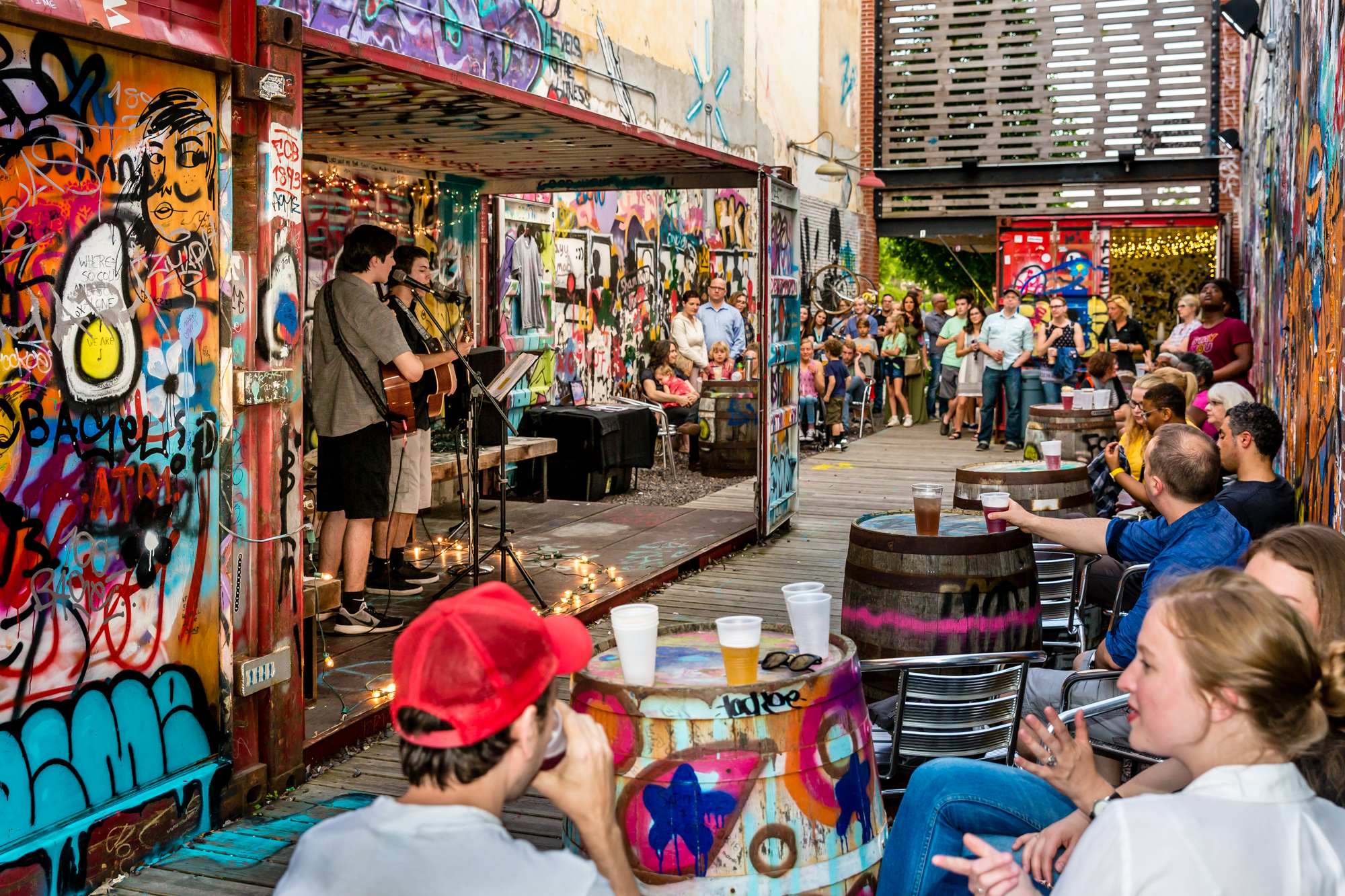 Sipyard—With an ambience unlike anything else, the Sipyard hosts local and regional bands in their shipping crates turned stage throughout the summer months.—ith an ambience unlike anything else, the Sipyard hosts local and regional bands in their shipping crates turned stage throughout the summer months.
The Canopy Club—In the heart of campus, the Canopy Club has been bringing music to students and the community for over 20 years. Showcasing entertainment for all walks of life, you can often find rock, country, hip hop, electronica, jazz, funk, indie, or anything in between throughout the year. Want to try your own hand at music? Check out their Open Mic Night every Monday.

Stage 5 at Krannert Center for the Performing Arts—While this impressive facility hosts the likes of the Chicago Symphony Orchestra and jazz legends like Wynton Marsalis, it's the Stage 5 in the sprawling lobby that brings out intimate crowds. Catch music during their Krannert Uncorked events each Thursday, or jazz, folk, acoustic, and more on the small, but vibrant stage, giving you ample room to dance.
NOLA's Rock Bar—This intimate club brings that spirit of New Orleans to downtown Urbana, with jazz, rock, and bluegrass from local musicians, with weekend showcases of regional bands.
Alto Vineyards—Visit this tasting room featuring their Southern Illinois-grown wine for their Wine Down Wednesdays throughout the summer, where local musicians take the stage while you sip from their outdoor patio.
Ready to plan your music-filled weekend in C-U? Check out our Experience Guide full of ideas for your entire stay.