Top Places to Spend Time with Animals in the Greater Champaign County Area
April 11, 2023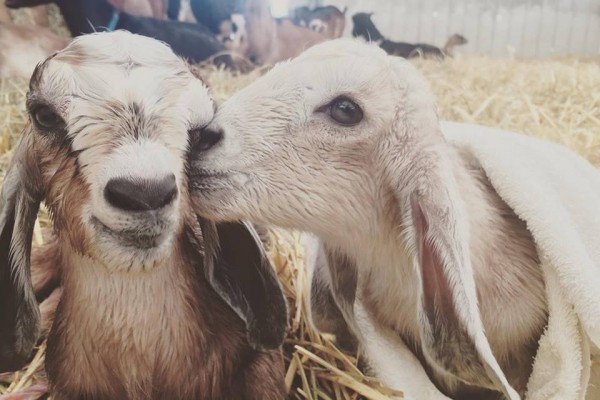 Living in the heart of the Midwest comes with its perks—we naturally gain access to a variety of animals such as chickens, horses & goats, but the greater Champaign County Area has much more to offer when it comes to both wildlife and animals you can come in contact with. From exotic animals like Alaskan Reindeer & zebra to cuddly baby goats, here are some places where you can spend time with animals in the Greater Champaign County area!
Location: 2202 W. Kirby Ave
Open Season: May 29 – August 13
Daily Hours: 1:00 p.m. – 7:00 p.m.
Prairie Farm is a perfect choice for those who want to get up close to animals such as bunnies, goats, sheep, pigs and cows—it's also a popular spot for children! Throughout the summer, Prairie Farm offers programs for kids such as Pee Wee Farmers and Farmhands, where they'll have plenty of contact with animals and learn about their care through hands-on activities. Admission to the farm & petting zoo is free, and be sure to bring closed-toe shoes!
Location: 1505 N. Broadway
Daily Hours: Monday through Friday: 8:00 a.m – 5:00 p.m
Saturdays: 9:00 a.m. – 4:00 p.m.
Bird watching, snake holding, interactive activities, and an accessible path that leads you straight into Busey Woods, the Anita Purves Nature Center is a nature-focused facility and a hidden gem beloved by both nature enthusiasts and animal lovers alike. Children can rummage through buckets of sand digging for fossils, and also learn about various reptiles by reading easy-to-digest infographics. On top of that, you can watch their elusive snakes and turtles in their cages. Perhaps you'll witness a turtle munching on some vegetation!
Homer lake interpretive center
Location: 2573 S Homer Lake Rd
Daily Hours: Tuesday through Friday: 1:00 – 5:00 p.m.
Saturdays: 10:00 a.m. – 4:00 p.m.
Another facility where you can get close with reptiles and other animals would be Homer Lake Interpretive Center. The Homer Lake Wildlife Exhibit allows you to enjoy their aquariums with live turtles, snakes, and frogs. You'll also be able to watch birds and wildlife at the feeders from the comfort of an indoor bench! Group tours are also available, but require a two-week notice. To schedule a guided tour, click here.
Location: 125 N. County RD. 425 E.
Daily Hours: Saturday Only: 10:00 a.m. – 4:00 p.m.
Are you brave enough to come face-to-face with an 11 foot tall camel? Ever dreamed about feeding a zebra out of the palm of your hand? If you have a love for exotic animals, Aikman Wildlife Adventure is your top destination. As the only drive-thru zoo in the state of Illinois, you can get up close and personal to kangaroos, camels, hyenas, zebras, water buffalo, and many more exotic critters. Knowledgeable staff can give guided tours and offer insight on any species you encounter here. You'll also have the opportunity to see and take pictures of animals right out of your vehicle while you drive the 1-mile long path through the park!

Location: 2202 W. Kirby Ave
Open Season: Fall through the Holiday Season
Daily Hours: Monday through Wednesday: 10:00 a.m. – 5:00 p.m.
Yes, we know. And yes, you're reading that correctly. Reindeer do in fact exist, and 4 generations of Alaskan Reindeer are right here in Champaign County! Visitors from all over the state (and country) flock to Hardy's Reindeer Ranch to get a coveted graham crack kiss from these beloved winter mascots. Julie and Mark Hardy, the owners of the ranch, give guided tours regularly throughout their ranch, and don't forget to visit their gift shop once you're done!
Location: 3902 S Duncan Rd
Open Season: July 20 through October 31
Daily Hours: Monday through Saturday: 9:00 a.m. – 6:00 p.m.
Sundays: 11:00 a.m. – 6:00 p.m.
Aside from being a staple for more than 30 varieties of apples, the world's best honey, and those delicious apple doughnuts (we're currently craving some right now)—you can't leave Curtis Orchard without visiting their popular petting zoo! Chickens and goats are the main attraction here, and if you brought your kids, be sure to snap photos of them feeding the animals through their pens!

Location: 4410 N Lincoln Ave
Daily Hours: Saturday: 10:00 a.m. – 12:00 p.m.
Also known for their award-winning goods (two first-place winners in the American Cheese Society 2022 competition), during the springtime, something magical happens: baby goats. The baby goats are the stars of Prairie Fruits Farm & Creamery spring season, and they periodically host events where you can interact with the goats while enjoying brunch and cheese with your friends! To check out their list of events, click here.


Location: 1749A E County Rd 1900 N
Open Season: September 20 through October 31
300 varieties of pumpkins, picturesque fall decorations, out-of-this world Amish baked goods, and... animals? The Great Pumpkin Patch is known for many things, but once you begin to tour the patch, you'll notice some feathered friends along the path. Silkie chickens, roosters, duck, and other various bird species are all housed here and make for great pictures!