Top Places to Experience Nightlife in Champaign
July 13, 2022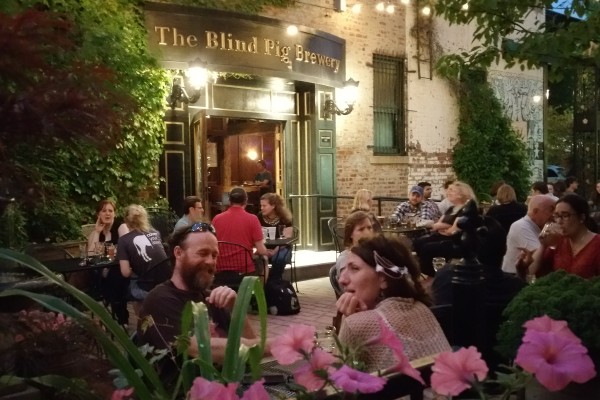 When the fireflies are out and you get that silky touch of evening air, Champaign-Urbana becomes the perfect destination to experience nightlife. From lounging with friends to dancing the night away, live DJ sets to an intimate outing with your significant other—there's bound to be something for you to enjoy in the after hours. Here are the top places to experience nightlife in Champaign Urbana!
The Canopy Club has been Champaign's source of live music, entertainment, and nightlife for over 27 years. Whether you like electronic music, rock, country, hip-hop, jazz, funk, indie or anything in between, the Canopy Club has something for you! For dance lovers: Every Tuesday is EDM Night starting at 8pm! Experience a live DJ Set by Troubleshoota and dance the night away like you're supposed to.
Dimmed lights, comfortable seating, house music, and expertly-crafted cocktails—If you're looking for an upscale bar experience, PUNCH! Bar may be right for you. Conveniently located at the heart of downtown Champaign, this popular destination is actually part of the Hyatt Place hotel. This is a perfect venue for a date night or an intimate outing with your friends! Be sure to try their Summer Sangria—made with Rosé, Fruitful Papaya Liqueur, Fruitful Dragon Fruit Liqueur, Passion Fruit, Pineapple, Honeydew, Goji Berry, Blueberry, and Vanilla.
The Axe Bar in Downtown Champaign seems like an unlikely place to experience nightlife, but on weekends, this venue transforms into a dance floor to make way for Salsa Nights, every Saturday from 10 to 2 pm! Grab your friends (or a stranger!) and dance Bachata all night long!
We can't talk about nightlife in Champaign without highlighting one of the most iconic places to grab a craft beer! The Blind Pig Brewery is arguably the poster-child for late-night meet-ups, with their iconic beer garden, plunging vines and dangling lights overlooking Taylor Street. This beautiful location is popular among locals and tourists alike.
Truly an #outsideofordinary venue, Styx Arcade Bar is located right next to Blind Pig on Walnut Street. When you walk in, you'll be met with groovy neon lights and classic video game motifs such as Super Mario and Sonic. You can chose to sit at one of the lounge areas and play games like Super Mario Bros, Street Fighter, Metroid, among many other classics. You can't experience Styx without grabbing one of their signature cocktails. We recommend trying the Princess Peach!
Sipyard is the only beer garden in central Illinois that operates out of a shipping container, and is arguably one of the most aesthetically pleasing venues for nightlife (and in the daytime!) all throughout Champaign County. Peppered with various graffiti art and vibrant colors, the Sipyard is a hub for art lovers, music lovers, as well as those who enjoy locally craft beer.
Explore Champaign-Urbana to find your favorite destination for nightlife!
There are plenty of destinations and hidden-gems scattered throughout Champaign-Urbana that you can choose from. The beauty of CU is that there is a place for everyone to enjoy. What are your favorite establishments to experience nightlife? Let us know on our socials! Give us a like or follow on Facebook, Twitter, and Instagram!