An Unrivaled Experience
Wondering what makes the greater Champaign-Urbana area brilliant? You'll have to come visit us to see!
It goes beyond the destination, filled with arts and culture, scenic outdoor spaces, local award-winning food and the University of Illinois. With our renowned Midwest Hospitality and our collection of urban and rural experiences, people can't stop talking about our community. Maybe that's why we're the fastest growing city in Illinois.
Home of the Big Ten's University of Illinois, Champaign-Urbana is an ideal choice for regional gatherings. At a fraction of the cost of larger destinations, the Champaign-Urbana area is home to more than 4,500 hotel rooms and over 240,000 sq. ft. of meeting space county-wide. Champaign is as diverse as mid-size towns come. We've got museums, theatres, boutique shopping, nightlife, fine dining and unparalleled attractions.
We'll help you on the path to success, providing the tools to get people to your event and make sure the experience is brilliant! Check out our Meetings & Special Events Planning Guide for more information on our services and available spaces!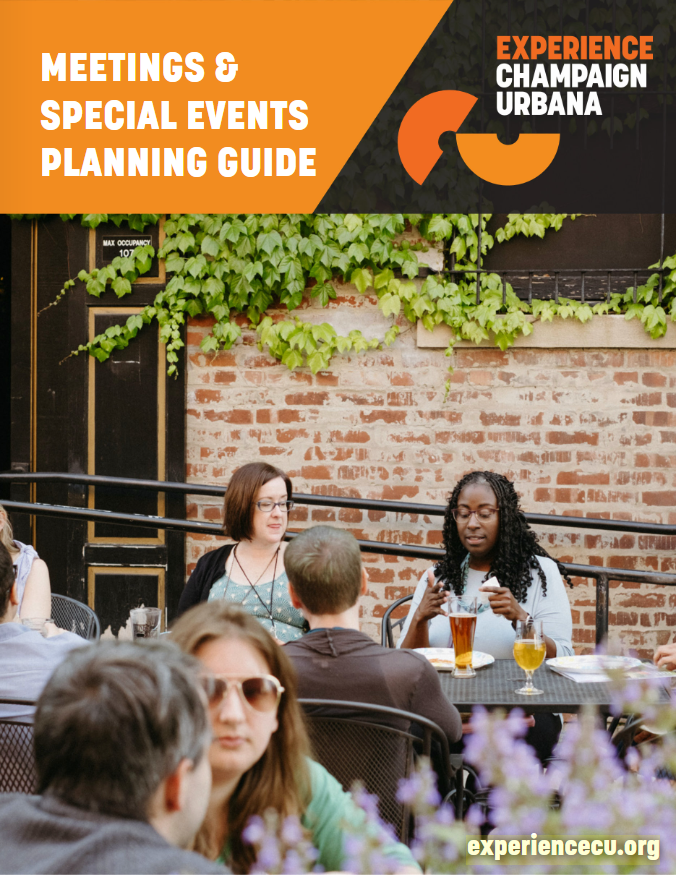 Welcoming Your Group
Experience Champaign-Urbana is happy to work with your event and provide valuable information for your attendees so they can enjoy a positive experience while in the community. We offer numerous services to help you succeed!
Welcome bags (includes 9" x 12" bags, Experience Guides, pens and maps)
Custom landing page on ExperienceCU.org
Room block and site selection assistance
Event welcome signage
Keynote speaker and programming coordination
Welcome table at event with booking and registration assistance
Don't see something on the list that you need? Let us know and we'll see how we can help!
Networking Events & Group Tours
We know you're here to learn, network and engage with your colleagues, but why not do it outside of the venue for a bit? We have plenty of brilliant ways to get out and enjoy our community while you're here for your event.
Team-building attractions
Group activities
Walking tours
Spousal tours
Nightlife and dining options
Bring It Home
Are you a Champaign-Urbana based event planner? Do you live locally but go to conferences and tradeshows for work? Learn how you can become a Champaign-Urbana Champion by bringing these events to our community. Learn how you can make a positive impact on the place you call home through our Bring It Home Program.