Spotlight: Delight Flower Farm
August 1, 2022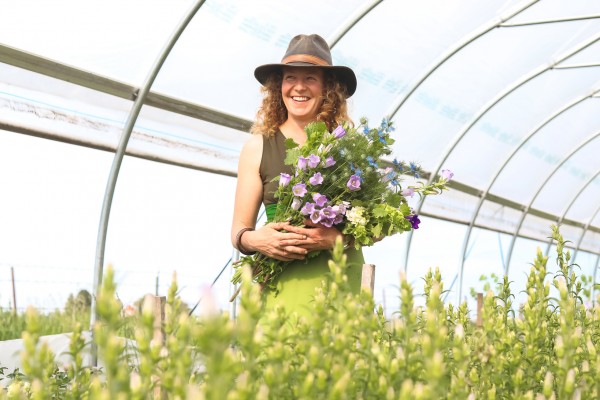 Maggie Taylor was raised by an avid gardener. Her mother put her to work weeding and mulching beds, tasks Maggie is quick to disdain. Yet here we are today, sitting in the shade at Delight Flower Farm on the western edge of Champaign, a women-owned and operated specialty cut flower farm that continues to grow to meet the demands of local customers.

Becoming a flower farmer was not Maggie's original intent. She earned her degree in Library Science at the University of Illinois and was working as an Academic Reference Librarian at Parkland College when she started her own backyard garden. To share the beauty of the flowers grown, she started a CSA—community supported agriculture—and delivered flowers on her bicycle. She decided to enroll in a course with the Land Connection called Farm Beginnings that taught her the basics of starting a farm.

She was compelled to start a flower farm to provide a local source for the Champaign-Urbana market. Maggie shares that 85% of flowers purchased in the United States are internationally sourced, many from South America. At these farms, working conditions are poor; preservatives and pesticides are prevalent. With a product that often reflects powerful emotions, she wanted to provide a product that is equal to the occasion.

She started Delight Flower Farm on leased land at Prairie Fruits Farm and Creamery and was mentored by Harvest Moon Flower Farm, a woman-owned farm in Indiana. Her business quickly grew and she sought out her own property which she found in 2019. The space offers everything she needs to grow specialty cut flowers amongst her team of women that together plant tens of thousands of seeds, bulbs, and tubers each year. These products are not typically used in landscaping but are grown with three traits in mind to be successful—straight, long stems, long-lasting, and beauty.

Maggie's growing process is constantly trying to keep on top of climate change, and she incorporates many sustainable practices to feed the land more than take from it. They rotate crops in beds and use cover crops to bring nutrients back to the soil, and they are a no-till farm with no tractor in sight. Compost comes from the Urbana Landscape Recycling Center, and Maggie often experiments with planting like leaving the Dahlia tubers in the ground at the end of the season. Transparency is so important to Delight Flower Farm, and they welcome feedback from their customers. Maggie uses Instagram to educate her customers on the growing process and about the flowers she grows.

Over the course of a year, they'll raise over 100 varieties such as 10,000 tulips in the spring alongside Snap Dragons, Ranunculus, and Campanula; Zinnias, Sunflowers, Daisies, and Brain Flowers in the summer; and Dahlias, Japanese Heirloom Mums, and Eucalyptus in the fall. Leading up to the holidays, they source evergreen for wreath-making and offer their dried flowers. Their farm also grows hemp allowing them to offer CBD oil and bath bombs, while they also make herbal teas that can be found throughout the year. To make all of this happen, Maggie must do more math than she ever thought she'd have to do, calculating germination rates, how many flowers she needs for each bouquet recipe, in addition to having enough product for CSAs and the Farmers Markets.

Maggie shares that the farm provides her with a "daily relationship with nature, where she is constantly humbled and surprised by what plants and bugs can do." Delight Flower Farm is working to engage with the community on the farm itself through workshops, plant sales, and a farm-stand that is opened seasonally from Thursday–Saturday.

It's the interaction with customers at the market that provides the simple pleasures of giving flowers. "The Farmer's Market is a blast, the sounds people make when the see the flowers, it's joyful which is reflected in our name."

Find Delight Flower Farm at Urbana's Market at the Square, Champaign Farmer's Market, in local shops like Hopscotch Bakery & Market, Common Ground Food Co-op, and area florists. Learn more at delightflowerfarm.com.
Learn more about other local businesses in our new Visitor's Experience Guide here.