Lunar New Year Celebrations at UIUC and Beyond
January 18, 2023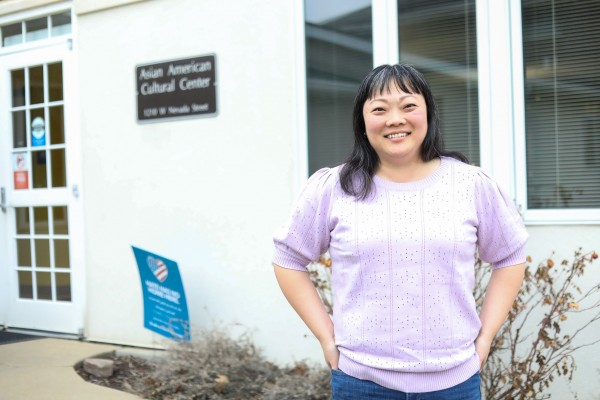 Lunar New Year is the most significant and widely celebrated holiday for many Asian cultures. It marks the beginning of a new year and is associated with a plethora of cultural traditions—family gatherings, symbolic meals, and passing down money envelopes are just the tip of the iceberg. As a matter of fact, each country in Asia celebrates the Lunar New Year in their own special way with overlapping customs.
We sat down with Dr. Sang Lee, Assistant Director of the Asian American Cultural Center (AACC) at the University of Illinois, to get more insight on this important holiday, what it looks like throughout UIUC campus, and what events to look out for during the Lunar New Year festivities.
Pictured: Dr. Sang Lee, Assistant Director of the AACC
The Significance of Lunar New Year and its Traditions
As a whole, Lunar New Year revolves around themes of (and not limited to) good fortune, family togetherness, ancestral worship, new beginnings, and celebratory food. Some of these traditions are widely popularized and others are specific to each country. For example, the color "red" holds significance in China, where families adorn their households with various red decorations. In Korea, the color "red" isn't as important. Instead, they may wear a "hanbok", which is a two-piece outfit traditionally made in cotton or silk to commemorate the new year. In Vietnam, flowers and fruit trees are the centerpiece for their decorations because of the warmer climate.
One common tradition that is carried out in multiple countries is the passing down of money envelopes. "The money envelopes are a very popular tradition. The idea of receiving money is seen as a good start to the new year, giving you good luck and prosperity" Dr. Lee said. Ancestral worship and family reunification are also important elements in many countries—It's often a big travel day where families far and wide will get together. "Having a big celebratory meal is another way that people celebrate, and part of ancestral worship is having your ancestor's favorite foods on the table as a way of inviting them to join in, even though they are no longer with us," she added. Food, in particular, is an important theme and looks different for each country. In Chinese cuisine, eating long noodles represents long life. In Korean traditions, eating a bowl of rice cake soup adds another year to your life. In Vietnam, spring rolls represent gold bars and offer good-luck. Simply put, you are what you eat during this time!
Other notable traditions are getting a haircut before the new year, buying new clothes, and preparing your house by cleaning it; all of these practices represent a fresh start. Dr. Lee stressed that you should never clean your house on the day of the new year, as it can bring bad luck and misfortune. "For many families, sweeping on the day of the new year translates to sweeping away the good luck," she exclaimed.
Fun fact: in Vietnam, the rabbit does not exist in their calendar. Instead, they are celebrating the Year of the Cat!
How Students Celebrate on Campus
For those who stay on campus, dining out with friends is widely popularized during Lunar New Year—many Chinese restaurants in town will be packed with students as they participate in a celebratory meal during Lunar New Year Day, Sunday, the 22nd. The AACC also does its part to ensure students have a place to eat and celebrate. "Each year, we host a themed meal celebration in collaboration with University Housing & Dining…at this event, we put on a cultural celebration. We'll have a lion dance performance, one of our dragons will be set up to take photos with, as well as arts & crafts activities that are free," Dr. Lee said. The Lunar New Year Themed Celebration will commence on Friday, January 20th, from 5:00 to 6:30 p.m. at the Illinois Street Residence Hall (ISR).
Lunar Year Programming Through The Asian American Cultural Center
Aside from The Lunar New Year Themed Celebration dinner, the AACC highlights Lunar New Year through educational displays, mini activity kits (8,000 of them to be exact, all thanks to student volunteers), and collaborations with local Champaign and Urbana elementary schools and libraries. Through this collaboration, the AACC offers a curriculum that teaches local children and families about the cultural significance and history of Lunar New Year. These activities include passing out red envelopes with a gold coin, arts & crafts by learning how to fold a paper animal, and teaching about the various customs in each country. The program serves as an important resource for college students, as it gives them an opportunity to engage with the community and share the wealth of their cultural backgrounds. "Most children know about holidays like Thanksgiving, but they are unaware of Lunar New Year" Dr. Lee stated. The program has been going on for over 14 years now.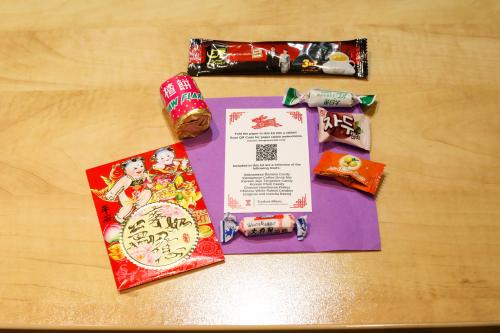 To Those Celebrating Lunar New Year for the First Time…
Although the Lunar New Year is steeped in Asian culture and traditions that span generations, Dr. Lee says the holiday is meant to be welcoming and inclusive to all who want to celebrate. "Seeing the new year as being full of new possibilities is a big part of why people practice these customs…for first timers, we encourage people to come out and check out the cultural activities, and it's great to see our community recognizing Lunar New Year as a significant holiday to certain members of the Asian American Community". Think of Lunar New Year as an extension to how we celebrate the Gregorian New Year—an opportunity to gather with loved ones, eat good food, and commemorate a fresh new start.
Pictured: A mini activity kit from the AACC, featuring a red envelope, candies, a coffee packet, and a DIY kit to fold a paper rabbit.
Before checking out the Lunar New Year Celebration Dinner, you can hang out with the Champaign Public Library and create your very own paper lanterns! This family-friendly event is happening on January 19th from 6:30 to 7:15 p.m. No registration is required and is free to the public.