Spotlight: Plant Mode
February 1, 2023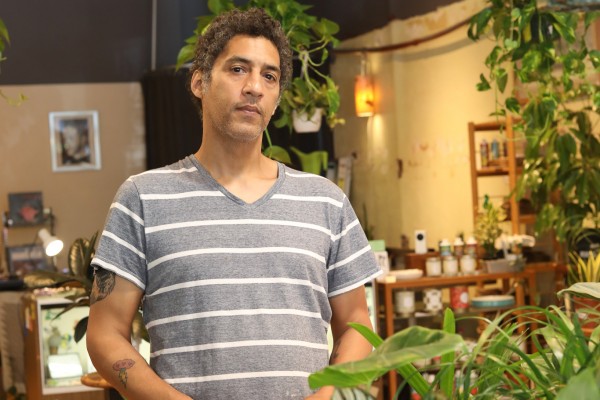 Matthis Helmick is a self-proclaimed "downtown Champaign guy". He was born and raised in Champaign-Urbana and spent many years in the downtown businesses, from starting his career in retail at Dandelion (a beloved thrift shop that recently closed down), to bartending and spinning records (as Beats by Otter) at numerous downtown bars and clubs. If you asked him even a year ago if he would ever have envisioned having his retail shop, Plant Mode, on Walnut St., one of the main roads heading through downtown, he wouldn't have believed it. To understand how he got there, you have to go on a little journey with him.
Matthis starts his story in Chicago where he was working a job that he did not enjoy. During a lunch break, a plant shop caught his interest. The owner was outside, casually holding a Heineken and watering plants. He thought, "this looks a whole lot more enjoyable than my job." He went inside and asked for a job. Unfortunately, they just let go of their seasonal help and encouraged him to come back in the spring. He returned and got the job because he looked like he was strong and could help with landscape projects. At the time, he didn't know a lot about plants but he found the work enjoyable, helping in upscale buildings or historic spaces with rooftop gardens. Within 4 years, Matthis was a manager and was helping customers in his store. He's quick to credit his time at Dandelion where he learned his customer service skills.
His skills were noticed, and he was headhunted to join a high-end floral shop in Hawaii. He flew to the island on three occasions while maintaining his job in Chicago to help out on jobs and determine whether he was going to make the move permanent. After getting injured on his third trip while taking down an event, he determined the move wasn't right for him, but at that point, he'd given his notice in Chicago and had dropped his lease. With no thought of where else to go, the only place that made sense was his hometown.
Back in Champaign, Matthis connected with friends and started a pop-up plant shop out of his downtown apartment off Main St. Plant Mode was born. He started to get noticed during these events and was invited by downtown business, Furniture Lounge, to create a pop-up space during the holidays of 2014. This pop-up turned into five years and helped get him on his path to having his own space. As people waited at the stop light, they'd see plants in the window from the alley behind Furniture Lounge and at first think it was a cool apartment. They'd eventually make their way into the space and discover Plant Mode.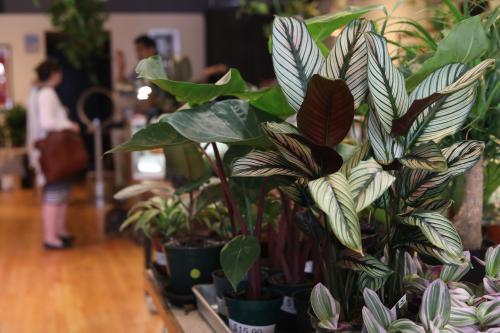 While being in this space offered him a great opportunity to sell his plants, he had to keep to small plants given the size of the space, so he was on the lookout for someplace to grow. While walking his dog to the Boneyard Basin in Midtown, he saw a vacant space that attracted his attention. The neighboring business connected with the owner and in 2019, he opened his own space in Midtown. The location was perfect, connecting him to University of Illinois students who were a large client base. He tells the story of how he's connected what is sometimes an elusive market. While set up at Made Fest, a part of Pygmalion, a student was buying a plant and asked for his Instagram account. "I'm in my late 40's, I don't do that," he quipped. The student explained why it would be a good channel for him and by that night, he downloaded the app. Today, people find him regularly on Instagram and they drive from as far as St. Louis to pick up the unique selection of plants available in-store.
While his Midtown space seemed to be going well, the conditions of the building forced an exit that could have potentially lasted months. Matthis was traveling when he heard the news and thought that this may be the end of his run as a store owner. Never underestimate the collaborations and connections in our community because a fellow local business owner, Carolyn at Farren's Pub, was able to get him connected with a vacant storefront on the busiest block in downtown Champaign. He brought his product over for a six-month stay, but almost immediately he knew he didn't want to leave the spot.
As a Black-owned business, being in that location was a source of pride as Matthis reminisced his time growing up and living in downtown Champaign and seeing a lack of people of color in the area. "This is what I want. I'm going to do what I need to do to make it work."
This want is now a sure thing. Plant mode joins the ranks of more retail in downtown Champaign, and he's seen the benefit as people eating in nearby restaurants discover his spot for the first time. He hopes that being on Walnut St. will give him more chances to share his now vast knowledge of plants, his real-talk customer service, and as the college kids have shared, "his whole vibe" that he has going on.
Discover the vibes of Plant Mode on Instagram at @plant_mode.