Egg-celent Easter-Themed events in Champaign County
March 24, 2023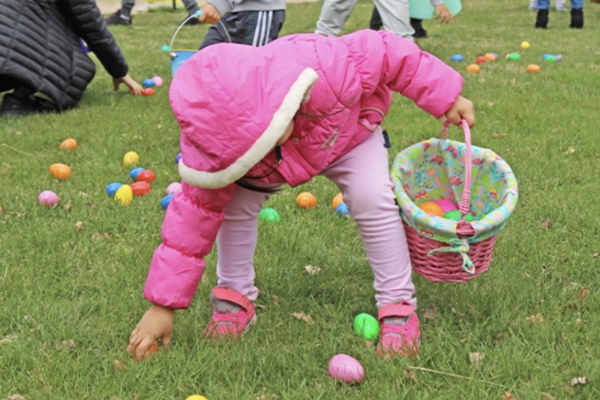 April is already on the horizon and so is the Easter Bunny! As a matter of fact, we had to grab our baskets a little early—the first egg hunting event starts on April 1st, and that's no April Fool's joke!
Whether you're itching to hop into egg-hunting territory or you simply want to see Easter's mascot in person, here are a few Easter-themed events to look forward to in Champaign County!
Happy Egg Hunting!
Where: Douglass Park (512 E. Grove St.)
When: April 1, 12:00 p.m–1:00 p.m.
Kick off the Easter egg hunting season with the Champaign Park District for a good old-fashioned egg hunt at Douglass Park. Don't forget to bring your own basket! The hunt will start for ages 0 to 4 first, with ages 5 to 10 following immediately after the first hunt.
Where: Dodds Park 4 Plex (1302 N. Coler)
When: April 1, 7:15 p.m–8:30 p.m.
Grab your flashlight and your basket for this exciting Easter egg hunt in the dark! Bronze, Silver, and Gold eggs will be hidden around the park with some prize packages inside! Registration is on-site and also includes a $10 fee.
Where: West Side Park (400 W. University Ave)
When: April 8, 10:00 a.m–12:00 p.m.
One of the larger egg hunts this season for children (ages 10 & under), West Side Park will be teeming with Easter Eggs AND free-hayrack rides from 10:00 a.m. to 12:00 p.m (weather permitting). Don't forget to bring your basket!
Where: Alto Vineyards (4210 N. Duncan Rd)
When: April 8, 2:00 p.m–3:30 p.m.
Alto Vineyards is hosting an Adult Easter Egg Hunt with eggs filled with Alto Items and candy! Along with the egg hunting, drink specials will be available as well as gift baskets with prizes! Each participant will get 8 eggs each. For tickets, click here.
Where: Prairie Farm (2202 W. Kirby Ave.)
When: April 9, 12:00 p.m–2:00 p.m.
Celebrate with the Champaign Park District for a special rendition of egg hunting for those with sensory needs! Search for special eggs with lights, sounds, and textures. Treats and social time will follow after the hunt. Be sure to bring your basket! This is also a family-friendly event. Register by April 1st! Click here to sign up.
Other Egg-citing Events
Where: Douglass Community Center (512 E. Grove St.)
When: April 1, 10:30 a.m–11:30 a.m.
Hop on over to the Douglass Community Center to take pictures and receive a sweet treat from the Easter Bunny! This event is free to the public, no registration required.
Where: Grovestone Gourmet Foods & Gifts (1707 W. Kirby Ave.)
When: April 3, 6:30 p.m–8:00 p.m.
Does a CottonTail Martini or a Chocolate Mudslide drink sound enticing to you? Elevate your cocktail game AND decorate some delicious Easter-themed cookies at Grovestone Fourmet Foods & Gifts! Participants will also take 8 decorated Easter cookies home—no baking involved! To register, click here.