It's Time to Boneyard
April 10, 2023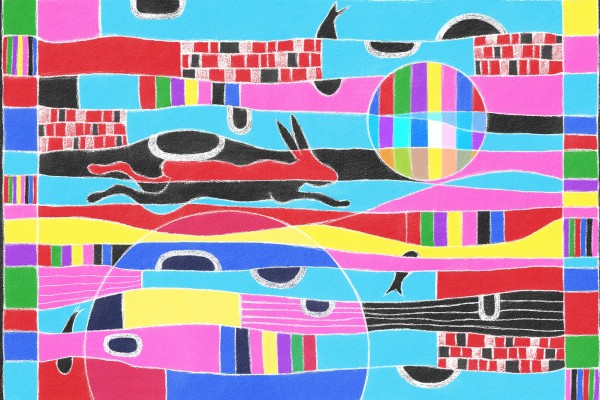 Shared by Terri Reifsteck, Vice President of Marketing & Community Engagement, and collector of local art.
Each spring, we get a big reminder of how vibrant and talented our arts community is in the greater Champaign-Urbana area thanks to the Boneyard Arts Festival. An event like no other, this festival, happening April 14–16, takes place across over 70 venues countywide, showcasing hundreds of local artists. The goal is to create collaboration between artists and showcase the community, allowing us to visit spaces we've never been to and witness the creativity from the many artists that call this area home.
It's an event I spend days planning, as there's so much to see and often not enough time for me to make it to all the stops. This year, I want to share the top spots to visit to understand why this festival is so important to this community and how you can use it as a chance to support local art while also discovering new spaces.
Note: The Boneyard Signature Image, above, is from local artist EKAH. I'm honored to own four of her pieces, all of which bring me so much joy.
ReGroup Art Collective—Held in the former Habitat for Humanity ReStore on University Ave., this space will house over 90 local artists, taking up each floor of the building across 24,000 sq. ft. In a recent conversation with Kelly White, Executive Director of 40 North who coordinates the festival, it's these types of collaborations that make her so proud. This may be the first time an artist is showing their work, and to be included in a space with so many others lifts them up and provides exposure that is sure to inspire future collaboration. The list of artists is long and I can't even begin to pick out some of my favorites, so I'll just summarize and say that I expect to spend a lot of money at this stop.
Boneyard Arts Market (BÄM!)—Held at Lincoln Square Mall, nearly 40 artists and creators will be on hand to sell their one-of-a-kind pieces. From tees to candles, earrings to quilts, pottery to photography, and everything in between, this market is sure to have something that is calling to you. With an early-bird shopping on Friday night, and a full day of shopping on Saturday, you have lots of time to make a stop here. It may be one of my first spots as I know there's going to be something that I must own! While at Lincoln Square on Saturday, catch the Illinois Flamenco Jazz Collective for a performance and workshop, happening from 2:00–4:00 p.m. Additionally, check out the shows and events at the Art Coop, Cloud Mountain Kombucha, Common Ground, and International Galleries, all also located in Lincoln Square.
8 to Create at Link Gallery—Held in the Art & Design Building on the University of Illinois campus, this is a truly unique event to witness. Eight artists will be on hand and have eight hours to create a piece. Past events have left me awestruck by the talent we have in the community and seeing how they take the visions they have in their head and make it a reality for all to see. Be sure to stop by on Saturday to be inspired, then head to Krannert Art Museum to see their latest exhibitions and take part in their selfie contest, Faces of KAM.
Dixon Graphics Screen Printing—Let's face it, we all love a good t-shirt. Dixon Graphics, a major supporter of local art, will feature several designs created by their on-staff artists that you can screen print yourself and take home for free. Yes, free. This is only happening from 11am–3pm on Saturday, so make sure you don't miss it.
Gallery 112, Gallery 114, and The Crow—These three locations are all neighbors on University Ave. making it an easy spot to park and check out all that's available. Afterimage at Gallery 112 features some of my favorite artists, including Patrick Earl Hammie who we recently interviewed on Chambana Proud. I can't wait to see the show and be blown away by what's on display. Next door in Gallery 114, there will be several installations from the likes of Peg Shaw, Ann Coddington, Jo Birdwell, and Joan Stolz. If you aren't familiar with these artists, you will be after you see their work. Finally, The Crow gives local art teachers at Champaign and Urbana High Schools their time to shine. From pottery to photography to mixed media, these artists demonstrate the talent that are teaching future artists in our community.
Urbana Independent Media Center (IMC)—This spot in downtown Urbana will get you a hands-on experience and is a perfect destination to bring the kids. You're encouraged to pick up some spray paint while there and make your mark on their wall display for Transcending the Distance Through Art, a gallery show by the Champaign County Bailout Coalition. Throughout different times of the day, they'll have a DJ on hand for dancing, face-painting, youth stage performances, a pizza party, and an adult stage performance in the evening.
Bad Mule Rag at Surface 51—Fun fact: screenwriter, producer, playwright, actor and creator of the TV series Mike & Molly and head writer for Two and a Half Men, Mark Roberts, is a Champaign County native. He'll be in town to entertain kids and adults as he reads poems from his kids' newspaper, Bad Mule Rag. Videos will play that enhance the readings, and live music will also be on hand. Check out their times on Friday night, and Saturday so you catch these performances.
Walker Works—I continually miss this stop and I'm vowing to make it this year. Walker Works is a rural stop in Fisher where artist Curt Walker will show several sculptures in the works. Additionally, his barn gallery will be open to see the 3D works, paintings, and other pieces made from atypical materials that are sure to make your jaw drop.
Downtown Champaign—When you have a space as robust as downtown Champaign, you can expect to find spots for art throughout. During the weekend, get downtown, grab some coffee, and make your way around the many local businesses participating. You'll catch dozens of artists across many venues including: Blind Pig, Champaign County History Museum, Exile on Main, Fire Doll Studio, Fleurish, Furniture Lounge, Golden Weather Goods, Jane Addams, Ladro Enoteca, the Lincoln Building featuring several stops including Bob Chapman's The Seventy Five Show , OLLI at Illinois, PACA, Pizzeria Antica, Planted, Pour Brothers, Robert's Fine Jewelry, Springer Cultural Center, Suzu's Bakery, The Literary, The Recreation Club, and The Virginia Theatre. That's a lot of art to see!
Downtown Urbana—Similarly, the downtown Urbana district is ripe with opportunity to explore galleries, shops, and get a little wine while you continue to discover the immense talent in the area. Stops include 25 O'Clock Brewery, Analog Wine Bar, Bohemia, Cinema Gallery, Gilbert Gallery, Phillips Recreation Center, Rose Bowl Tavern, the Urbana Free Library, and Tom Brewer Gallery.
There is so much more beyond this top ten list of destinations, from area museums to shops and venues across the county, there is endless art to admire and engage in over the Boneyard Arts Festival weekend. We like to use it as a verb—try it with me, "Let's go Boneyard!"
Plan your weekend at the interactive website, boneyardartsfestival.org, or pick up one of their Quick Guides that can be found in venues across the county, including at our welcome center at 17 E. Taylor in downtown Champaign.
Don't forget to share your haul from the weekend using #boneyard2023! Happy Boneyarding!