BUSINESS SPOTLIGHT: THE HIVE
May 18, 2023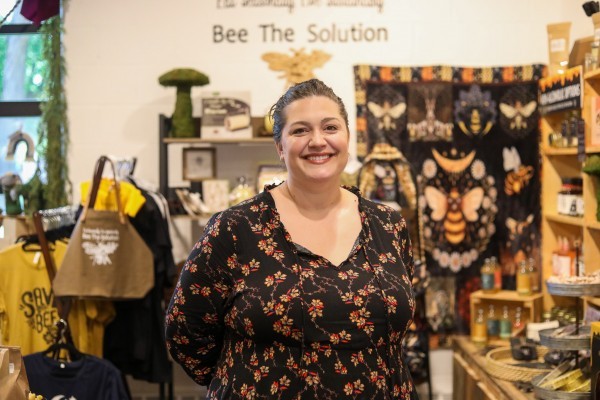 Written by Marcus Flinn, Communications Manager of Experience Champaign-Urbana
When you walk into Sangamon on Main in Mahomet and traverse through the hallway, you'll see a sign on the right that reads "The Hive by Maple Street Garden." Unassumingly, you walk in and take a peek inside. You're met with vibrant colors—swatches of yellow and black mixed with earthy greens on top of wooden display cases. A bombardment of all-things relating to bees greets you: beautifully ornamented beeswax candles, bottles of mead and other tasty concoctions, bee plushies, bubble bath soap in the shape of honey bottles (yes, the bear-looking ones we all had in our pantries as children), and of course, nature's elixir itself—honey. This was my take on seeing the store for the first time, and to say I was excited is an understatement.
Before I picked up each item like a kid in a candy store, I sat down with Jessica Trefzger, proud owner and founder of The Hive by Maple Street Garden, to learn more about The Hive's story and how she fostered a bee-loving, nature-loving community here in Mahomet.
How the Hive Came to Bee
Jessica Trefzger, along with her husband John, are proud beekeepers. They started in 2019 with a couple of hives, and Jessica sold honey and other little wares she created. When 2020 hit, like many others affected by the pandemic, it became life-altering for Jessica. At the time, she was a physical therapist assistant with over 13 years of experience. Unfortunately, she was furloughed from her job with a 3 year old and an 8 month old at home. When Jessica's employer eventually reached out and asked her to come back, she declined due to a severe shortage of daycares and childcare services in the area. It was then where she took the plunge and decided not to come back.
Fortunately for Jessica, she had the financial means to venture into new territory. At first, she started selling honey from their two hives and produce from their garden—this is how Maple Street Garden was born. Jessica stayed persistent for about a year before her honey started to take off. "People wanted more honey, and I was making things with the beeswax like candles, beeswax art, soaps, and other items," she said. Jessica said there was also a bit of healing during this time—she used her craftsmanship as an outlet and used it to pour into her interests. Eventually, everything grew along with their hives, and as of now, they own a total of 20 hives.
It wasn't long until she signed a lease with Sangamon on Main, and the rest is history.

From Jars of Honey to a Full Inventory
The Hive by Maple Street Garden's inventory is a combination of handmade items Jessica makes and sells, honey from other beekeepers around the world, and other local vendors that create items specifically for her shop (mostly bee-themed). Jessica is proud of the relationships she's made with her network of beekeepers, and has gotten wholesale accounts with them. "I have a whole selection [of honey] from the Patagonia Rainforest, Hawaii, Great Britain, New Zealand, just all kinds of honeys… of course I love to promote our local honey and my own honey, but there is so much to be experienced from all over the world. The honey tastes different, and there's high-end benefits you can get from certain specific flowers. I want to be able to offer all of it" she proudly exclaimed.
The Hive also has a whole green-craft section, where its earthy influence can be felt from every square foot of her shop. Having a connection with the Earth is super important to Jessica, and only adds to the charm of the store. It is here where you can build crafts like your own fairy garden or other whimsical trinkets. She also hosts workshops from time-to-time!
Buzzing Ahead Into the Future
What's next for Jessica and The Hive by Maple Street Garden? She'll be moving into another building in Mahomet (spring, summer of next year) with more space for workshops, retail, and other exciting things I dare not say out loud. "I have this endless well of ideas that I just keep wanting to provide for everybody" she teased. Although the anticipation is killing me, rest assured that Jessica will continue to provide an excellent shopping experience for bee-lovers, nature-lovers, and everyone in between.
If you would like a visual tour of her shop, check out our Instagram where we spotlighted The Hive for World Bee Day!