Spotlight: Uniting Pride with Nicole Frydman
June 30, 2023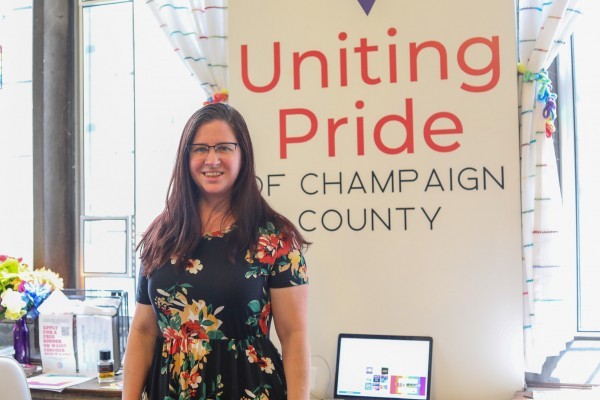 Written by Marcus Flinn, Communications Manager of Experience Champaign-Urbana
There are only three existing LGBTQ+ organizations in Illinois outside of the Chicago area: the Coalition of Rainbow Alliances in Springfield, the Rainbow Cafe in Carbondale, and then there's Uniting Pride of Champaign County—nestled inside the YMCA at the heart of the University of Illinois. As a tiny non-profit organization that advocates for the equality, wellness, and needs of the LGBTQ+ community, Uniting Pride covers a massive spectrum of resources and programming for those in need, from educational workshops, local advocacy, and much, much more. I sat down with Nicole Frydman, Director of Operations, to learn more about Uniting Pride's history, programming, and her role in helping sustain such an important organization in our community at large.
THE BEGINNINGS
Uniting Pride (also known as the UP Center) was founded in 2009 by four community volunteers with its center point being a local Pride program. The success of the first Pride program highlighted how much support was needed in the Queer community, so it quickly transformed into a year-round nonprofit organization. Throughout the years, they have been active in the community through support and local groups, community-building events, educational workshops, local advocacy, and other programs.
NICOLE'S STORY AND INVOLVEMENT WITH UNITING PRIDE
When Covid-19 hit, the UP Center gained an integral volunteer who would eventually become the first person to serve in the new staff leadership position—Nicole Frydman. Nicole was involved in volunteering since she was a child—her mother was a teacher, belonged to a teacher's union, and even took Nicole to protests. In Junior High, she would take field trips to provide services at a homeless shelter (affectionately called "Kids Who Care," although she thought she didn't do enough work), and volunteered throughout college. If she wasn't directly working with nonprofits, she was volunteering, fundraising, or involved in organization work. Covid-19 hit particularly hard for Nicole, so she moved from Chicago to Champaign to help her family, which had given her a new sense of purpose. She came across a post from Smile Politely—a call for volunteers in 2020's virtual Pride Fest, and the rest is history. Over time, Nicole continued to volunteer at Uniting Pride until this new position opened in 2021, and she applied.
Fast forward to 2023, and Nicole has two other paid staff members that work beside her—Joshua Gavel, their Operations Manager, and Aiden Novinska, their Operations Coordinator. Together, along with Uniting Pride's Executive Board Members & Members at Large, seek to expand United Pride by putting the needs of the community first.
UNITING PRIDE'S PROGRAMMING & RESOURCES
Since day one, Uniting Pride has always been community and volunteer driven. This means that every program—whether it's a social gathering or a community event, is a direct response to what the community wants and what they want to show up for. Below are just a few of the resources Uniting Pride offers to the public:
Typically held around mid-May at the University YMCA, Queer Prom is a time when students between the ages of 13–18 can celebrate the night away with dressing up, dancing, and fun! Although Queer Prom has since passed, you can check out this year's photos here.
?Uniting Pride facilitates a variety of support and social groups to meet the needs of our local LGBTQ+ community. These groups are volunteer-run, free of charge, and intend to provide safe, open spaces for individuals to discuss anything from current events to emotional stressors, and much more. These support groups include spaces for youth, adults, parents, Trans individuals, elder LGBTQ+ individuals, and even a Discord server where you can connect with others virtually.
Their food pantry is a new resource and is an alternative for those seeking an alternative food pantry that isn't run by faith-driven communities. They primarily stock non-perishable snack food and canned food. The UP Center also doesn't require information about your income, and is open to anyone experiencing food insecurity. The pantry is open from 11:00 a.m–3:00 p.m, Monday through Friday, and by appointment.
UP & Away offers free binders and waist cinchers for residents of Champaign County who want them but are not able to afford them, or who are not able to safely purchase them on their own. To apply for a free item with their program, you must have an email address for a staff member to contact you. The UP Center also provides free sizing consultations for anyone who wants help preparing to purchase a binder or waist cincher on their own.
With the UP Center facilitating the second largest Pride Celebration in the state of Illinois, this event doesn't need much of an introduction, and is one of our most highly anticipated events of the year. Dozens of businesses and organizations will don their vehicles with balloons, confetti, paint, props—just about anything you can think of, with vendors, food, kids' activities, music, and more. Pride Fest has grown into a week-long affair and look for more information to come as programming continues to be solidified. Highlights included the Queer Homecoming Dance on Fri, Sept 29th, the Parade and Fair on Sat, September 30th, and a Drag Extravaganza on Sat night starring Lala Ri from RuPaul's Drag Race.
UP and Beyond: Its Current Status and Goals of the Organization
When you look through a lens and compare where the UP Center was 14 years ago where it is now, one can't help but smile. According to Nicole, the UP Center having four full-time paid staff is a huge feat, and is a direct result of the financial support from the community. There are programs, resources, and more social and support groups now than ever before. Over time, our community has become more inclusive, especially around gender-diversity—our understanding of it has grown and changed, so naturally—UP Center's programming continues to adapt to accommodate societal changes and needs.
On top of making sure the programming results in people feeling safe and affirmed, Nicole stresses the importance of partnerships—whether with mental health organizations or local businesses to expand programming and resources. Having these partnerships are necessary to push the UP Center towards growth and other future endeavors. Another goal is to expand how they can help in the community. Recently, there is a need to have more places where members of the LGBTQ+ community can socialize and gather safely. Although we continue to mourn the loss of Chester Street, Champaign-Urbana's premier Queer space at the time, the UP Center is expanding social engagement outside of the bar scene and into our many Queer-friendly local businesses (like the Rose Bowl Tavern, Urbana Free Library, Cafe & Co, or the Phillips Recreation Center just to name a few). These meet-ups have since expanded into weekly dance classes, playing games at coffee shops, youth and family-focused programming, and anything else the community may desire.
In Conclusion
Like many other nonprofit organizations, there is always work to be done. Whether it's in the form of volunteering, one-off needs, tabling, or resources for those in need, the UP Center is pivotal in making sure the LGBTQ+ community is protected and rightfully represented. When asked if Nicole ever saw this for herself, she claimed she didn't plan for this journey, nor intend to stay in Champaign—but here she is! We are thankful for her work and United Pride's diligence in making a better place for the Queer community—not just in Champaign-Urbana, but our community at large.
For more information on the UP Center, you can visit their website here, email them (info@unitedpride.org), or visit them at University YMCA, 1001 South Wright Street, Champaign, IL, 61820.