Top Restaurants to try for Hispanic Heritage Month 2023
September 4, 2023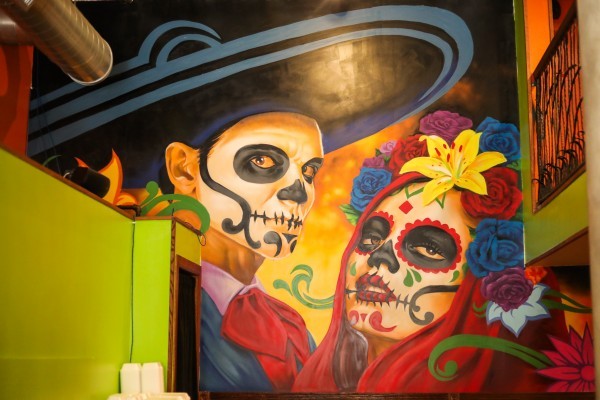 Hispanic Heritage Month takes place September 15 to October 15 every year, and serves as a time to recognize and celebrate the many contributions, diverse cultures, and extensive histories of the American Latino community. Food is a major component in Hispanic culture, as it helps identify the importance of family and togetherness.
As the Greatest Midwestern Food Town, it's safe to say we're home to a variety of Hispanic and Latin restaurants, each with their own flavor, specialties and vibrant ambiances. In honor of Hispanic Heritage Month, we've compiled a short list of the top restaurants you should try throughout September and October!
Adorned with breathtaking murals done by local artists Lisa Kesler and Carlos Vazquez, Encanto Restaurant and Bar is downtown Urbana's latest gem and specializes in Mexican and Peruvian cuisine. Their menu is nothing short of options, which serves an array of appetizers, fajitas, burritos, quesadillas, tortas, tacos, burgers, nachos, soups, and salads. The new restaurant's menu also has a vegetarian section, ten different kids meals, 15 lunch specials, and 12 margaritas plus beer, cocktails, and dessert! There's plenty of available seating, with an upstairs and downstairs, plus dining in the alley if weather permits. Encanto is open seven days a week from 11:00 a.m. to 2:00 a.m, with their kitchen closing at 1:30 a.m. Fridays and Saturdays, and at midnight Sunday through Thursday.
La Bahia Grill specializes in Nayarit-style seafood and spins a unique take on Mexican cuisine. There's a special for each day of the week, from Margarita Mondays (any 12 oz. Margarita for $3.50), to Taco Tuesdays where you can order traditional-style tacos with any meat for $2.50. Some of their popular dishes include Carnitas, a version of pulled pork dressed with Mexican spices, or their Aguachiles—shrimp cooked in lime juice with spicy salsa and onion. Aside from the amazing food, you will be met with friendly-attentive staff and a breathtaking mural of Frida Kahlo adorned in colorful flowers. If you're lucky to get a table in front of Ms. Kahlo, we recommend taking a picture, as this is a popular selfie spot!

Pictured: La Bahia Grill
El Oasis is one of Urbana's hidden gems as they serve some of the best soft-serve ice cream in the area. Their impressive list covers all the standard flavors: Vanilla, chocolate, strawberry, plus a few unique ones such as Avocado, Guava, and Tequila-flavored ice cream. Arguably, the most popular flavor among the locals is Sweet Corn—yes, you heard that right, and it's delicious. Try mixing it with a scoop of Avocado or Pecan-flavored ice cream for a flavor combination that'll keep you coming back for more. On top of ice cream, El Oasis serves popsicles, Mexican yogurt, tres leches, Tortas, Elotes, Chiccharro, sandwiches, and many other options.
Whether you're on Campus or in the heart of Downtown, both locals and students are acclimated with Maize Mexican Grill—arguably one of the top spots for authentic Mexican Cuisine. Maize incorporates flavors from Mexico City, Michoacan and the mountains of a little farm in Guerrero Mexico. Their Burrito Pollo (Chicken) and their Quesadillas are popular picks, with their expertly-mixed margaritas and cocktails convincing you for round two. There are two locations: Maize at the Station is located at 100 N Chestnut St, and Maize Mexican Grill is at 60 E Green St.
When you think of the quaint little town of Arcola, Hispanic cuisine might not be the first thing to come to mind, but you will be pleasantly surprised. Arcola, Illinois, is steeped in Mexican culture thanks to the Hispanic immigration of the 1970's, where there were opportunities for employment with broom manufacturing, thus earning the title: The Broomcorn Capital of the World. Panaderia Saldivar, located in the heart of downtown Arcola, is a family-owned small bakery that specializes in a variety of authentic Mexican sweet breads, concha (Mexican pan dulce), as well as your classic bakery items such as cakes, apple fritters, doughnuts, and more.

Pictured: A display of concha at Panaderia Saldivar
It's hard to miss Fiesta Cafe with their plunging ceiling plants and signature pink stucco walls off South 1st. Street. For over 34 years, Fiesta Cafe has been a staple in Champaign, with popular menu items such as their Burritos, Enchiladas, Chimichangas, and over 160 different kinds of Tequila (not that we're counting). Everything is made fresh in-house, from the sauces to the Guacamole, and rumor has it—they have the best Alex Tacos in town. Alex Tacos are a hidden gem not on the menu, but it consists of Pork, cilantro, and grilled onions with green chile sauce on corn tortillas. Outdoor seating is also available, so be sure to bring your friends and loved ones!
If you're looking for tasty food and a vibrant atmosphere, look no further. Located in Tuscola, Illinois, Mi Veracruz Mexican Grill in Tuscola is beautiful as it is tasty—imagery like sombreros, fruits, cactuses, and sunsets and other Hispanic motifs encompass the backs of their booths, chairs and tables. Their Enchiladas Mexicana, Burrito Fajitas and chimichangas will have you coming back for seconds, and don't get us started on their endless variety of margaritas! Throughout the week, Mi Veracruz will have weekly dinner and drink specials, so visit their Facebook Page often to see what they'll have in store!
WHILE YOU'RE AT IT…
You can't celebrate Hispanic Heritage Month without an evening full of Salsa, Bachata, and Cumbia! If you're in the mood for great ambiance to go along with your cuisine, La Bahia Grill frequently hosts Latin Nights on Saturdays (19+ to enter), and the Axe Bar also hosts frequent Latin Night Parties, Saturdays from 10:00 p.m to 2:00 a.m.
What are your favorite restaurants?
We have our top stops, but what are yours? Let us know through our socials on Facebook, Twitter, TikTok, or Instagram!