25 Years of the Wandell Sculpture Garden
October 24, 2022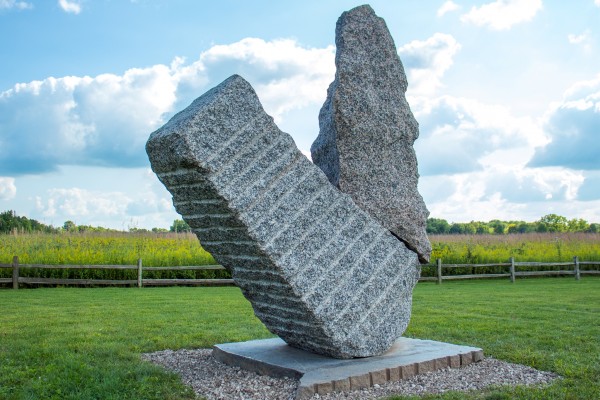 Written by Marcus Flinn, Communications Manager of VCC
If you're a C-U townie, at some point in your life you've explored Meadowbrook Park or at least heard of its existence. It happens to be the first park I discovered when I moved to Urbana back in 2014, and it's still my favorite park to this date. With over 80 acres of recreated prairie, 3 miles of 10' wide multi-use paved paths, a huge wooden playground for kids, and those beautiful scenic views during golden hour, Meadowbrook Park is a hotspot frequented by outdoor enthusiasts almost all-year-round.
One of the most endearing features of Meadowbrook, though, are the wide variety of sculptures peppered along the winding trails and nestled within the tall grass. Beloved by families, photographers, and influencers alike, the Wandell Sculpture Garden is a well-known gem in our community—yet, its background is unknown to those outside of the Park District. What's the story? How did they get here? Just last month, the Chicago Tribune featured the Garden in their Top 10 Enchanting Outdoor Sculpture Parks Within Driving Distance to Chicago, so I had to get the inside scoop.
In commemoration of the 25th Year Anniversary of the Wandell Sculpture Garden, I sat down with Tim Bartlett, the Executive Director of Parks and Recreation at Urbana Park District, and Janet Soesbe, the Community Program Manager at Urbana Park District, to discuss everything from the Garden's history, its vision, and looking back on 25 years of continued success.
Featured Blog Image: "Sherpa" by Harry Gordon– pg 1
"Marker" by Peter Fagan

IT BEGAN OFF THE COATTAILS OF A FAILED SCULPTURE SHOW IN CHICAGO

25 years ago, just when Meadowbrook was finishing its loop path, Navy Pier unleashed a 3-year run of an annual city-wide sculpture show in 1997 until 1999. The show started off strong with plenty of sponsorships (Sears funded it for the 1st couple of years), and Terry Karpowicz, a well-known artist and friend of the Urbana Park District, was the driver for the show. Mr. Karpowicz was one of the 3 curators for Navy Pier, and Robin Hall (the Executive Director of the Urbana Park District at the time), met him when visiting the Navy Pier show to learn about sculpture acquisition, loan agreements and stipends for sculptors. He also helped to get Robin connected with other sculptors in the show. Terry pulled out after the third year due to numerous conflicting differences, and by 1999 the show dissolved. When the annual Navy Pier exhibit closed for good, many of the artists were looking for new venues for their work. Robin Hall invited a number of sculptors to show their work at the new Wandell Sculpture Garden in Urbana. "We got 6 sculptures right away," Tim said. The sculptures were an instant hit with the community and were met with positive acclaim. "The minute the first truck showed up, people were gathering. What's this public art? This is really cool!" Despite all of the issues from Navy Pier, Robin admired certain elements of the show—most notably, how they rotated the sculptures out and added new ones periodically, and how they handled loan agreements and contracts with their artists. Robin saw this as an opportunity and used the show at Navy Pier as the starting foundation for the Wandell Sculpture Garden. Around the same time, Robin also visited other sculpture gardens to learn more about their operations and maintenance of public art.

WSG was dedicated in 1999 as a gift from the Wandell siblings to their parents, Willet and Cecilia Wandell, who owned a local plant nursery and established a trust to give trees to neighboring communities. A generous donation from the Wandell Family and several area businesses made this free sculpture garden possible.
The Garden's Vision and Inspiration
Both Robin and Tim had a similar vision when tackling the Sculpture Garden. The concept was simple: Man plus art plus nature, with the intersection being Meadowbrook Park. "How do we (the community) react with the nature and the art? How does the nature respond to the art and the people? It creates this really interesting mix." Tim said. When working with Robin, Tim took on the role of surveying the art and seeing it in person before taking anything back to Meadowbrook. With years of experience as a landscape architect under his belt, he would consider many different factors such as scale, texture, backdrops, seasonality, lighting, and what the base of the sculpture looks like. Another point to consider was durability—it had to withstand the weather. "We were exploring what media went well (at the time)...For example, we had a large wooden sculpture that weathered poorly outside. So we kind of learned and went with more durable stuff." For inspiration, they looked at other Sculpture Gardens such as Storm King Art Center, NY; Cedarhurst Center, Mt. Vernon, IL; Laumeier Sculpture Park, St. Louis, MO, and leaned towards more naturalistic components instead of an urban look.
Acquiring Sculpture Art
In the beginning, there were no official calls for art. Their method? Years of relationship building with artists and a willingness to travel; many of the sculptures are a drive's length, as it is expensive to bring back large-scale works. Tim would meet these artists, go to their studio, get to know them, and if a piece left the Wandell Sculpture Garden, he would contact them (the artist) and see if they had anything new to replace. "Over time, we had this really wonderful network of artists and referrals. It was like, who do you know? I know someone. They do steelwork or stonework." Because of this continued engagement over the years, Tim and his team were able to get additional pieces into other parks. They aspire to have a major piece of public art in every park in Urbana. The good news? They're close to reaching their goal!
When asked about the types of artwork displayed, Janet and Tim agreed that the focus was on timeless art—nothing dated or controversial. Even now, most of the sculptures you see at Meadowbrook today are abstract and interpretive. "We had a person who wanted to pay for a large-scale piece of Ghandi…it's pretty neat, but it didn't fit that theme," Tim added.
After 36 years working for the Urbana Park District, Robin Hall retired in 2004 and Tim eventually took over the Wandell Sculpture Garden Project.
"After Giverny" by Jon Isherwood

BRIDGING ART AND NATURE WITH MUSIC

The beauty of the Wandell Sculpture Garden is that certain pieces are rotated over time, due to the fact that the Garden does not own every sculpture. One huge benefit to this is the Park's robust programming, which means there's always new art and it gives people a reason to come back. Janet Soesbe is in charge of bringing the community out to explore Meadowbrook and the Sculpture Garden in different ways, and is instrumental in incorporating the art scene throughout the Urbana Park District. The Jazz Walk in particular, is Janet's way of adding an additional element to the Sculpture Garden experience. The event is simple: It's casual walking combined with jazz soloists and small groups stationed along the Meadowbrook trails. Add a beautiful sunset to the mix and you have yourself a magical evening. The Jazz Walk had its 18th annual event last month and has grown in popularity—this year, it garnered over 2500 people! "When Tim was talking about man, art, nature, I was like, music! It's the overlap of all of those," she said.
Recruiting the Next Generation of Artists
When asked if they plan to recruit younger artists, Tim responded optimistically. "We've talked about the future, and a couple things that came up are Bridging the Art Divide and The Great ARTdoors." "Those are temporary installations, but a lot of them are more emerging artists. The media that they're using and the supplies are more accessible," Janet added. Nowadays, it takes a village to bring in newer artists from different parts of the Midwest. "When I travel, I make a point to visit a sculpture garden. I'll take pictures and send it to Tim and say, look at this (piece). Here's a new artist, let's look them up…now I pay more attention to where I can go and see things like this, and learn about newer artists. Are they close enough? Are they from Michigan or Iowa where they won't be so far away?"
Tim emphasizes that it takes a team to do what they do. "We've got everyone fine-tuned with specialties. It started with Robin, he indoctrinated me, Derek Liebert, Superintendent of Planning and Operations, and Keith Ewerks, Construction Supervisor, and Janet is on promotions, events, and is the face of the Urbana Park District. That gives us a presence and a go-to and a contact."
Reflecting on Success
At the end of our sit-down, I had one more question that was burning in the back of my mind: Did they expect the Wandell Sculpture Garden to be as robust and popular to the community (and outside of it) all these years later? To Janet and Tim, the answer is obvious—absolutely. "I knew what our vision was and I knew there was nothing else like that. The other thing we do really well is visioning. I think knowing all the components and how to put it together, and what it needs to support it, we knew how to do that early on." Tim stated.
CELEBRATE WITH THE URBANA PARK DISTRICT
Each month until the end of September 2023, there will be events related to the Wandell Sculpture Garden, from virtual tours, scavenger hunts, and the most recent event: A Camera Club Fall Color Outing on October 29th. For a full list of the yearly schedule, and more information on the Wandell Sculpture Garden, you can click this link here.