2022 Thanksgiving Day Restaurant Openings and Catering Options in Champaign County
November 11, 2022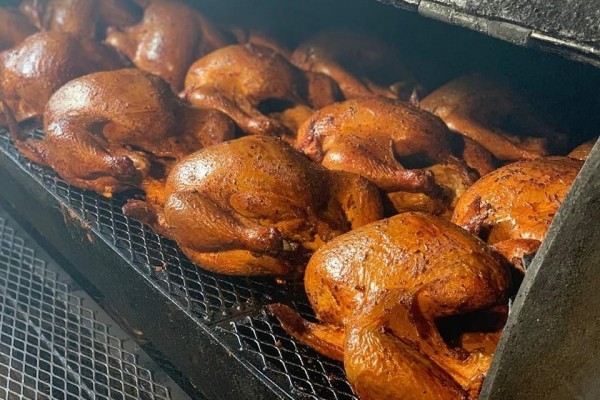 Thanksgiving is a busy day for families, and not just for those who are cooking! Whether you're looking to dine out, order catering for the family, or satisfy that holiday sweet-tooth, here's a guide of places & caterers that you could grab a meal on Thanksgiving!
Due to demands and inventory of various storefronts & restaurants, this list is likely to change and grow. Do you know of a restaurant we are missing? Email our Communications Manager at marcusf@visitchampaigncounty.org so he can add it to the list!
Featured Image: Project 47 Smokehouse
WHAT RESTAURANTS ARE OPEN ON THANKSGIVING DAY IN CHAMPAIGN COUNTY?
If you're looking for a restaurant or bar to visit on Thanksgiving Day, then here's your list of all of the spots to consider in-town!
605 S. Wright St., Champaign | 217-344-1500
Hours Open: 11am-10pm
Baskin Robbins & Dunkin Donuts
2006 W Springfield, Champaign | 217 607-1033
Hours Open: TBD
120 N. Walnut, Champaign | 217-398-1532
Hours Open: 8pm-close
1813 N. Neil St., Champaign | 217-356-1006
Hours Open: 8am-7pm
119 W. Water St., Urbana | 217-367-8175
Hours Open: 10am-2am (Kitchen Will Be Closed)
2101 N. Kenyon Rd., Urbana | 217-344-9087
Hours Open: Check website for hours
702 W. Town Center Blvd., Champaign | 217-359-7044
Hours Open: 24 Hours
1702 W. Bradley Ave., Champaign | 217-398-6900
Hours Open: Opens at 4pm-12am
1803 W. Kirby Ave., Champaign | 217-398-6800
Hours Open: 4pm-12am
803 W. Anthony Dr., Champaign | 217-239-0025
Hours Open: CLOSED
901 W. University Ave., Urbana | 217-344-7520
Hours Open: 7am-12pm
134 W. Church St., Champaign | 217-552-1834
Hours Open: 11am-3pm & 5pm-10pm
Houlihan's (Open to iHotel Guests Only on Thanksgiving)
1900 S. First St., Champaign | 217-819-5005
Hours Open: TBD
401 ½ E. Green St., Champaign | 217-384-5088
Hours Open: 11am-3pm
1510 S. Neil St., Champaign | 217-352-5399
Hours Open: 6am-2pm, open at 6am the next day
301 N. Neil St., Champaign | 217-531-1150
Thanksgiving Buffet: 11:00 a.m.–3:00 p.m.; Reservations strongly recommended
1609 W. Springfield Ave., Champaign | 217-351-1993
Hours Open: Shortened hours, will be open. Call for more info.
741 Broadmeadow Rd., Rantoul | 217-893-0471
Open Hours: 7am-3pm
2702 N. Prospect Ave., Champaign | 217-398-0821
Hours Open: 7am-3pm
1712 W Springfield Ave, Champaign | (217) 352-9911
Hours Open: 5am-6:30pm
102 N Vine St, Urbana, IL 61802 | 217-344-4502
Hours Open: 7am-3pm
403-B N. Race St., Urbana | 217-344-2770
Open Hours: TBD
810 W. Killarney St., Urbana | 217-328-1514
Open Hours: 6am-8pm
PLACES TO GET HEARTY THANKSGIVING MEALS & CATERING IN CHAMPAIGN COUNTY
Whether you're hosting your family, friends, or just the usual suspects around the dinner table, catering for Thanksgiving Day in Champaign County provides numerous options for you and yours!
This list will likely continue to grow and change, so please let us know what we're missing by emailing our Communications Manager at marcusf@visitchampaigncounty.org
PROJECT 47 SMOKEHOUSE

If you're itching for a bit of a smoked Thanksgiving, then be sure to pre-order some Thanksgiving Catering from Project 47 Smokehouse! Options include a fully-cooked turkey slathered with cranberry bbq sauce, beans, mac n cheese, cole slaw, potato salad, and cornbread muffins! Pickup is Thanksgiving Day from 10am-12pm. Call 217-586-3456 or email catering@project47smokehouse.com to reserve your meal today!
BALDAROTTA'S
Thanksgiving Dinner catering at Baldarotta's has become a favorite for many. Click the link for the full menu of available options. When ordering online, please ignore the autogenerated pick up time. Pickups will be on Wednesday, Nov 23rd, from 11am - 7pm. Orders must be placed on Sunday, Nov 20th, at 4pm.
COMMON GROUND FOOD CO-OP
Due to the demand of Triple S Farm Turkeys this year, Common Ground ran out of small, medium, and large birds, but they still have XS birds available, under 12 lbs for 8.49 per pound! Their Deli is also open and provides great choices for Thanksgiving, including vegetarian options!
HARVEST MARKET
Harvest Market's Deli section will provide a variety of Thanksgiving options for you and your family. You can purchase a full-Thanksgiving meal including: A fully-cooked turkey (between 15-20 lbs) with a choice of 3 sides. Side-options can include: green beans, fall veggies, sage dressing, mashed potatoes, cranberry relish and more. Lastly, you can choose a dessert of either pumpkin pie or pumpkin bread pudding. This Thanksgiving meal will cost $120.00 in total.You can also opt to buy a fully-cooked turkey alone, only costing you $49.99.
Harvest Market will be open from 6am-2pm this year, and you must pre-order/pre-pay at the deli section beforehand.
HICKORY RIVER SMOKEHOUSE

A favorite for Texas-style barbeque and smokehouse style cuisine, Hickory River Smokehouse in both Champaign and Urbana are offering Thanksgiving catering. Order by November 18th to secure an order of turkey, mashed potatoes, dressing, green beans, gravy, and rolls. You can also bring home a smoked ham instead of a turkey if you choose!
Hickory River Smokehouse will be closed for normal service on Thanksgiving, however, they will be open for Thanksgiving pick-up orders from 11am-2pm.
OLDE TIME MEAT AND DELI
Olde Time Meat and Deli is a Champaign staple and their turkeys are a favorite for many locals. You can order fresh, Amish, free-range birds for $3.99 per lb, starting on November 18th.
Olde Time Meat and Deli will be closed on Thanksgiving, but will be open the 21st through the 23rd, from 9am-6pm.
PARTY IN A PINCH CATERING
Party in a Pinch Catering is a great choice for homestyle Thanksgiving cooking with a variety options to fit it right to your preference. You can choose from ham or turkey (or even lasagna!) as well as a number of great sides. There are options for ordering Thanksgiving meals for 4, 6, or even more if you call and request personally.
Facebook | Website | #: 217-766-2031
REDWHEEL RESTAURANT
Redwheel Restaurant in Rantoul is ready to house your family, big or small—for Thanksgiving Day! Open from 7am-3pm, they have a back-room for bigger parties, as well as tables up front to push together. Their holiday specials include half ribs and sirloin steak, beer-battered cod, roasted pork and dressing, roasted turkey, pork, and ham for the kids, and so much more. To reserve your spot, you can call them at 217-893-0471. Otherwise, walk-ins are completely welcome!
PIATO CAFÉ
Piato Café is offering options for catering this year that come in four parts. First, choose a bird, with options for turkey or a vegetarian Acorn Stuffed Squash. Then, choose everything from sides to vegetables, as well as a mouthwatering dessert. Because the catering option provides food at a per-person ordering system, everyone can get exactly what they want, which makes for a wonderful Thanksgiving dinner.
It's not all about dinner, however. Desserts at Piato for Thanksgiving are a staple of many who have ordered Turkey Day helpings for years. From spiced sweet potato pies to pumpkin bread pudding, the options at Piato are fit for an autumnal banquet. Call or email to order your meals today - the deadline for orders is November 20th at Noon.
Chain Restaurant Options
BOB EVANS
Bob Evans is a favorite for homestyle cooking year-round, but you can also pre-order Thanksgiving dinner from this comfort restaurant. For more than 30 years, Bob Evans has been perfecting their slow-roasted turkey, so rest assured your Thanksgiving centerpiece is in good hands. You can also opt for a ham and an impressive array of sides that'll make everyone eating think it's homemade. With rolls, cranberry relish, mac and cheese, and more, your dinner table will be as full as your guests!
EINSTEIN BROS BAGELS on University ave
Whether you're looking for breakfast or lunch, Einsteins Bros. on University Ave will have your needs fulfilled! They house a variety of options such as bagel & shmear nosh boxes, breakfast sandwiches like the Farmhouse or the All Nighter, Tasty Turkey Lunch Sandwiches with a choice of chips or fruit cup, Joe-To-Go coffee jugs fit for 10+ people, and so much more. It's always good to order ahead of time, and you can do that here!
DESSERTS
The unsung favorite among families—Thanksgiving desserts! Whether you're craving chocolate, apple crumble, fresh-baked bread, or all of the pies, refer to these lists of businesses to satisfy your holiday sweet-tooth.
This list will likely continue to grow and change, so please let us know what we're missing by emailing our Communications Manager at marcusf@visitchampaigncounty.org
PEKARA BAKERY & BISTRO

Artisan rolls, pies & cakes, pastries, and more await over at Pekara Bakery & Bistro! Their Holiday Pre-Order Page on their website has an image for every menu-item available so you don't have to guess. All holiday items are baked fresh with no preservatives, and you can check out the Central Illinois Bakehouse Bread Care Guide for storage best practices.

The final day for Thanksgiving orders is on November 14th, with pick-ups on November 19th and November 23rd.

Pick-up locations are at their main store at 811 W Springfield Ave in Champaign, the Urbana Indoor Farmer's Market at Lincoln Square, or at Martinelli's Market in Bloomington.
FLESOR'S CANDY
Flesor's Candy will not be open during Thanksgiving, but they do have a wonderful selection of holiday-themed sweets for you and your family to indulge in! Stop on into their store and enjoy chocolate turkeys, caramel apples, chocolate cornucopias, seasonal gummies, and candy basket boxes! Don't worry if you can't make the trip out to Tuscola—they also sell their candies at Harvest Market in Champaign!
CURTIS ORCHARD
Have you ever ordered ahead from Curtis Orchard's bakery? Those apple cider donuts might be the perfect way to kick off Thanksgiving this year, so consider ordering something from their website! Each order needs 24 hours notice, but rules and policies apply to ordering ahead, and may even change for the holiday, so call and make sure you can get your sweets in time! On top of donuts, they also bake a number of pies and cobblers to order, so don't delay!
THE LITERARY BAR
The Literary bar will not be open for Thanksgiving, but all throughout Thanksgiving week, they're providing pumpkin and cranberry-themed holiday pastries, cocktail specials, and a delicious Thanksgiving lunch Sandwich that'll keep you coming back for more.
HOPSCOTCH BAKERY + MARKET
If you've had Hopscotch baked goods, then you know why so many love ordering from them for Thanksgiving. This year's list of Thanksgiving options can be found at their Hopscotch Thanksgiving pre-order website. Favorites including pie, apple crumble, garlic parmesan holiday rolls, and more are back. You can also order challah, sweet potato bread pudding with marshmallows, garlic + herb compound butter, and more to mix things up a bit.