10 Photography Spots to Visit During Spring in Champaign County
March 21, 2023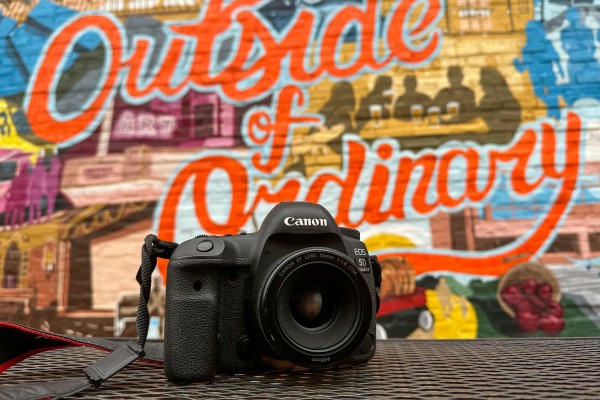 Spring has officially made its debut in Champaign County and we're pretty sure everyone is elated! Soon, the bare branches will be swept with a sea of light green and everything from tulips, daffodils, and prairie wildflowers will be in full bloom. Speaking of, it's the perfect time to whip out your camera and document the spring season, or partake in seasonal photoshoots yourself!
Whether you're looking to participate in family portraits, photograph flora and fauna, or you simply want to elevate your selfie game, here are 10 photography spots to visit during springtime in the greater Champaign County area!
The Cherry Blossoms at Japan House
It goes without a doubt that Japan House would be at the top of our list for one specific reason: Cherry Blossoms. Every year, the 50+ cherry trees surrounding Japan House will be enveloped in thousands of delicate pink flowers that'll make any spring backdrop look spectacular. You don't want to wait too long, though—cherry blossoms are fleeting and will only last from late March until the first week (and some change) of April, so you'll want to secure those photos fast! Don't forget to share your masterpieces by tagging @japanhouseuofi or #japanhouseuofi on Instagram!
Allerton Park
Allerton Park in general is a feast when it comes to beautiful backdrops: The gardens, topiaries, statues, walking trails, and of course—the mansion, all serve as breathtaking backgrounds for any photography occasion. By late April, though, something magical happens—over 52 varieties of Peonies will bloom over the course of 3 months lasting until June. If you prefer a tour of the gardens before you whip out your camera, Allerton Park will offer Third Saturday Garden Tours where you can learn the history of the gardens while enjoying a leisurely stroll through Allerton Park!
Meadowbrook Park
Often referred to as "the most photographed park in all of Champaign-Urbana" by the locals, Meadowbrook Park will never disappoint—especially during late spring! With over nine gardens including the Wandell Sculpture Garden (which celebrates 25 years this year), plus three miles of 10' wide multi-use paved paths, the amount of spring backgrounds for your photographs are almost endless. This is also a great hotspot for various bird species and mammals like chipmunks, groundhogs and deer!
The Sipyard in Urbana
This #OutsideOfOrdinary photography spot doesn't fit the mold of your typical spring backdrop, but it's equally impressive and an instant hit with the younger crowd. Sandwiched in the middle of downtown Urbana, this graffiti garden transforms every other season with new eclectic artwork and vibrant colors at every corner. If you're looking for a backdrop that's more edgy and fashion-forward, the Sipyard is an excellent choice for that springtime selfie!
the Blind Pig Brewery's Beer Garden
Tucked in between our office space and the Blind Pig, the Blind Pig Brewery Beer Garden is one of the most recognizable and iconic spots in downtown Champaign. With its dangling fairy lights, modest outdoor seating, and the beautiful ivy vines that hug the brick walls, the Beer Garden is enchanting, a little whimsical, and captures the essence of Champaign-Urbana well in this springtime backdrop.
the Roger Ebert Statue
Around the time of Ebertfest, (a film festival created by University of Illinois Journalism graduate & Pulitzer Prize-winning film critic, Roger Ebert) his statue right outside the Virginia Theatre is the focal point of several photo-ops from both film-festival goers and locals alike. You can sit next to him on his bench, stand behind him, or capture his essence all alone—if you're in the photo, make sure you give a "thumbs up" like Mr. Ebert himself! For more on Ebertfest and the legacy of Roger Ebert, you can click here.
Prairie Fruits Farms and Creamery
What happens when you pair award-winning cheese with an outdoor experience with adorable goats? A visit to Prairie Fruit Farms and Creamery is what you'll get! Opening on April 1st, visitors can walk around the farm, visit with the goats, and see their cheese-making process through their viewing window (only during the day). The goats are a local favorite and make for great photographic moments with everyone of any age. Perhaps you'll witness some baby goats, too!
immersed in Busey Woods
Located near Crystal Lake Park, Nature-lovers adore this outdoor space for its winding paths and easy-to-navigate trails. One of the most enchanting spots for outdoor photography would be on the walking bridge overlooking the creek of Busey Woods. Try visiting in late spring during golden hour and take a snapshot of the water while standing on the bridge. We promise you won't be disappointed.
The Mabery Gelvin Botanical Garden at Lake of the Woods
The Mabery Gelvin Botanical Garden boasts some of the most beautiful and diverse flora in East Central Illinois, and it all comes alive in late spring. This garden covers over eight acres of land and is a hotspot for wedding photography, landscape photography, macro photography, and much more. You can access the garden through the Museum of the Grand Prairie, which we also recommend visiting when you have the time!
off the waterfront at Lake Shelbyville
With over 50 miles of developed multi-purpose trails, 4 public beaches, and over 1,500 campsites, Lake Shelbyville in Sullivan, Illinois, is a top spot for those itching to capture animals and water fowl on camera. Bobwhite quail, ring-necked pheasants, mourning doves, white-tailed deer, fox and gray squirrel, muskrats, otters, opossums and more frequent Lake Shelbyville in good numbers. You can also rent out a boat and get out into the water for a true immersive experience with mother nature. Be sure to bring your macro lens if you have one!
Happy Photographing!
No matter what the occasion, we believe these 10 spots will give you everything you need for some breathtaking, springtime photos. There are hundreds of other photography spots in the greater Champaign County area worth visiting, so if you decide to go somewhere else, be sure to tag us on your adventure through Facebook, Instagram, TikTok, or Twitter!