My 1st Illini Football Game
August 29, 2022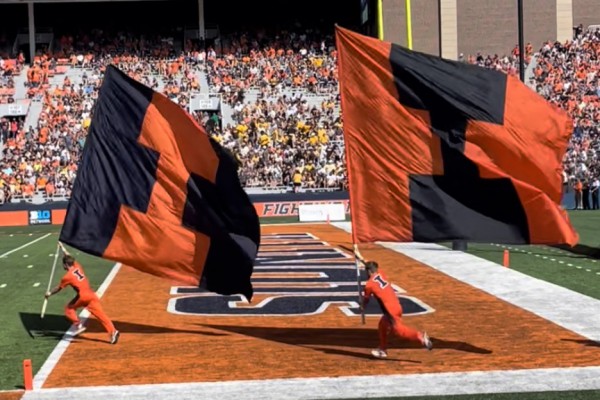 Written by Marcus Flinn, Communications Manager of VCC
I've lived in this community for over 8 years, and not once have I been to an Illini Football Game. I know, I know, I can't believe it myself either! There's a first time for every experience, and I happened upon a pair of tickets for the first game of the season.
If you're a long-term resident of CU and you've never been to a game, or if you're new to town or a new student looking to experience Orange & Blue pride, this blog may be right for you.

The walk over to Memorial Stadium
I parked a quarter mile away from Memorial Stadium, so I had the perfect opportunity to witness everyone tailgate for the 1st game of the season. The game started at 3pm, and I arrived around 2pm. The left side of Kirby Ave was washed in a sea of orange and blue. There were Illini tents stretched out as far as the eye could see with the scent of smoked bbq wafting in the air. People of all ages: young and old, die-hard Illini fans, friends, families, and strangers alike huddled under their tents and anticipated the game to come. The walk lasted about 10 minutes and before I knew it, I was in line to enter the stadium.
Looking to Tailgate? I recommend getting there as early as possible so you're guaranteed a spot for your vehicle and set-up. It's common for families to tailgate as early as 10am, so be sure to bring plenty of food and entertainment before the game starts!
Entering Memorial Stadium
Luckily, I have been to Memorial Stadium a couple times thanks to Christie Clinic's Marathon Weekend, so I had an understanding where my seat was. Unfortunately, it was on the opposite end of the stadium (West Entrance, Section 124, row 11, seat 2), so I walked most of the arena before arriving at my seat. The silver lining? I purchased snacks and got to see where the other food vendors were located!

It's Game Time!
There's nothing quite like it. As soon as I arrived at my spot, I was in awe of the roaring crowd and the orange and blue enveloping the entire stadium. The Illini Marching band was a personal favorite of mine: The horn section blended well and the drumline was clean and in unison the entire time. Cheerleaders dressed in their orange Illini gear hyped up the crowd, and Illini's own ROTC tossed Illini swag into the crowds. It was a great mix of the game, side-line cheer, and music throughout.

TOUCHDOWN!
Not even a minute into the game, we scored our first touchdown against Wyoming! I never felt more electrified as everyone stood up and roared in unison.

We Won the Game!
It's one thing to witness the Illini Football game, but it's another feeling entirely when your team wins their first game of the season! By the end of the game, we scored 38 to 6. Chase Brown was named Big Ten Offensive Player of the Week, rushing for 151 yards and scoring three touchdowns! He went for over 100 yards in the first half alone and surpassed the 2,000 yard mark for his career in the process.


Final Thoughts
You don't have to be a sports-fanatic to enjoy an Illini Football game. It's the togetherness, the energy of the crowd, and the sense of community that had me hooked from the beginning. If you're curious about going to an Illini game, I highly recommend going at least once in your life. It's an experience you'll never forget.

Ready to discover an Illini Football game for yourself? Check out our Calendar of Events to find out when the next game is! Don't forget to give us a like or follow on Facebook, Twitter, and Instagram!