4th of July Celebrations in the Greater Champaign-Urbana Area (2023)
June 22, 2023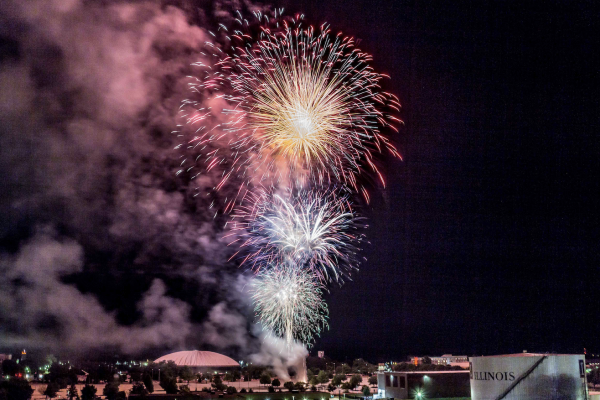 We're already at the point in the year where it's time to break out the sparklers and firecracker popsicles! If you're eager to make plans for the holiday weekend, then there's good news: Fourth of July events in the Champaign County Area start as early as this weekend! Here's your guide to the major celebrations, parades, and fireworks displays taking place this year.
FREEDOM CELEBRATIONS AND FOURTH OF JULY EVENTS IN CHAMPAIGN COUNTY
Here's your guide to the Fourth of July fireworks, parades, and celebrations taking place in Champaign, Urbana, and beyond!
Savoy kicks off the weekend festivities from 3 to 10 p.m. at 1700 + 1800 Woodfield Drive! There will be live music featuring Blues from Kilborn Alley and Twilight Zona, food trucks, a Taekwondo demonstration, and a doughnut-eating contest for adults!
Freedom Fest at Lake of the Woods Forest Preserve in Mahomet is back with music, a tribute to our service men and women, and a spectacular fireworks display lighting up the lake! Admission is $2 per person, with children 5 and under free! Military persons with ID also gets in free.
Come celebrate the Fourth of July in Amish Country! A parade in the afternoon, food, live music, and a huge fireworks celebration will commence over in Eberhardt Park.
An annual fireworks display put on by the Monticello Freedom Fest Committee! Everyone is welcome and the event is free to attend.
Join Homer for their 2nd annual Freedom & Music Festival with back-to-back live bands, food trucks, vendors, family-friendly activities, and a radiant fireworks display on the 4th!
It's a party at Bentley's outside patio! Join in on the fun with music all night long including funk, soul, reggae, dancehall classics, and more. There's no cover to enter and must be 21+ to attend.
The Rantoul 4th of July Firework Show will be at the Rantoul Airport at 9:30 this year! This event is free to attend and everyone is welcome.
The town of Paxton is celebrating the 4th of July all day long, with a 5k walk/run, car show, music under the pavilion, bingo, food vendors, and a fireworks show closing off the holiday!
Bring a picnic blanket, hotdogs, burgers, and more grilling goods! Alto Vineyards will have a grill onsite for July 4th, and don't forget to make room for slushies, wine, and beer!
Last but not least, the Champaign County Freedom Celebration will kick off their festivities all day long, starting as early as 8:30 a.m! Activities include a 5k run/walk, parade, evening entertainment, and a firworks show. This year's theme is Christmas in July!
Keep up with more events, news, and information from Visit Champaign County on our social media channels. Give us a like or follow on Facebook, Twitter, TikTok, and Instagram!