OCTOBER 15–21, 2023 | SWEET HOME ILLINI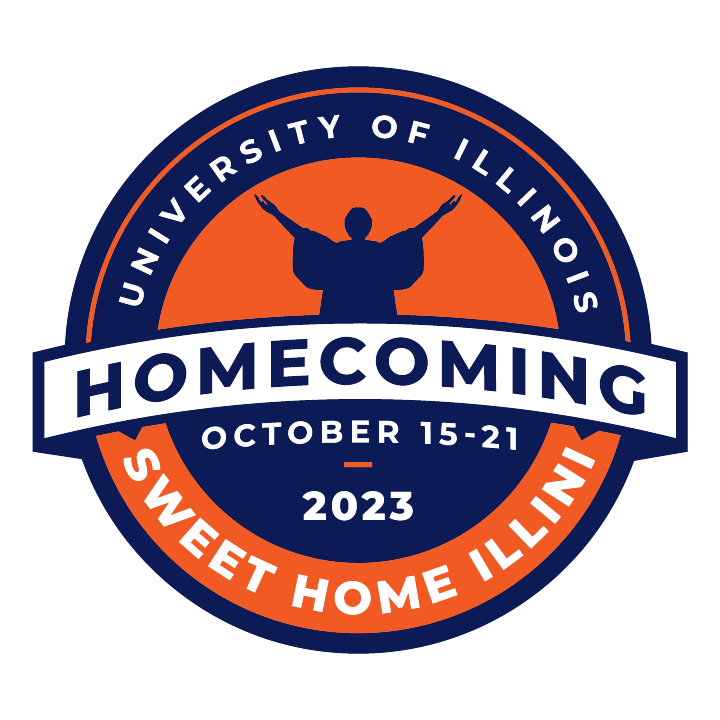 Homecoming at Illinois is always a week to remember, and this year is no different! Join us in Champaign-Urbana for a week long celebration, with a 5K, parade, talent shows, and of course, football!. Each day, the University of Illinois is celebrating the spirit of the Illinois FamILLy, with events across campus.
We look forward to seeing you soon!
Check out the schedule of Homecoming events below but be sure to visit homecoming.illinois.edu often as many more events and content will be added as the week approaches.
Schedule of Events
Sunday, October 15
Homecoming 5K – Registration will open at 8:30 am, Race to begin at 10:00 am – Sign Up
Homecoming Kickoff Event – Alumni Center Fountain Dyeing, Pancake Breakfast, Special Guests!
Monday, October 16
Dinner on the Quad hosted by the Illini Union Board– 5:00–8:00 p.m.
Tuesday, October 17
Global Talent Show hosted by the International Student and Scholar Services (ISSS)
Wednesday, October 18
Greeks Support Homecoming BBQ at Washington Park – 4:00–6:00 p.m.
Homecoming Comedy Magic Show featuring Derek Hughes, America's Got Talent Season 10 Finalist—7:00 p.m. in the Illini Union I-Rooms, hosted by the Illini Union Board
Thursday, October 19
Alumni Gala – 6:00–10:00 p.m. *This is a private event. Register here.
Friday, October 20
Illini Cabaret: Music on Main, hosted by the University Library—4:00–5:00 p.m. at the Main Circulation Desk, 2nd Floor, Main Library
Homecoming Parade – 5:30 p.m. (Parade map will be added when available)
Pep Rally!—6:30 p.m., Grange Grove, following the parade
Men's Basketball Exhibition Game vs. Ottawa—State Farm Center
Saturday, October 21 (Game Day)
Grange Grove/Tailgating- Parking lots open at 7:00am
Football game vs. Wisconsin—Memorial Stadium
Saturday Night Live: Homecoming Edition-Downtown Champaign – 6:00 – 9:00 p.m.
Late Night Dance, hosted by the Illini Union Board—10:00 p.m. -1:00 a.m. in Illini Union ABC Rooms
Stay tuned for updates to the schedule here.
PLACES TO STAY
Be sure you have a place to stay for the game and all of the activities. Check out our complete list of hotels in the Champaign-Urbana area, ready to make your stay brilliant!
PLAN YOUR TRIP
Plan your entire weekend with our Experience Guide, filled with ideas on places to visit and eat in our award-winning culinary destination!