Bring on the Beer
August 19, 2022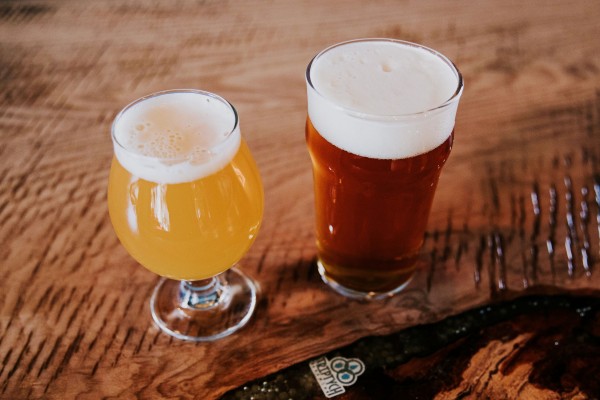 We're no strangers to tailgating, which makes the beer one of our areas of expertise. Across the greater Champaign County area, local breweries make art out of brewing. From all corners of Champaign County, you can find a beer that suits your tastes. Head to the tap room or pick up a growler to enjoy these crafted beverages.
Blind Pig Brewery

As the first in Central Illinois, the Blind Pig Brewery emulates a British pub, with four core beers—Columbia Street Coffee Stout, U of IPA, Hatori Hanzo Pale Ale, and Blue Pils—and seasonal ales that keep you coming back for more.

The Blind Pig Co., just a block away from the brewery, was voted the 26th Best Beer Bar in the entire United States by Beer Advocate, and has now been included in the top 150 bars in the US by both Imbibe and Draft Magazines.

Triptych Brewing

Celebrating artfully crafted beer, Triptych Brewing in Savoy brings beer lovers together in their large taproom. A perennial favorite—Dank Meme, is a double dry hopped hazy pale ale, and has spawned varieties Really Dank Meme and Mini Meme.

Since opening in 2013, Triptych has brewed over 200 different varieties of beer. Their variation is a result of their brewer's need to explore and create.

Riggs Beer Company

Following traditional German brewing, the Riggs brothers utilize just four ingredients in all of their beers. Utilizing grains from their own family farm, and those grown on property, a typical month uses about 1500 pounds of their own grain. They also proudly run off 90-100% solar power. Take a tour of Riggs Beer Company and enjoy your brew in their popular taproom and beer garden.

The brewery sports a four vessel, 15-barrel brew house with ample fermentation capacity. The tap room is surrounded by a 200 seat, family-friendly beer garden as well as test plots of barley and hops.

25 O'Clock Brewing Company

The newest brewery in the area, 25 O'Clock Brewing Company is off the Boneyard Creek in Urbana. Like the community they serve, they offer a diverse line-up of local beers from Blondie Johnson, a Belgian-style blonde, to Wee Heavy, a Scottish-style strong ale.

They brew Belgian stye ales, English style ales, and "Americanized" versions, for enjoyment indoors and outside on the patio, which overlooks a scenic area of the Boneyard and a new mural from local artist, Lisa Kesler.

JT Walker's Brewery

Brimming with local pride, JT Walker's Brewery pays homage to the community with their brews with names like Orange & Blue Wit celebrating the University of Illinois, JT Walker's Bulldog Brown Ale representing the mascot of the local high school, and Sangamon River Amber Ale highlighting the river that flows through Mahomet.

With new flavors coming on year-round, you can discover locally-inspired brews regularly at JT Walker's Brewery on Main St. in Mahomet.
Ready to start your beer tour?
Check out our Experience Guide to discover all there is to see and do, then start planning your visit!