There's a new Chinese Restaurant in Town: Lao Sze Chuan
July 15, 2022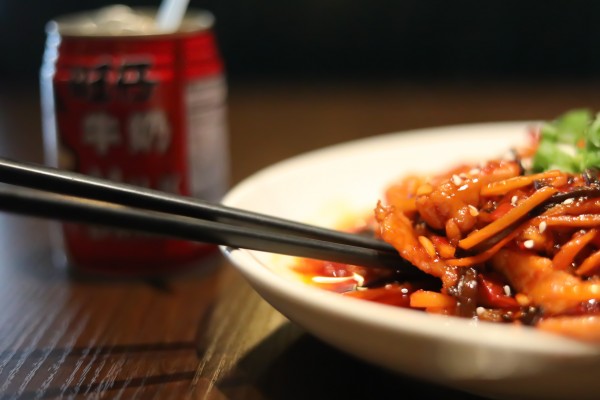 Written by Marcus Flinn, Communications Manager of VCC
Champaign-Urbana is home to a plethora of Asian-centric restaurants—Taste of Both Worlds, Oishi, Sticky Rice, Sakanaya, Peking Garden—the possibilities are endless here. When I found out that Lao Sze Chuan, an award-winning Chinese restaurant opened up a brick and mortar in Champaign a couple weeks ago, I had to see what the fuss was all about!
Founded by Sichuan-born Chef Tony Hu, the very first Lao Sze Chuan opened up in 1998 in Chicago's Chinatown and is notorious for its high-quality materials and ingredients; they import all ingredients such as peppercorn, Sichuan Pickles, and Chili bean paste directly from China. In 2015, The Daily Meal voted Lao Sze Chuan as the number one Chinese Restaurant in the U.S. and has won countless culinary awards—needless to say, my stomach and appetite was ready.
When I arrived at the establishment, I was enveloped by a calming atmosphere. The ambient lighting, dark wooden decor, and the collective cool & calming colors made me feel at ease.
For my drink, I decided to try the Wangzai Milk Drink—a sweet, creamy condensed milk treat that is popular throughout China. Wangzai is the mascot on the packaging, and can also be seen on popular Chinese snacks like fried puffed rice cakes and sweet milk candy.
The entree was tough for me to choose from, but I decided to go with the Pork in Garlic Sauce. The dish was beautiful as it was fragrant and tasteful: Strips of pork tenderloin, bamboo shoots, Woodear mushroom (commonly used in Chinese cuisine), shredded carrots, chili paste, topped off with sesame seeds and green onion. The dish also came with a bed of fluffy white rice, and it did a wonderful job soaking up all of the sauce. The dish was sweet with a hint of spice, and the pork was cooked to perfection. For my first time here, I would highly recommend this dish.
All-in-all, I was thoroughly pleased with my experience at Lao Sze Chuan! The staff was friendly and attentive, the atmosphere was serene, and the cuisine was top-notch. Lao Sze Chuan is located on 608 E. University Ave., Ste. 105, Champaign, IL, 61820. Their hours are Monday through Thursday, 11am-9pm, and 11am-9:30pm Friday through Sunday.
Are there any new restaurants in town that we should know about?
You never know when a new establishment will pop into the greater Champaign county area! Do you know of a new restaurant in town that we should know about? Let us know on Facebook, Twitter, TikTok, or Instagram!