Celebrating 35 Years of the Staerkel Planetarium
September 29, 2022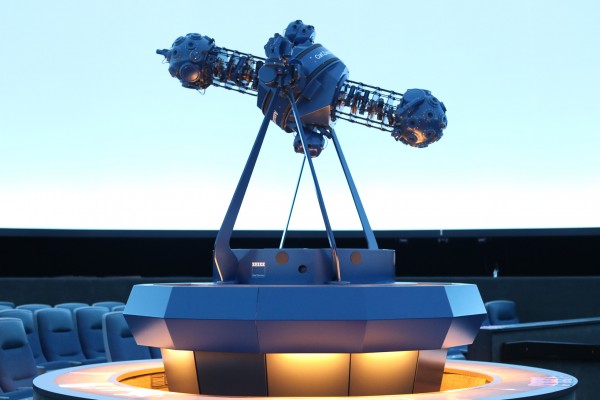 Pictured: David Leake (left) and Erik Johnson (right)

Written by Marcus Flinn, Communications Manager of VCC

As the second-largest planetarium in the state with a robust history that spans over 35 years, I sat down with former Director of the Staerkel Planetarium, David Leake, and the current Planetarium Director, Erik Johnson, to get more insight behind the iconic dome, the Zeiss Star Projector, and programming we all know and love today.
It all Started With a Vision
Parkland's first president and Kansas naitive, William M. Staerkel, pushed for a performance theater and a planetarium in the original plans for the college's construction. Initially he was unable to move forward with the project, but in 1986-87, a surplus of educational funds gave him the greenlight to make it happen. In October of 1987, the William M. Staerkel Planetarium opened to the community, with their first original show: Odyssey, becoming an instant hit among the public.
A Star Projector from West Germany
Mr. Staerkel sought out the best tech for the Planetarium—so much that one of the board members suggested he traveled to Germany to find it. This led to Parkland owning the first Carl Zeiss M1015 Opto-mechanical Star Projector, the first of its kind ever installed in the western hemisphere. When questioned about why they bought German and not into an American company, David explains "at the time, there was an American manufacturer but they were going through the smaller market…Staerkel wanted to build something larger so they had to look elsewhere".
West Germany is displayed on the star projector, which is a direct product of the Cold War at the time. When West and East Germany merged in 1990, the company shifted lanes and the Carl Zeiss M1015 was no longer manufactured. Although it's since dated, it was state-of-the-line technology back then.
Pictured: The Zeiss Machine Controls

BEHIND THE PLANETARIUM VISUALS: THEN AND NOW

With the tech we possess today, it's interesting to see how everything was created before the digital age took over. Back in the day, the Planetarium went with 35mm film projectors—most of their visual effects for shows were created manually.

With 21 years under his belt before the digital switch, David gave me insight on what that looked like. "Back in the day, when we got a show in, we got anywhere from 200 to 600 slide images. And you can't just take the slides and put them in, you have to duplicate them (never use the originals) and properly mask them so they look like they're in the star field…we would work until midnight, 1 o' clock in the morning, and then we would go downtown and have refreshments as a break, and come back here and work until maybe 3." Although it was labor intensive, David felt their creative process was worth it in the end. "Looking back on that now, we had a blast. We were a team, and by team, it was probably the show producer, myself, a couple of artists, photographers…yeah you were leaving at 3 o' clock in the morning, but we left feeling like we accomplished something."

Fast forward two decades later—after a major fundraising campaign and securing college funding, the digital transition began in 2010. Digital projectors were purchased, and a piece of software called Digistar was used to produce a digital projection image that spans on two halves of the dome, where they've achieved 4k resolution. When compared to the Zeiss Projector, Erik says that "it's a much brighter image…you're not going to get as crisp of a star as what you can see with the Zeiss image…but (unlike the Zeiss) it's not limited to just one image." Aside from having more flexibility, Erik details you can also display video with Digistar. "Here it's just one single system that is potentially capable of producing everything you see in the Planetarium."
Weathering the Pandemic
Like most businesses in the area, when the pandemic hit, it forced Staerkel Planetarium to switch gears and come up with ways to continue their shows. The end-result? Innovative programming with a focus on accessibility, but not before completely shutting down for 17 months. Luckily for David, he retired in 2019—but for Erik, it was an opportunity to grow. "We did try to set up some virtual programs. Our general show for the public was me using my computer and presenting the program through Zoom to people using sky simulation software you can have on your own desktop." Waylena McCully, Staerkel Planetarium's Show Producer, modified the sky-viewing settings and took the Digistar software and projected that out to the public through Zoom—a useful tool for schools who were still interested in field trips to the Planetarium, but couldn't attend in-person. The response for virtual shows was positive, and moving forward, Erik felt more confident continuing shows in this fashion. "I learned how some of this software translates through that audience, and how we can interact with them in that way…you have to establish a different rhythm when you don't have the audience next to you giving instant feedback."
An Inclusive Future
Beyond their original programming, Erik and his team are making strides to incorporate sensory friendly-shows, and accommodating those who are hard of hearing. "The initiative to incorporate sensory-friendly shows came from an educator who teaches preschool here in Champaign. She works with a lot of students who have those educational needs: kids with Autism, behavioral, and sensory needs. She wanted a show that could accommodate them." To make this happen, she worked with the Autism Program at the University of Illinois, professionals in occupational therapy here in Champaign, and worked with the Planetarium's show producer to make sure the lights were down at an acceptable level where students felt comfortable in the dark. To help prepare her students when entering an unfamiliar place, she would write social stories and also set up visual slides. "She's been training us to properly apply these settings into our existing programs to ensure that everyone felt comfortable entering our space."
Erik is also working on including more Spanish-speaking shows. An Astronomy faculty member who is also Spanish-speaking, expressed an interest in presenting these programs to the Spanish-speaking community. He would listen to the tracks to verify if they were legitimate, and made sure it sounded like it was presented as an authentic native speaker and not something that sounded computer generated. There's also a few existing Spanish-speaking tracks that are available to download on their website for free.
The Hope for First-Timers
When asked what they would like first-timers to take away from a Staerkel Planetarium show, Erik responds "I always love showing people a way to experience what society has experienced for thousands of years. Most folks live in an environment where there's so much light pollution where you can only see one star…there are thousands of stars [that the Zeiss Star Projector] can show you, and you can experience what that is like rain or shine. We can take you in here, and give you a tour of the night sky and a taste of the universe."
As part of their 35th anniversary, on October 1st from 2 to 3 p.m., we invite you to join David Leake as he returns to present Staerkel Unplugged: The Zeiss-Only Experience, a show using only the original Carl Zeiss M1015 star projector at the Staerkel Planetarium. He will also show how the planetarium operated before we had computer-generated images of the sky.