Top Spots to Take Your Dad for Dad's Weekend
November 1, 2022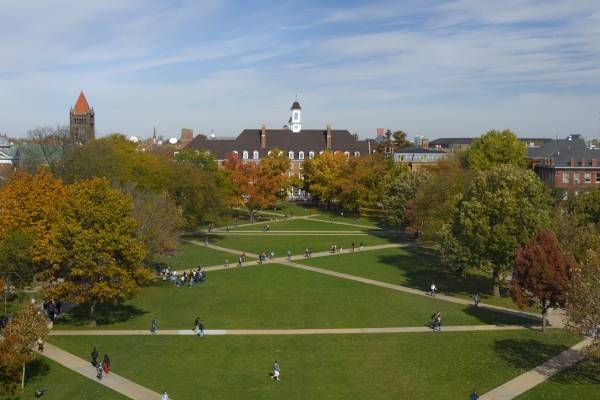 UIUC Dad's Weekend is steeped in tradition that dates back to the early 20th century. As a matter of fact, 2022 marks the 100th year of Dad's Weekend—isn't that incredible? On November 4th through the 6th, Illini Dads and father figures will be on campus to enjoy a variety of events, courtesy of the University of Illinois. In between all of the activities, though, there will be opportunities for your Dad to discover what lies beyond campus—a community full of delicious restaurants, locally crafted beer, events, live music, and so much more.
We compiled a short list of top spots to take your Dad for Dad's Weekend so they can have the best of both worlds: The Pride of being an Illini guardian, and the joy knowing Chambana is full of experiences for every visit!
If your Dad has a hankering for cozy small taverns, craft beer and live music, look no further. The Rosebowl offers live performances nearly 365 days a year, and Dad's Weekend is no exception. This weekend's line-up will feature an array musical genres spanning from bluegrass, Americana, jazz, fusion and funk. There's also a variety of craft, domestic, and draft beers available as well as ciders and spirits. Conveniently a 5 minute drive from campus, the Rosebowl Tavern is an excellent choice for quality drink and that live music fix.
If you want to take your Dad to something #outsideofordinary, why not experience Pink Floyd's Dark Side of the Moon at the Staerkel Planetarium? This fulldome light show is set to Pink Floyd's classic album, Dark Side of the Moon, and provides a visual experience you will never forget at the second largest planetarium in the state of Illinois!
This event is on Friday, November 4th from 9 to 10 p.m. It's worth noting that this show is not suited for those with motion sickness.
With over 40 locally-owned restaurants and the proud title of Midwest Living's Greatest Midwest Food Town, we've got your appetite covered for Dad's Weekend. To be honest, it's hard to pin down our top spots because there's so much to uncover here: Farm to Table establishments like Big Grove Tavern, award-winning barbeque at Black Dog Ale and Smokehouse, authentic Asian Cuisine at Suzu's bakery, Sticky Rice and KO Fusion, mouth-watering BBQ and soul food at Wood N Hog BBQ and Neil Street Blues: your choices are, quite frankly, endless. For a comprehensive list of our restaurants, we recommend visiting our Food & Drink section of our website here!
Usually, November calls for colder weather. On Dad's Weekend, though, it's supposed to be a comfortable 60-70 degrees out—a perfect opportunity to discover our outdoor spaces outside of campus! Japan House and the Arboretum is a great starting-point as it is part of the University, but far enough from campus to be considered a gem with the locals. Meadowbrook Park is also a top pick, and it was recently crowned one of the Top 10 Enchanting Sculpture Parks Within Driving Distance to Chicago. There's so much to discover there, but we won't spoil it for you–you'll have to see it for yourself! A full-list of our parks and forest preserves can be found on our website, here.
The Illini Dad's 5K will be at the Arboretum on November 6th at 9 a.m., so plan accordingly if you don't want to mix with the running crowd!
Games at Pour. Bros, Axe-throwing at the Axe Bar, and Bowling at the Union Basement
Luckily for us, we have a variety of stand-alone activities that aren't tethered to the seasons. Pour Bros. on 40 E University Ave is the best of both worlds: A pour-your-own beer experience that houses games like skee-ball, pinball, and darts. The Axe Bar on 114 S Neil Street is self-explanatory—a sports bar with 10 axe-throwing lanes, delicious bar food, TV's, and over 24 beers on tap. Lastly, the Illini Union Rec Room is a perfect place to bowl, shoot pool, or experience arcade games if you don't feel like traveling outside of campus.
We understand your Dad or Father Figure will be preoccupied with Dad's Weekend at the University, but don't forget about our vibrant community outside of campus! Do you plan on taking your Dad to any of these activities or somewhere else? Let us know on Facebook, Twitter, TikTok, or Instagram!