5 Ways to Enjoy December in the Greater Champaign County Area
November 30, 2022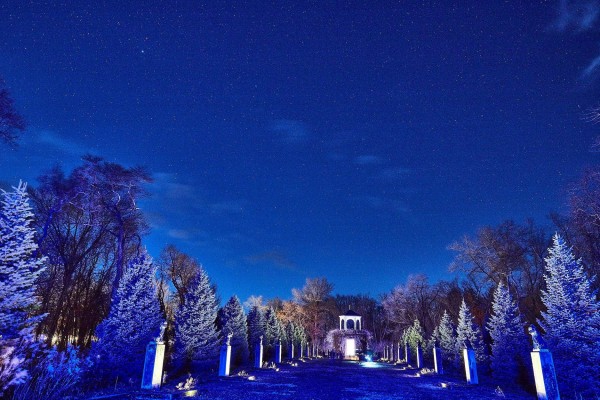 December is a magical time of year in the greater Champaign County Area—holiday lights adorn houses and local businesses, the smell of peppermint and gingerbread permeates the air, and we finally get to wear those big winter coats we bought for cheap during the Summer (okay, is it just us?). From Amish Country to the heart of downtown Champaign, we are teeming with things to do this month! You can always refer to our events page, but we compiled a short list of activities you can enjoy in the greater Champaign County Area this month, just to make your search a little bit easier.
Holiday Markets Galore!
We have a variety of markets for you to explore throughout December: To kick things off, enjoy the holiday season, German Style—with the Riggs Christmas Market from December 1st until the 18th. Hot spiced wine and hot chocolate will be available both inside and outside, with a variety of craft vendors and food during each date. The Mistletoe Market is next in line, and kicks off on December 3rd inside the Lincoln Square Mall in Urbana, with the second one happening on December 18th at the Venue CU in Champaign. With over 49+ vendors to choose from between both locations, you won't be short of things to buy for your loved ones! On December 4th from 11am to 5pm, explore the MaHOMEt Market for the Holidays at Sangamon on Main Parks & Rec Gym. From women's apparel from Boneyard Creek Boutique, and artisan baked breads from Central Illinois Bakehouse, you will certainly take a piece of the greater Champaign County Area home with you as you shop from over 21+ vendors!
Walk Among the Decorative Lights at Allerton Park
A mile-long walk of illuminating lights, captivating artwork, and the beauty of Allerton Park's gardens await at the Holiday Glow, presented by UICCU (U of I Community Credit Union)! From December 2-23 & 27-30th, you get to embark on a serene stroll among the gardens with food trucks and a cash bar peppered along the path (with weather permitting). This is a wonderful opportunity to see Allerton Park at its dreamiest—great for a family outing or a date with your significant other. Be sure to bring your camera!
Shop Till' you Drop Through our 2022 Champaign County Shop Local Guide
Spreading holiday cheer means holiday shopping, and there's no need to check your list twice with our 2022 Champaign Shop Local Guide! We've covered everything from home goods, boutiques, games for the kids, and even a list of "experience gifts" anyone would enjoy. Kick-off your December right by committing to buy local; not only is this a wonderful opportunity to give our dollars to local businesses during the season—hand-crafted gifts are a sure way to win the hearts of the most difficult ones to shop for.
Stay Warm with a Performance Indoors
As much as it is whimsical during the Winter months, we get it—sometimes you just want to be inside and enjoy the warmth. Why not cozy up with a show at the Krannert Center for the Performing Arts? There will be an array of musical performances, from the Illinois Wind Symphony, the Annual Choral Concert 2022, among many others. The Nutcracker is a crowd favorite and will run from December 1st through the 4th. The Little Theatre on the Square is also showing White Christmas, which runs from December 9th until December 18th. This classic movie-turned-stage-production will surely put you in the holiday mood!
Taste of the Holidays at our Downtown
We can't end our list without mentioning food, and I'm sure you know about our incredible food scene in downtown Champaign. Sink your teeth in a succulent steak from Hamilton Walker's, or sip on a seasonal cocktail from PUNCH! or The Literary. Spanish Conserva, cured meats, and a glass of imported wine at Ladro Enoteca might do the trick, or perhaps you're looking for Southern comfort food from Neil St. Blues. Regardless of what you're craving this holiday season, we don't want you to walk into December hungry! Refer to our Food & Drink Guide for a comprehensive list of all our restaurant establishments.