Popular Trails and Outdoor Spaces to Visit Outside of the Greater Champaign-Urbana Area
April 18, 2023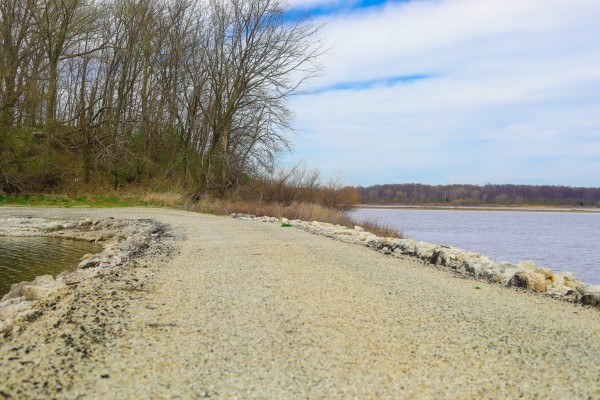 Champaign-Urbana is home to plenty of walking trails beloved by locals and visitors alike. From the winding paths of Meadowbrook Park surrounded by fragrant prairie wildflowers to the cozy walkways through Busey Woods—it's no wonder we take advantage of these outdoor gems for most of the year.
What if we told you there's even more outdoor magic to discover beyond Champaign-Urbana? Whether you're a hiker, bike-rider, dog walker, or simply an outdoor enthusiast, we've compiled some popular trails well-worth the drive for you to visit outside the greater Champaign-Urbana area.
Buffalo Trace Prairie
Travel just 11 miles outside of downtown Champaign and you'll find yourself at Lake of the Woods Forest Preserve in Mahomet. If you go off Route 47 across from the Mabery Gelvin Botanical Garden, though, you will find yourself at the Buffalo Trace Prairie—a wooded paradise with a creek that runs along this 5-mile trail. Buffalo Trace features a biking trail through its center and a network of marked trails weaving throughout the area. The terrain in some parts are a bit rugged—perfect for runners looking for more of a challenge. During the wet season, it is advisable to bring boots as it can get muddy on the southern portion of the Trail!
This popular 160 acre gem has it all: Easy-to-navigate grassy trails perfect for novices and dog walkers, bathrooms and a large pavilion right outside of the parking lot, an accessible canoe launch, and of course—the tranquil Sangamon River with plenty of areas to rest or picnic at. These well-maintained paths are also ideal for children, with signage scattered throughout the Sangamon River Forest Preserve intended to educate visitors about its topography, history, and prairie in general.
A true escape for nature lovers of all ages, it's hard to imagine we have a water recreation area right in the heart of Central Illinois! Homer Lake boasts an impressive 814 acres of land with over 10 miles of walkable trails with varying difficulties. For beginners, we recommend the Oak Ridge Trail which spans only 1.7 miles and takes an average of 33 minutes to complete. An even easier path would be the Timberdoodle Trail, which only takes 18 minutes to complete and also offers a scenic view of Homer Lake.
Nestled near the Okaw Bluff Group Camp, this 1.5 mile-long trail is approximately an hour's journey outside of Champaign-Urbana—trust us, it's well worth the drive. Its unassuming entrance is easy to pass by, but once you find it, it'll take you down a winding pathway that opens up to a spectacular view of Lake Shelbyville. There are two land bridges that run directly through the lake, and there's also an overlook area for those who just want to enjoy the tranquility. We advise caution as the trail has a downward incline in the beginning, but once you're down there, you'll see a view of a lifetime.
Middle Fork is infamously known as the only certified dark sky park in the state of Illinois, but their walkable trails are equally impressive. Offering five different trails, each with its own quirky characteristics, are perfect for any hiker regardless of experience. The Oak Burl Trail is 2.4 miles long and walks through a variety of habitats including an oak/hickory forest, a prairie rich with wildflowers, and a river bottomland forest. If you decide to camp at Middle Fork Forest Preserve, the Sugar Creek Trail is perfect for those at the campground. This 0.8 mile path will walk you through restored prairie lands and a small wetland area frequented by herons.
Just south of Mahomet lies the largest public lake in Champaign County. The River Bend Forest Preserve Loop is an easy, 1.2 mile multi-use trail which takes about 46 minutes to walk around. The fully accessible Possibility Pier is also worth visiting, as it's a great fishing spot and boasts some beautiful views of the lake.
What is your go-to outdoor space outside of the greater Champaign-Urbana Area?
We only gave you a sample of walkable/bikeable trails and outdoor spaces, and there are so many other places to choose from! Let us know where you're stopping on your next outdoor adventure by tagging us on Facebook, Instagram, TikTok, or Twitter!