A Guide to Historic Farm Days (2023)
July 3, 2023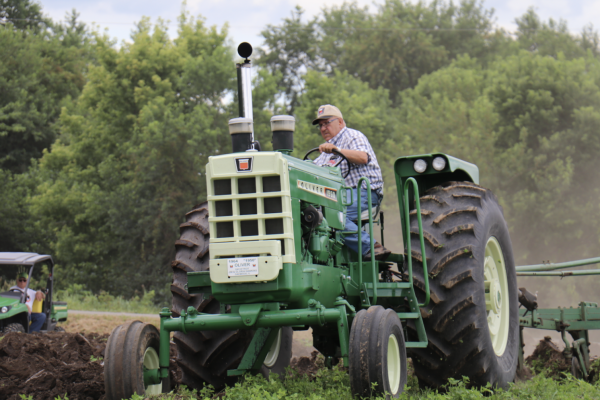 Historic Farm Days brings thousands of farm enthusiasts and visitors to Penfield each year who are looking to learn more about the practice. This year's event will feature John Deere tractors & equipment, along with the 100th anniversary of the "D" Tractor and "E" Tractor. At the I&I Antique Tractor & Gas Engine Club Showgrounds, attendees will see a ton of amazing things, so be sure not to miss these 8 highlights over the four-day event!
SEE AND LEARN ABOUT TRACTORS OF EVERY SORT
If you've been to Historic Farm Days before, you know how incredible the fields and fields of tractors looks. It's worth the trip alone to see all the sorts of technology used over the years. All Brands of Tractors, Implements, and Garden Tractors are Welcome, meaning that farm fanatics from all over the world bring their hardware to the show. Newer, automatic engines are to be seen, as well as hand-cranked engines as well. It's a great way to learn a little bit about the history of farming, all the while exploring tractors big and small!
CHECK OUT THE SCHOOLHOUSE MUSEUM
The museum occupies most of the old Penfield Grade School, with displays of small items in the second floor classrooms and larger items in the gymnasium and the first floor classrooms. It's great getting to see antique school artifacts, many of which were used right here in Penfield! In the gym nearby, larger machines are on display, including corn shellers, threshing machines, and of course the two tractors on loan from the Smithsonian, the world's oldest running gas engine tractor, the 1903 Hart-Parr, and the futuristic 1961 International Harvester HT-341 Turbine Tractor.
STEP INSIDE A RESTORED LOG CABIN
Although not a part of the formal museum, the restored log cabin definitely adds to the grounds around the Penfield School building. Most of this cabin was recovered during the demolition of a house that had been built around it. The cabin has a place in history, being the site of an early post office in Champaign County. It has taken several years to recreate missing pieces and reassemble the cabin to represent its original appearance. Step inside and see what tools and furnishings a home would have had in the early 20th century. Volunteers also are on hand to tell you about the various aspects of this time of life.
SEE A DEMONSTRATION OF FARM TECHNIQUES OLD AND NEW
A huge perk to the Historic Farm Days Schedule are the demonstrations that occur around the farm over the four days. Between crop picking, examples of old farming practices, and new technology demos, there is so much to see and do. Learn from the best our area has to offer, as well as hear and see work from guest speakers and experts!
EXPLORE EARLY 20TH CENTURY LIFE IN THE WOMEN'S HOUSEHOLD DISPLAYS
The I&I Women's Household display occupies two of those classrooms and showcases many of the latest home conveniences of the early twentieth century. Everything from décor to kitchen and home tools is on display. It's wonderful getting to see home life progress through the decades, as traditional homestead aesthetics make way for more pop culture influences in the mid 20th century. You'll see old children's toys, storage and seating, and everything in between!
LEARN ABOUT THE HISTORY OF CROP HARVESTING AND PLANTING
In various spots around the farm, clubs and groups bring their historic artifacts of harvesting and planting of days past. Seeing hundreds of years of technology all before your eye is truly remarkable. One particular location in the museum is full of corn technology dating back as far as the 19th century, and club members are happy to explain tools and techniques throughout the years. It's a wealth of knowledge, and really sends home the point that food doesn't come from the grocery store, it comes from the farm.
SHOP VINTAGE VENDORS AND FARMSTEAD DÉCOR
Every stall at Historic Farm Days is worth a look. Everything from vintage items to homemade goods are on display, and between the jams, garden and home décor, and farming parts and tools, you'll have a hard time leaving empty handed over the weekend!
TRACTOR PULLS, SING-ALONGS, AND MORE BRILLIANT EVENTS
The weekend brings a ton of fun to the show grounds with events big and small taking place constantly. Tractor pulls take place each evening with participants volunteering to show what they can do. Bingo, makeshift putt-putt golf courses, and live music keep every minute on the farm fun. Programs detail each special event at Historic Farm Days, and you can check out some of the planned events online.
Historic Farm Days runs from 7 a.m. to 6 p.m. on July 13th through the 16th. Entrance is $10.00 per person or $25.00 for a Multi-Day Pass. Children 10 & younger enter for free. A $25.00 Golf Cart/Gator Registration Fees allow you a ride around the area!
Heading to Historic Farm Days? Be sure to tag us in posts on Facebook, Twitter, and Instagram. Use the hashtag #Brilliant!