Six Self-Guided Tours to Explore in Champaign-Urbana
July 17, 2023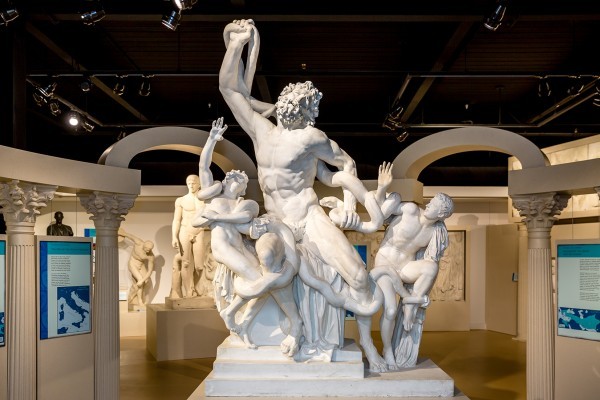 Sometimes we all need a little discovery in our lives. Whether you uncover new public art at Meadowbrook or explore a hidden walking path, it seems like any sort of direction will lead you to a different vibe in Champaign-Urbana. Although there's much to discover through our outdoor spaces, we boast a variety of award-winning museums and nature centers that's a treasure trove full of curiosities. Whether you're an art lover, a history buff, film lover, or want to learn more about the Champaign-Urbana area, here are six self-guided tours you can participate in to get your discovery fix.
From the intricate marble statues of the Ancient Mediterranean to the vibrant tools of 19th century Africa, the Spurlock Museum is a cornucopia of cultural and archeological collections throughout history and across the globe. With over 55,000 square feet, 9 permanent exhibits, and programming lasting the entire year (workshops, performances, and artist talks - just to name a few), Spurlock goes above and beyond to ensure visitors get a memorable experience at any time of the year. There are two floors in which you can explore, with all public areas being accessible to visitors in wheelchairs or strollers. A map of the museum is available in both PDF or in person.
If you ever wanted to learn more about the place we call home, the Champaign County History Museum would be your top pick. As you weave your way through this museum, you'll encounter photographs of an early Champaign-Urbana, displays of notable figures who once lived here, as well as important events and innovations that helped shape our region. We recommend checking out Snapshots: "Champaign County Photography and Photographers, 1851-1913." Here you will find everything from 19th century portraits to the earliest architecture of Champaign-Urbana. Just like the Spurlock Museum of World Cultures, you can check out their exhibits—both past and present—on their website here.
Any art gallery that's within college walls may suggest that it's only inclusive to faculty, staff, and students, but that's far from the truth. ??Open to the public and free of charge, the Donna Hyland Giertz Gallery strives to serve the educational and cultural needs of our diverse community through art of all mediums. Open year round, the Gallery has an extensive exhibition calendar that includes seven exhibitions per year and includes solo and group exhibitions, including the Parkland College Fine Art Juried Student Exhibition and more.
The second largest planetarium in the state of Illinois and one of the largest community college planetariums in the nation, our community fell in love with the Staerkel Planetarium since its inception 35 years ago, and it's easy to see why. Once inside the cylindrical building, you're met with a 365 degree-wide screen that offers breathtaking video in 4k resolution. It is here where you can witness striking light shows of Pink Floyd's Dark Side of the Moon, or a trip to outer space with Dawn of the Space age. The programming ranges from educational to entertainment, and you can find a full list of their showings here.
Carefully tucked behind the Crystal Lake Pool, the Anita Purves Nature Center is a fantastic spot for both nature & animal lovers. Children can rummage through buckets of sand digging for fossils, and also learn about various reptiles by reading easy-to-digest infographics. On top of that, you can hike down the Busey Woods trail and spend some quality time with nature. This natural area is notable for its spring wildflower display, bird watching opportunities and a 1/3-mile elevated boardwalk. Busey Woods is also accessible-friendly with a ramp that leads down to the trail.
Homer Lake Interpretive Center has it all: a variety of interactive exhibits, displays, live animals, a wildlife viewing area, and a self-guided trail brochure for those seeking a hiking adventure! The Center also has loan kits that contain hands-on items for hiking and exploring. Some of these items include GPS units, discovery backpacks, field trip backpacks, water quality kits, and much more. For descriptions of each kit and more information, you can check out their Educator Resources page.
There's so much to discover beyond these self-guided tours & outdoor spaces that we invite you to share your latest adventure! Whether it's brilliant arts, local food, or just an outing in town, be sure to let us know through Facebook, Instagram, Tiktok, and Twitter!