Festivals for All this Autumn
August 2, 2023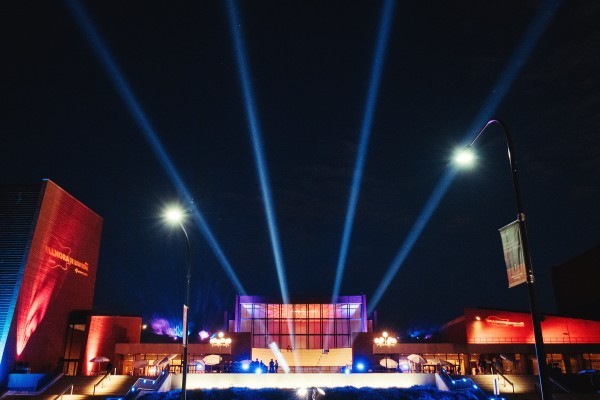 Weekends in the Champaign-Urbana are filled with festivals and events to attend, filling our days with music, food, art, and pride. Check out what's coming up and make your plans for your weekend visit around these must-attend events!
ELLNORA | The Guitar Festival | September 8–9
This biennial music festival returns to Krannert Center for the Performing Arts for it's 10th edition, and it is better than ever. Showcasing the range of the guitar, you'll have access to a variety of free and ticketed shows with everything from jazz to rock and everything in between. The opening night party will feature Malina Moye, Roosevelt Collier, the Stephane Wrembel Band, and the Surfajettes. The festival closes with headliners Emmylou Harris and Ani DiFranco. Don't wait on getting your tickets!
Arcola Broomcorn Festival | September 8–10

A tradition in Arcola, the Broomcorn Festival celebrates the community's heritage as the "Broomcorn Capital of the World." See broom making, broom activities, arts and crafts vendors, free entertainment,5K and 10K race, great food, and a gigantic parade with our local, famous Lawn Rangers! The event, always held the weekend after Labor Day, honors Arcola's position in the late nineteenth century as a center of broomcorn production.

West Side Arts | September 16

Back for its second year, this arts festival in West Side Park in downtown Champaign features over 30 local and regional artists showcasing their work around a variety of mediums. This juried show is sure to impress you with our local talent and provide you with many ways to bring art home or pick up some gifts! Kids activities will also take place, so bring the whole family!

Pygmalion | September 21–23

For over a decade, Pygmalion has pushed the boundaries in innovation in programming, with up and coming musicians alongside national names, cutting-edge comedy, local and national author book readings, hackathons, tech demos, and local makers. The 2023 event continues to keep us on our toes with a lineup including Lauren Mayberry, Susto, Joanne Le Molinaro, Alaska 5000, and many more. Get your festival passes and head down for a diverse weekend of events.

CU Pride Fest | September 29–30

The second largest Pride Fest in Illinois, the CU Pride Fest takes place every fall to ensure our University of Illinois LGBTQIA+ students and allies can take part in the weekend's events. The Pride Parade is sure to bring smiles to everyone's faces, while educational programming is available for youth and families. Check out a full weekend worth of programming with art shows, dances, talks, hikes, and a drag brunch.

Urbana Fall Fusion Festival | October 7

This inaugural festival features our local artists through the lens of all things autumn. Check out the Gallery of Gourds, where local artists decorate using their unique style. A professional pumpkin carving demonstration will wow you, and luminaries lit as the sunset will set the stage for the light immersion show taking place immediately following. Discover the local downtown businesses with food specials, art demos, and special art displays throughout the event.

Folk & Roots Festival | October 12–14

Spanning venues across downtown Urbana and Krannert Center for the Performing Arts, the CU Folk & Roots Festival brings the community together for a love of good music. Artists large and small lead us in jam sessions, song circles, and revelatory performances in intimate settings. Festival passes get you into three-full days of performances for a weekend you won't forget.

Flannel Fest | October 14–15

Nothing screams fall like flannel! Celebrate this fall must-have at Champaign Park District's annual Flannel Fest at Centennial Park. Be wowed by axe throwing, log rolling, and speed carving alongside plenty of music, art, and food trucks. If you're really feeling fall, join in the Lumberjack Dash, a fun one-mile course complete with log flips, log crawls, and more obstacles.

Parade of Lights | November 25

Get into the holiday spirit and this festive parade through Downtown Champaign! Always held the Saturday after Thanksgiving, the Parade of Lights brings together the community for caroling, hot chocolate, and other holiday-themed activities before the sun goes down and the parade begins. Stay through the end to catch Santa as he makes his way through the parade to the tree lighting at One Main Plaza.
WANT MORE UPCOMING EVENTS?
Check out our calendar for everything coming up in the area.
READY TO PLAN YOUR FESTIVAL WEEKEND?
Need help planning your visit to the greater Champaign-Urbana area? Check out our Experience Guide, or contact us for more information! Don't forget to book your stay at our area hotels, located conveniently throughout the community.