Five Ways to Enjoy Fall in Champaign-Urbana
August 3, 2023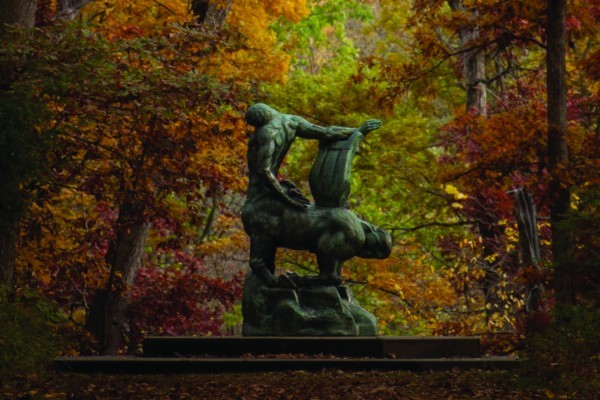 There's something electric in the air when fall hits in Champaign-Urbana. With the return of University of Illinois students, the atmosphere around the community has an energy that can't be matched. Fall activities from outdoor hikes to incredible festivals make this Big Ten college town a must-visit. Here's our top five ways to get in on the fall fun.
Stunning Fall Foliage
The Midwest does fall well thanks to the colorful fall foliage that spans our city streets and populates our parks and preserves. Whether you're strolling campus our heading out for a hike, you'll be awed by the colors on display. Some must-stop spots include a walk through Allerton Park & Retreat Center, with 14 miles of hiking trails along the Sangamon River. Lake of the Woods Forest Preserve invites you to climb the Hi-Tower Bell Carillon where you can get a birds-eye view of the foliage throughout the preserve and the Village of Mahomet. Head out on a kayak or go for a hike at Homer Lake Forest Preserve to see the foliage that edges the lake, or stay in town for a walk in the prairie, lined with beautiful fall native plants and foliage at Meadowbrook Park & Wandell Scultpture Garden. A drive down University Ave. shows the splendor of our urban streets with trees creating a tunnel of color.
Get those Gourds
Is it really fall if you don't have pumpkins and gourds decorating your home? Pick your own and spend a whole day on the farm at our top-notch pumpkin patches and apple orchards. Curtis Orchard & Pumpkin Patch is a family-favorite and a longstanding tradition in the Champaign-Urbana area. From dozens of varieties of apples available during the growing season to a large patch of pumpkin, you'll get all you need to be fall-ready. Kids love to stroll the yellow brick road, pet the goats, and have fun in the various activities available on hand. Don't miss your visit to the Flying Monkey Café where you can pick up the popular apple donuts, cider, and variety of hearty lunch options. In Arthur, just 40 minutes south of Champaign-Urbana, you'll discover the Great Pumpkin Patch known for its creative pumpkin and gourd displays and Amish-baked goods. Spend a full day taking in the patch, picking your pumpkins and gourds, and getting inspired for your fall decorating. Don't leave without cookies or bread or the stunning mums! Family-owned Negangard Pumpkin Patch is a popular local spot. This spot in Sidney provides the simple pleasures of going into the patch and finding just the right pumpkins for you. Okaw Valley Orchard in Sullivan, south of Arthur, offers an escape as you pick fresh apples and peaches, and sip on freshly-made cider. Don't miss their store filled with pies, donuts, jams, honey, and so much more.
Get Lost!
Our local agriculture is good for fresh ingredients and getting lost in the corn. Enjoy the thrill of navigating through one of many mazes found in our area. At Hardy's Reindeer Ranch, you'll find an intricately designed 10-acre maze that will take you a few hours to escape. Find checkpoints along the way to help you navigate. Try their Moonlight Madness experience and wander the corn in the dark with a flashlight as your guide. At Curtis Orchard & Pumpkin Patch, their corn maze is just the right size for younger kids looking for a fun challenge. The Great Pumpkin Patch in Arthur offers mazes large and small through straw bales, sunflowers, and soybeans–perfect for the real little ones–and their one-acre Maize Maze that overlooks the pumpkin patch.
Cheer on the Orange & Blue
Fall means football, tailgating, and breaking out your orange and blue as you cheer on the Fighting Illini to victory. Join the tailgate festivities in Grange Grove and other lots surrounding Memorial Stadium before the Fighting Illini Football team takes to the field. Follow the Marching Illini as they parade into the stadium for pre-game and take to the field for halftime. Illini Women's Volleyball returns to Huff Hall to dominate their competitors as they fight to win a Big Ten Championship. Women's Soccer, Men's & Women's Cross Country and Women's Swimming & Diving offer free opportunities to get out and support the Orange & Blue.
Fall Festivals for All
When there isn't a football game, you can bet that there's a fall festival happening taking place somewhere in the Champaign-Urbana area. The action never stops this fall with favorites like ELLNORA | The Guitar Festival, featuring headliners Emmylou Harris and Ani DiFranco; West Side Arts Festival with over 30 local and regional artists; Pygmalion with music, makers, and tech; the CU Folk & Roots Festival taking over downtown Urbana; Flannel Fest featuring lumberjacks(!!!); the inaugural Urbana Fall Fusion Festival with a gallery of gourds; the CU Pride Fest, the state's largest pride festival outside of Chicago; and heading into winter, the Parade of Lights. We promise that a visit to Champaign-Urbana will keep you entertained. Check out these and all events happening in the area!
Ready for your fall weekend?
Start planning with our Experience Guide and book your stay. Need help? Give us a call at 217-351-4133.