5 Ways to Recharge During Fall in Champaign-Urbana
September 28, 2023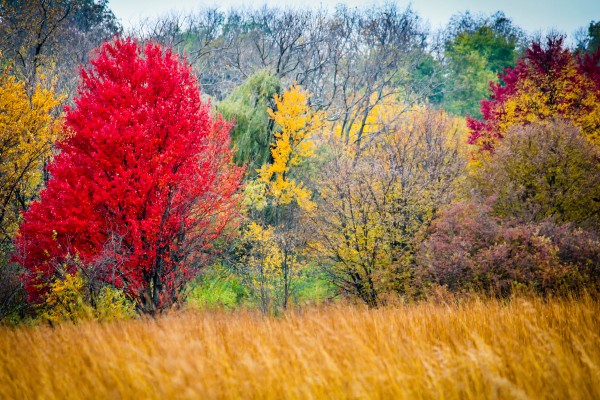 Fall is usually met with fanfare: The blushy hues of the leaves, the chilly air, soup season, sweater weather, (and we can't forget Pumpkin Spice season)—but to some, it feels overwhelming, and that means taking extra care for your mental health. Luckily, we belong in a community that offers many ways to nurture your mind, body and soul. From comfort food to taking a stroll at one of our vibrant parks, here are 5 ways you can recharge your mental health in Champaign-Urbana.
JAM TO LIVE MUSIC AT THE ROSE BOWL TAVERN
They say music helps uplift the mood, and what better way to enjoy some tunes than sitting at the Rose Bowl Tavern, with live performances every day, 7 days a week. Rose Bowl houses an array of genres, from folk, jazz, blues, country, swing, Americana, Zimbabwean Pop, and so much more. If the weather permits, sit outdoors, enjoy a tasty beverage, and listen to quality music—your seasonal blues may melt away in no time! For a full listing of their calendar events, click here.
BUY A SCENTED CANDLE OVER AT FIRE DOLL STUDIO
The smell of a scented candle offers benefits to your overall mood, stress levels, and mental clarity. Fortunately, Fire Doll Studios in Downtown Champaign will have you covered. Their wide variety of handmade artisan candles and wax melts will transport you to a place of solace, from scents like Moroccan Cashmere, Red Ginger Saffron and Hazelnut Biscotti. Did we mention their candles are soy based? No harmful pollutants or chemicals here!
ENJOY A PLATE OF SOUL FOOD OVER AT WOOD N' HOG BARBEQUE
Nothing says "self-care" more than a hefty plate of warm, steamy comfort food. Wood N' Hog is notorious for their hickory wood smoked BBQ, but their baked mac n' cheese, collard greens, and loaded baked beans will have you coming back for seconds (or thirds). If you visit after 3pm, Wood N' Hog will close its doors and Stango Cuisine will take their place. Try Stango's Oxtail and Fried Plantains—the flavor alone will envelop you like a warm embrace.
TAKE A STROLL AT ONE OF OUR MANY PARKS OR FOREST PRESERVES
It's no surprise that spending time in nature is linked to both cognitive benefits and improvements in mood, mental health, and emotional well-being. Luckily for us, we live in an area that gives way to breathtaking Fall foliage. You can't go wrong with community favorites like Meadowbrook Park, Busey Woods, or the University of Illinois' Arboretum and Japan House. If you're wanting a quick and easy loop, we recommend the Boneyard Creek Trail on E Springfield Ave.
GO SEE A SHOW AT THE PARKLAND COLLEGE THEATRE
Sometimes, in order to recharge we need an escape—experiencing a play or musical might do just the trick! In the month of October (select dates), Parkland College Theatre presents Mac Beth, where seven students from an all-girls prep school gather in an abandoned lot to stage their own DIY Macbeth. As they do, fantasy seeps into reality, and things take a very surprising turn. The Parkland College Theatre will have a show every month (excluding January). For a listing of their 2023-2024 season, click here.
We hope these suggestions will help you as we transition into cooler weather. Make sure to bundle up and take care of yourself! Do you have any recommendations in the community regarding self-care? Let us know on Facebook, X, TikTok, and Instagram!