Where to Witness Holiday Lights in the Champaign-Urbana Area
November 16, 2023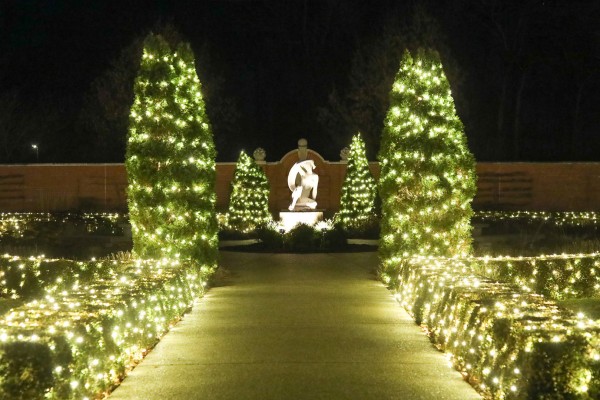 The holiday season in the Champaign-Urbana area isn't just about chilly weather, gift-giving and warm gatherings—it's also a time when the whole area comes alive with twinkling lights and festive displays. Here's your guide to experiencing the most enchanting holiday lights in the Champaign-Urbana area!
Where: 125 N. Country Rd. 425 E.
When: November 18, 25, December 2, 9, 16, 23, 30
Stepping into the serene landscapes of Amish Country lies
Aikman Wildlife Adventure
, the only drive-thru zoo in Illinois. This holiday season, enjoy a lighted display with special weekly activities, including a lighted walk-thru display, lighted wagon rides, hot food, drinks, and more. The Pathway of Lights is every Saturday from 4:00 p.m. to 8:00 p.m.
Where: 153 N. Market St.
When: November 24, 7:00 p.m. - 7:30 p.m.
This community tradition marks the beginning of their holiday season, igniting the town with a warm glow, spreading joy and merriment to all who gather in celebration. This is also a great opportunity to shop local, as certain businesses will stay open during later hours.
Where: 2202 W. Kirby Ave
When: November 24 - December 31
Nestled within the heart of Champaign-Urbana exists a gem that transforms into a winter wonderland come holiday season: Prairie Farm. This charming farmstead will host a free, accessible lighting spectacle for adults and children of all ages. Cocoa will also be available for purchase as you journey through the farm.
Where: 950 N. Lombard St.
When: November 24-25, December 1-2, December 8-9, December 15-16, December 22-24
Tucked away behind the Museum of the Grand Prairie, the Mabery Gelvin Botanical Garden blooms into a radiant wonderland, adorned with captivating holiday lights that heighten the senses and warm the hearts of visitors. This is a free event for adults and children of all ages.
Where: 515 Old Timber Rd.
When: December 1-23 and 26-31 (ticket required for Opening Night on Dec. 1) | January 5-6 and 12-13
Known for its natural beauty year-round, Allerton Park and Retreat Center transforms into a magical wonderland during the holidays. The holiday Glow Presented by the U of I Community Credit Union features a mile-walk of dazzling light displays in its serene gardens, offering a unique way to experience the holiday spirit. Food trucks and a cash bar will also be available on select dates, weather permitting.
Downtown Champaign Comes Alive in Champaign Center Partnership's Parade of Lights
Mark your calendars for one of Champaign-Urbana area's highly anticipated events—the Annual Parade of Lights presented by Christie Clinic! This beloved event turns downtown Champaign into a kaleidoscope of colors, enchanting all who gather to witness this festive procession. Kicking off Champaign Center Partnership's Small Business Saturday, pre-parade events include the Mistletoe Market from 10:00 a.m. to 6:00 p.m., a visit with Santa, horse and carriage rides, and more. You can check out Champaign Center Partnership's website for more information here.