Top Spots for Enjoying the Outdoors in the Champaign-Urbana Area
March 7, 2023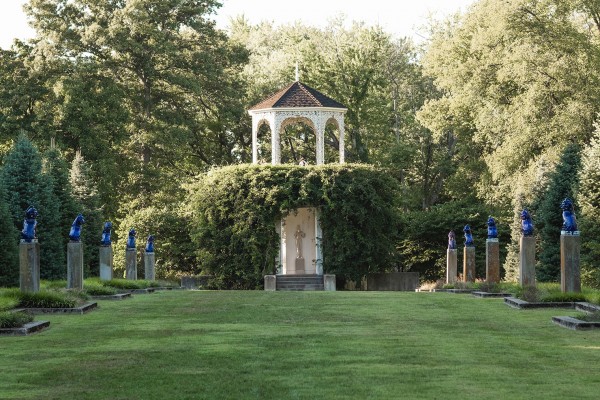 Rediscover the bountiful outdoor spaces to explore in the greater Champaign-Urbana area, whether you want to hike along area rivers, kayak on our lakes, or camp under the stars.
HIKES & WALKS
Whether you're looking to spend a few hours on the trails, or want to enjoy a 30-minute stroll, these spots offer scenic views to connect you with nature.
Allerton Park & Retreat Center—Discover over 14 miles of trails winding through prairie, gardens, and forest along the Sangamon River. Combine multiple trails to spend the day at this picturesque estate where you'll spot wildlife amongst the art throughout the park.
Sangamon River Forest Preserve—On the easy walking trails around this preserve where the Wildcat Slough tributary flows into the Sangamon River, you'll find the Lincoln Ash Tree, one of the largest trees in the state.
Lake of the Woods Forest Preserve—With a covered bridge, a botanical garden, a golf course, and a scenic lake, the paved and unpaved trails around Lake of the Woods Forest Preserve in Mahomet offer various options to explore the outdoors.
Meadowbrook Park—With over 130 acres at this Urbana park, three miles of paved trails and two miles of unpaved trails wind through restored prairie. You'll discover sculptures throughout the park, and will likely spot various wildlife that frequent the area.
ON THE WATER

River Bend Forest Preserve—Featuring the largest lake in Champaign County, this preserve offers an accessible pier for fishing, and 130 acres of clear water for kayaking and canoeing.

Homer Lake Forest Preserve—This large lake, surrounded by hiking trails, connects to the Salt Fork River so you can extend your time on the water. Kids can play on the water features, part of the Natural Playscape at the preserve.

Kaufman Lake—This Champaign park provides 30 acres of water for fishing, canoeing, and kayaking, surrounded by a wide walking trail and colorful foliage in the fall.

Crystal Lake Park—At the Lake House in Crystal Lake Park in Urbana, you can rent paddle boats or canoes to get out on the water from Memorial Day through Labor Day. Fish the lake at the accessible pier just West of the Lake House.

Don't have a kayak but still want to explore? Kingfisher Kayaking will help you get out for two different routes down the Sangamon River. Book your trip today!

BIKE TRAILS

Kickapoo Rail Trail—With a trailhead at Weaver Park in Urbana, this rail-to-trail, multi-use path extends 6.7 miles to St. Joseph, showcasing some of the most diverse ecosystems in Central Illinois. Stop in St. Joseph for lunch, or to do some local shopping! The trail will continue to extend East to Kickapoo State Park, with construction underway.

Mahomet Village Bike Trail—This 4-mile trail connects the small town to the West of Champaign-Urbana. Cross a historical bridge built in 1912 as you go from the Lake of the Woods Forest Preserve around the trail.

Rantoul Shared Use Path—Connecting parks and neighborhoods, this nine-mile trail will get you to the former Chanute Air Force Base, Willow Pond Golf Course, and into downtown, where you'll find places to shop and eat.

Camp Camfield Mountain Biking Trail—This multi-use trail off Lake Shelbyville in Sullivan offers 7.3 miles of winding trails that are popular with mountain bikers. Check it out anytime of year for a thrilling ride.

CAMPING

Gaze in wonder at the night sky as you camp outdoors. You'll find no better view in the state of Illinois than the campground at Middle Fork River Forest Preserve. Named an International Dark Sky Park in 2019, this preserve is the only destination in Illinois to receive the recognition. So pack the tent or camper for a night under our starry sky.

Camp off Lake Shelbyville at the Sullivan Marina and Campground. This private campground offers nearly 200 campsites, a floating restaurant and lounge, a pool, and much more.
Ready for your great outdoor adventure?
Check out our Experience Guide to learn all there is to see and do in the greater Champaign County area, then plan your trip!