Tuesday Trails with Terri: Carle Park
November 5, 2019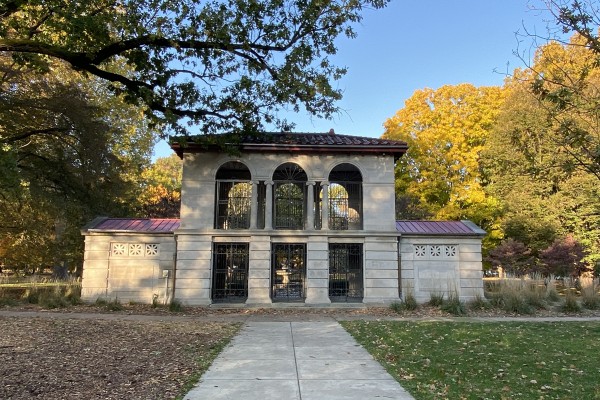 During my time at the University of Illinois as a student, I spent most of my time in Urbana, living East of campus along the brick-lined roads that are prevalent in the area. So when it was suggested that I head to Carle Park to capture the remaining fall foliage, I got a bit nostalgic for those school days.
After last week's torrential rain and the surprising snow on Halloween, I was a bit worried that we'd be without many leaves to show on the trees. I was never more happy to be wrong. While the sidewalks and streets had plenty of fallen foliage, there were some of the season's most splendid colors lining the streets and throughout Carle Park. The park has over 50 well-established trees and an award-winning Hickman Tree Walk featuring Illinois' largest English Oak.
It's well established that Urbana is a "Tree City" and today's run certainly showed why. In my research of the area, I found this delightful guide to the State Street Tree Trail, showcasing the diversity of the area for anyone interested in exploring on their own.
Here's the sights from this morning's crisp run:
I started on the South end of the park where I learned that the American Planning Association designated this West Urbana area as "Great Neighborhood" through their Great Places in America program.
The view down the street shows off the canopy of trees which can be found along the various "State" streets in the area.
If you're still looking to find some of the seasons best colors, this is certainly the area to go for a walk or run.
Nearing my old stomping grounds, when I spent my first two years as a student at the Lincoln Residence Halls.
From the street lights and signs to the brick roads, this area of Urbana is simply idyllic.
Loredo Taft, the artist behind Alma Mater on campus, created this piece, "Lincoln the Lawyer" in 1927. Lincoln spent time in Champaign County during his time as a lawyer.
Urbana High School, built in 1914, sits across Race St. from the park.
The pavilion in Carle Park was rehabilitated in 2012, keeping it an ideal setting to gather, especially during Urbana Park District's Neighborhood Nights in the summer.
Ended my run with the sun shining through the Hickman Tree Walk, with the English Oak looming nearly off-camera on the right.

I could have spent another 30 minutes walking through this area to catch the beauty of fall and admire the gorgeous homes and landscaping in the area. It's not too late to see the foliage so I highly recommend planning an outing in the park. Have an idea on where I should run in the coming weeks?

Comment on our Facebook page!