Museum Exhibits to Explore During Black History Month
February 22, 2021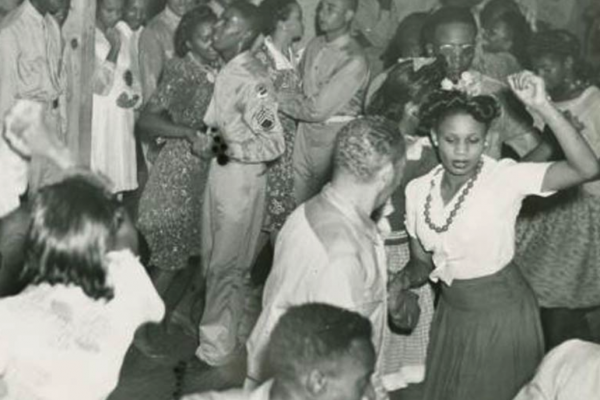 As we continue to celebrate Black History Month, our local museums once again prove to be invaluable community resources. Many of our local museums feature great exhibits on Black culture, social justice, and local Black history that are great to explore year-round as well as during this period of enhanced visibility for these stories and issues.
If you're curious about where to explore some of the themes that we focus on during Black History Month, look no further than a few of our Champaign County museums.
museum exhibits on black history and culture in champaign county
Our local Champaign County Museums Network includes a number of world-class institutions focused on preserving, teaching, and celebrating arts & culture. Here are a few worth exploring for Black History Month.
Spurlock museum's Blues Dancing exhibit
Last March, Spurlock Museum's "Blues Dancing and Its African American Roots" exhibit debuted. Running as an in-person exhibit and online experience, this project celebrates the influence of African-American cultural contributions to dance as a result of generational practices. Simply put, few mainstream, popularized dances would exist without the influence of Black culture and practices.
On top of a general overview of Blues Dancing, you can explore oral histories from Champaign County residents on the influence and impact of dance. For more info on visiting the Spurlock Museum in-person, please visit their website.
Museum of the Grand Prairie's "legacy" projects
Two exhibits at the Museum of the Grand Prairie offer us an insight into the influential Black men and women who helped to shape Champaign County, and in many cases, the world. "This Legacy is Yours" was a cooperative effort between the National Council of Negro Women, Champaign County Chapter, and the Museum of the Grand Prairie in 2001. While the physical exhibit ran years ago, the project is available online. Additionally, this is an ongoing project to celebrate the achievements of African American Women in Champaign County.
"This Legacy is Yours Too" followed the original "Legacy" project to highlight contributes made by Black men in Champaign County. This collection of stories, histories, and contributions is truly remarkable and well worth exploring during Black History Month and all-year-round. For more info on visiting the Museum of the Grand Prairie in-person, be sure to visit their website.
Krannert ARt Musuem's "Pressing Issues" Exhibit
The late John Lewis declared, "Ours is the struggle of a lifetime, or maybe even many lifetimes, and each one of us in every generation must do our part." In Krannert Art Museum's "Pressing Issues" exhibit, works by artists in the 1930s highlight the numerous radical, critical commentaries on the social injustices plaguing the country at that time. The issues that plagued a changing America in the face some 90 years ago still resonate in haunting ways today.
From labor activism to fights for racial justice, the artwork featured in this online exhibit reminds us that struggles facing Black Americans, as well as other marginalized groups in the United States, are not just a Black struggle. Themes that might not directly reference Black people in these works are still related to themes that impact many communities to this day. Labor exploitation, racism, and countless other issues continue to overwhelmingly impact BIPOC more than any other Americans. For details on visiting the Krannert Art Museum in-person, please visit their website.
The importance of engaging with black history all-year-round
As John Donne wrote, "no man is an island," and taking time to explore these ideas and themes is crucial for all of us. Black history and the contributions made by these Americans locally and nationally are worth everyone's attention and focus. As we continue to battle racism and discrimination in our personal lives, here locally in Champaign County, and as a nation, finding ways to come together and lessen separations in our communities is vital.
"[People] often hate each other because they fear each other; they fear each other because they do not know each other; they do not know each other because they cannot communicate; they cannot communicate because they are separated." - A. Phillip Randolph