Give the Gift of a Cozy Home (And Shop Local While Doing It!)
December 15, 2020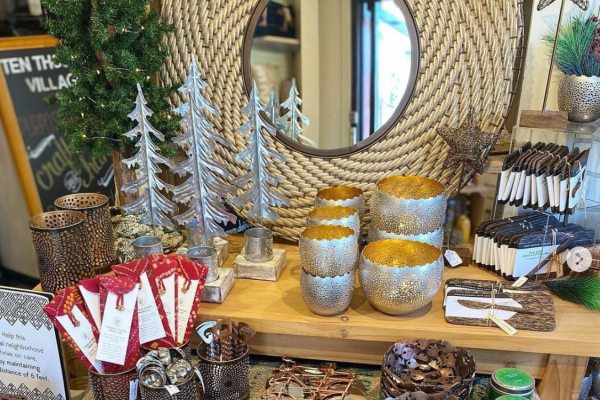 Many of us won't gather in each other's homes this year due to COVID-19. Instead, we'll celebrate via Zoom, phone calls, holiday cards, and more. There are a lot of things that make up a cozy home, and it might depend on who you ask. Some are the "curl up with a blanket" type and others prefer to set the mood with a candle. Decor preferences are just as diverse, with some opting to keep things modern while others delve into the delights of mid-century or yesterday's finest stylings.
Gifting decor can be tricky, but if you know your gift recipient's style, then there's no gift more enjoyable and exciting than a new piece for their home or office. With some time left in the holiday shopping season, make sure to give the gift of cozy this year by shopping local!
GIVE THE GIFT OF A COZY, COMFY HOME!

Is there any better feeling than adding a new, perfect-for-you decoration to your home? If you have someone who loves their home as much as you do, be sure to consider one of the greater Champaign County's home stores. At Ms. Becky's Country Primitive Gifts and Décor, you can find just about anything country-inspired you could think of! If you love gifting ornaments to anyone, this is definitely the place to come! St. Joseph's Country Chics is also a wonderful place to find that cozy home décor you're looking for, with favorites from Mudpie and more! For homemade bath and body products, make a trip to the Arthur General Store for bath bombs, lotions, and more from local makers. There are also plenty of other things sprinkled in that might make a great home warming gift for recent college grads or newly moved friends and family. No matter who you're shopping for, there's certainly a treasure waiting for you at Antiques & More at Staley Road. With over 8,000 square feet of space for vendors to share their timeless finds, you can easily pick up gifts that range any interest and age-range. For fans of mid-century décor and other retro home furnishings, Furniture Lounge is a great place to find a new chair, table, or piece from their collection of art and decorative items for the home. Hoping to help a friend or family member decorate this season? Send someone a gift from Flora Design Studio to show your gratitude and wow them with something they'll want to use all winter long! Lastly, Yellow & Co. has a mix of fun and unique pieces to help people feel happy at home, Sale Street Boutique in Tuscola is full of fantastic collections of home décor and jewelry, and Monticello Mercantile, located off the historic square in Monticello, is a unique place to find the statement pieces you need to complete your living room, bedroom, and the entire home. We've also seen many take on the role of plant parents during 2020, so consider gifting something green from Plant Mode or Plantify!
These are just some of the many local businesses working hard to provide us with safe shopping experiences this holiday season. Be sure to browse the full directory of businesses in the greater Champaign County area to check off the rest of your holiday shopping list!