CU Folk & Roots Festival: Can't Miss Shows and Full Schedule
October 18, 2019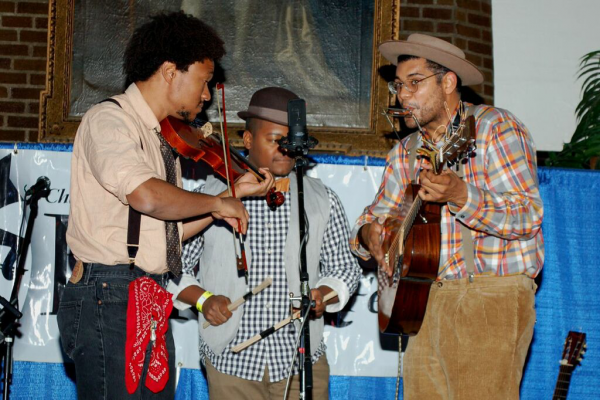 For the past 10 years, the CU Folk & Roots Festival has been a staple in our community for bringing an inclusive, community-oriented event to the Champaign-Urbana area that celebrates the traditions and energy of folk traditions and arts.
This year marks the 11th CU Folk & Roots Festival, and it's a lineup and weekend of incredible programming you will not want to miss. Here are a few can't miss shows, as well as a full lineup of all events associated with the festival.
Can't Miss Shows
Don Flemons – Rose Bowl Tavern (Thursday)
When it comes to students of the craft, it doesn't get much more academic than Don Flemons' dedication to the American songbook and folk repertoire. Flemons is a GRAMMY Award Winner, as well as a two-time EMMY nominee. His nickname "The American Songster" calls to his encyclopedic knowledge of over a century of American tunes. Catch him play the Rose Bowl Tavern the first day of the festival.
Veretski Pass – The Iron Post (Friday)
Klezmer as a genre keeps the sounds of the Eastern European Jewish stylings. Influences from Jewish, Carpathian, Rumanian, and Ottoman styles keeps every moment of listening to Veretski Pass exciting and enticing. The band is one of the most beloved klezmer bands in the world, and their Friday show at the Iron Post will be a lesson in ancient melodies from Poland and Rumania, as well as modern day compositions that are original to the band.
Lilli Lewis – Multiple Locations (Saturday)
Born and bred in the Crescent City, the now New Orleans based funk rock and revivalist soul artist Lilli Lewis is bringing her talents and knowledge to the CU Folk & Roots Festival this year. On Saturday, hear Lewis talk about Folk Music from the African American Tradition at The Cohen Building at 12:30pm just before 2:30pm and 10:30pm shows at Blackbird. Lewis is a long time member of the Dirty Dozen Brass Band, as well as busy running Louisiana's oldest indie record label, Louisiana Red Hot Records. With a better understanding of folk and soul traditions than most, her music soars through the air, and is thankfully going to be featured more than once during this festival.
There are so many great shows this year at the CU Folk & Roots Festival. Take a look at the full festival schedule below to plan out an incredible weekend of live music in our Outside of Ordinary community.
Full Festival Schedule
Thursday, Oct.24
Entry to Thursday evening events, excepting the meal at Red Herring, is free!
5:00 – 5:45 Hot Club of Urbana (Jazz) Krannert Center for the Performing Arts Lobby
6:00 – 7:00 The Gaslight Squares (Early Jazz/Blues/Swing) Krannert Center for the Performing Arts Lobby
7:30 – 9:00 Dinner with the Hobnob String Band (Americana) Red Herring Vegetarian Restaurant
8:00 – 9:00 Swing Lesson, with Sarah Scott Channing-Murray Foundation Chapel
9:00 – 10:00 Swing Dance, with The Gaslight Squares Channing-Murray Foundation Chapel
9:00 – 10:00 Carolyn Sills Combo (Swing/Jazz) Blackbird
10:00 -11:30 Bashful Youngens (Folk) Blackbird
Friday, Oct. 25
5 PM
5:00 – 6:15 Emily Anne Band (Country/Folk) The Iron Post
5:00 – 6:30 Songwriters in the Round with Christy Hays, Fate McAfee, & Cole Bridges C4A
5:00 – 6:00 The Young and The Fretless (Old-Time String Band) The Cohen Building
6 PM
6:00 – 7:15 Gaslight Squares (Early Jazz/Blues/Swing) The Rose Bowl Tavern
6:00 – 7:15 Humbird (Experimental Folk) Blackbird
6:30 – 7:30 Black Eyed Susans (Folk) The Cohen Building
7 PM
7:00 – 8:15 Veretski Pass (Klezmer) The Iron Post
7:00 – 8:00 Kevin Elliott (Singer-Songwriter) C4A
7:00 – 7:30 Intro Contra Dance Lesson Urbana Dance Company
7:30 – 9:30 Contra Dance, with Yellow-Bellied Sapsuckers; Gail Hintze, Caller Urbana Dance Company
7:45 – 9:00 Melvin Knight and the Amber Sky (Neo Soul R&B) Blackbird
8 PM
8:00 – 9:15 Dom Flemons (Folk/Americana/Blues) The Rose Bowl Tavern
8:00 – 9:00 Dill Spears (Contemporary Folk) The Cohen Building
8:30 – 9:45 Kyshona Armstrong (Roots/Soul) C4A
9 PM
9:00 – 10:15 The Cody Sisters (New American Roots/Bluegrass) The Iron Post
9:30 – 9:45 Ayodele Drum & Dance (West African Drum & Dance) Blackbird
10 PM
10:00 – 11:30 Cajun Cornstalkers (Cajun) The Rose Bowl Tavern
10:30 – 12:00 Candy Foster and Shades of Blue (R&B/Soul) Blackbird
11 PM
11:00 – 12:30 The Bottlesnakes (Blues/Barrelhouse) The Iron Post
Saturday, Oct. 26
ALL EVENTS BEFORE 5PM ARE FREE
10 AM
10:00 – 11:00 Morning Music for Kids C4A
10:00 – 11:00 Folkin' Yoga, with Maggie Taylor Urbana Dance Company
10:00 – 12:00 Old-Time Jam, with Yellow Bellied Sapsuckers Common Ground Porch
11 AM
11:00 – 12:00 Dom Flemons presents an American Songster/Storytelling Workshop UFL-Lewis Auditorium
11:00 – 12:00 You Can Ukulele Too, with Martha Tyner The Cohen Building
11:00 – 12:00 Black-Eyed Lillies (Blues) UFL-Busey-Mills Reading Room
11:00 – 1:00 Bluegrass Jam, with the Cody Sisters Lincoln Square Food Court
11:15 – 11:45 Humbird (a musical fairytale for kids) C4A
11:30 – 12:30 Introduction To Blues Dancing Urbana Dance Company
12 NOON
12:00 – 2:30 Storytelling (Tellers TBA) UFL-Lewis Auditorium
12:00 – 12:30 Mister Stephens Magic & Music (Kids) C4A
12:45 – 1:30 Lil' Folkers Puppet Party, with Miss Hannah Rae (Kids) C4A
12:30 – 1:30 A Brief Look at Folk Music from the African American Tradition with Lilli Lewis The Cohen Building
12:30 -1:30 The Coneflowers (Folk) UFL-Busey-Mills Reading Room
1 PM
1:00 – 3:00 Cajun Jam, with the Cajun Cornstalkers Lincoln Square Food Court
1:30 – 2:15 West African Dance Class, with Ayodele (Drum & Dance) Urbana Dance Company
1:30 – ? Musical Mayhem Parade (Kids and the young at heart) C4A
1:30 – 3:00 Blues Jam, with the Cobalt Blues Band The Rose Bowl Tavern
1:30 – 3:30 Knights of Cabiria open rehearsal C4A upstairs
2 PM
2:00 – 3:30 Jug Band Jam, with the Steel City Jug Slammers The Iron Post
2:00 – 3:00 Introduction to Playing Klezmer, with Veretski Pass C4A
2:00 – 4:00 Learn to play Harmonica, with Dave Witzany (harmonicas provided) The Cohen Building
2:00 – 3:00 Michael Meadows (Contemporary Folk) UFL-Busey-Mills Reading Room
2:30 – 4:00 New Orleans Street Beats: Jam to a Different Drummer, with Lilli Lewis Blackbird
3 PM
3:00 – 4:00 Capoeira, with Capoeira Angola Center Urbana Dance Company
3:00 – 5:00 Shape-Note Singing, with the Sacred Harp Singers UFL-Lewis Auditorium
3:30 – 4:30 The Matchsellers (Bluegrass/Old-time) UFL-Busey-Mills Reading Room
3:30 – 4:30 Rhythm Bones Workshop, with Dom Flemons C4A
3:30 – 5:00 Country Jam, with Nick Stein The Rose Bowl Tavern
4 PM
4:00 – 5:00 Barrelhouse Piano Workshop, with Ethan Leinwand The Iron Post
6 PM
6:00 – 7:15 Dom Flemons (Folk/Americana/Blues) The Rose Bowl Tavern
6:00 – 7:00 Asher Danziger (Bohemian Folk) The Cohen Building
6:00 – 7:30 Songwriters in the Round, with Paul Kotheimer, Gloria Roubal, and Kenna Mae Reiss C4A
7 PM
7:00 – 8:15 Whiskey Bent Valley Boys (Old Time String Band) The Iron Post
7:00 – 8:00 Cobalt Blues Band (Blues) Blackbird
7:30 – 8:30 Tex Wynn (Country/Folk) The Cohen Building
7:30 – 8:30 Yiddish Dance, with Veretski Pass and Mitch Harris Urbana Dance Company
8 PM
8:00 – 9:15 Nick Dittmeier and the Sawdusters (Country) The Rose Bowl Tavern
8:00 – 9:00 Orpheus Mandolin Orchestra C4A
8:30 – 9:45 Bluegrastronauts (Outerspace Bluegrass Odyssey) Blackbird
9 PM
9:00 – 10:15 Yellow-Bellied Sapsuckers (Country/Folk) The Iron Post
9:00 – 10:00 Jean Rene Balekita (Congolese Rumba/Gospel) The Cohen Building
9:30 – 10:30 Matt, Bob, and Doug (Acoustic Blues) C4A
10 PM
10:00 – 11:30 Maria Carrelli (Country/Folk) The Rose Bowl Tavern
10:30 – 12:00 Lilli Lewis Project (Revivalist Soul/Folk) Blackbird
11 PM
11:00 – 12:30 Steel City Jug Slammers (Jug Band/Blues) The Iron Post
12 PM
Midnight – ? Urbana Hootenanny The Rose Bowl Tavern