Ways to Support and Celebrate National Black Business Month
August 27, 2020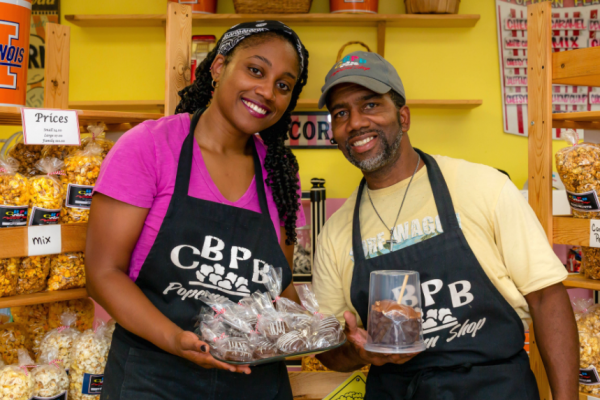 August is National Black Business Month and this year is more crucial than ever to find ways to celebrate and support the cause. As our community, the nation, and the entire world look to address issues of racial injustice via economic and social disparities, it's become evident to many that taking an initiative is a must when it comes to supporting Black-owned businesses and organizations. In the greater Champaign County area, we have many ways to do just that, so here are a few ways to consider how to support Black businesses.
celebrating national black business month in champaign county
Celebrating and supporting Black-owned businesses doesn't need to be a major shift in your habits and routine. Instead, simple and mindful changes to your dining, shopping, and spending habits can make a world's difference for your community. Here are a few ideas to consider.
Get to know your local black-owned businesses
We have a number of Black-owned businesses in the greater Champaign County area. From incredible food to amazing handmade goods and retail options, our Black business community offers something for everyone. We're always working to add new listings to our website, but two local organizations are also incredible resources for supporting these businesses as well as information on local initiatives to strengthen Black lives in our area. Be sure to explore information, directories, and more on these websites:
Champaign County Black Chamber of Commerce
Our challenge to you: find at least one Black-owned business to support in the next month
share black businesses on your social media pages
Nearly 74% of people say they choose where to spend their money based on referrals from friends on social media. That means something as simple as snapping a picture or writing a post that tags a Black-owned business could lead to many more sales and customers for that business. When you go out and buy something from a Black-owned business, take a moment to share it to Facebook, Twitter, or Instagram. Make sure to tag the business too! Social media apps work with algorithms that reward businesses with higher engagement. A simple, quick post to you might mean a huge boom in business to a Black entrepreneur in our area.
Even when you don't spend money, liking a Black-owned business on social media and engaging with their posts helps them reach more people. You might not spend a dime by sharing a post you see from a Black-owned business, but you do certainly help them get their products and services in front of more eyes. That alone can help drive up interest and purchases.
Our challenge to you: explore stories and businesses that help make Champaign County rich in Black culture and history.
learn more about Black-owned businesses and their challenges
It's great to support Black-owned businesses financially, but it's incredibly helpful to learn more about what challenges Black-owned businesses experience and the inspiration behind some of these entrepreneurs. Buy Black Chambana's website lists a wonderful explanation about supporting Black-owned businesses that really encapsulates what this effort is about. When you support a Black-owned business, "you help close the racial wealth gap, strengthen local economies, foster job creation, celebrate black culture, and hold other companies accountable."
The Champaign County Black Chamber of Commerce also details some of the initiatives they undertake and why these efforts are crucial to a successful and expanding Black-owned business ecosystem. Lastly, BlackBusinessMonth.com features a number of stories at the national level that emphasize a need for support from the community to help keep Black businesses thriving.
Our challenge to you: explore the Buy Black Chambana and CCBCC websites to learn more about Black-owned businesses and their challenges
supporting black-owned businesses all year long
While August may be National Black Business Month, supporting and celebrating a diverse local business community is an all-year endeavor. These tips, as well as a commitment to continue learning and supporting these businesses, can go along way for our entire community. Supporting Black business is a promise to all members of your community that everyone who is willing to try and build up our local economy belongs here. Show your support today by getting started with these challenges as well as listening to Black leaders in our area about what they need in terms of community support.
Featured Image: CBPB Popcorn Shop