Support Local During the Coronavirus: Champaign County Forest Preserve District
March 18, 2020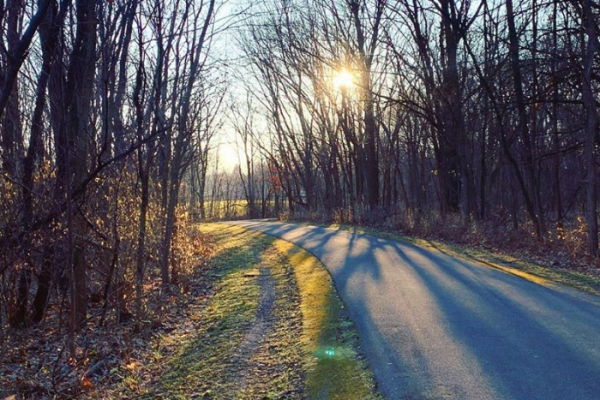 In the greater Champaign County area, local businesses aren't just businesses. Our neighbors, family, and friends are all working to keep things as normal as possible amidst the COVID-19 precautions as outlined by the Governor of Illinois and the Champaign-Urbana Public Health Department. These challenging times serve as a reminder to residents in the greater Champaign County area just how wonderful our local businesses, restaurants, and community truly is. If there's ever a time to embrace #OutsideofOrdinary, it's now.
Champaign County Forest Preserve District
It's tough to feel normal right now; you are not alone in feeling overwhelmed, anxious, and altogether out of sorts. Luckily our #OutsideofOrdinary community is coming together in every which way to help. It's been so great seeing different organizations and groups in our area do what they can for others. But, did you know you can also be doing something very important for yourself?
Taking a walk or going for a jog or run is crucial to a healthy body and brain. According to the CDC, even a 20-minute walk can boost your physical and mental health in very noticeable and crucial ways. Taking time away from the news, social media, and social distancing from home is very important to your body's ability to cope with all these changes.
The Champaign County Forest Preserve District can help, as most outdoor facilities and spaces are still open! Here are a few notes to keep in mind if you want to get out and get active:
All educational and public programs and events scheduled between March 14 and April 12, 2020 have been canceled.
The Museum of the Grand Prairie at Lake of the Woods Forest Preserve and the Interpretive Center at Homer Lake Forest Preserve will be closed to the public during this time.
The Harry L. Swartz Campground at Middle Fork River Forest Preserve near Penfield will not open for the season until May 1, rather than its usual April 1 opening date.
The Lake of the Woods Golf Course will remain open
All public restrooms are closed until further notice
You'll be surprised how much getting into nature can help to free your mind from everything going on. As you continue to support local businesses and stay healthy, don't forget to take care of yourself in every which way, including taking time to unplug and get outdoors.
HOW TO SUPPORT LOCAL BUSINESS DURING THE CORONAVIRUS
As we see a reduction in business to our area, we continue to encourage the support of our local businesses and the hospitality industry. As of Sunday, March 15, it is state-mandated that bars & restaurants close through March 30. Please note that carry-out and curbside pick-up options are available. We are collecting information on these options and posting them here, but also encourage patrons to follow their favorite spots on social media for updates or call for more information.
We will continue to post updates on our Business Updates and Cancellations page as we receive them, but encourage everyone to take guidelines from the Illinois Department of Public Health and the CDC seriously.