Top Outdoor Spots for Fall
September 1, 2022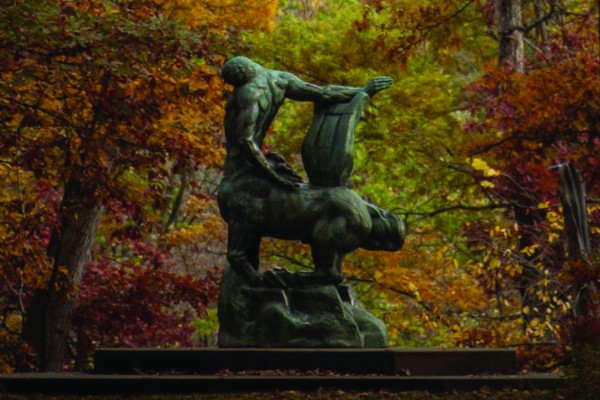 With a little chill in the air, and the leaves starting to change, fall is the ideal time to explore the outdoors. From spotting the best fall foliage to seeing the changing night sky, we've got the best spots for your fall outdoor adventures.
Allerton Park & Retreat Center
This gem in Monticello features over 14 miles of hiking trails along the Sangamon River. From forests to prairie, you'll see stunning fall foliage with plenty of art along the way to set up a stunning backdrop. Make it a weekend with a "Glamping Getaway" or stay in the mansion or other guesthouses.
Lake of the Woods Forest Preserve

With five forest preserves in Champaign County, we have a lot of options to hike, kayak, and explore our natural spaces. Yet Lake of the Woods Forest Preserve provides an idyllic setting for spotting fall foliage, made even more impressive with a short climb up the Bell Tower Carilion for an overhead view. Stop in the Mabery Botanical Gardens while on site for a picturesque fall day.

Head out for a hike along the scenic Lake Shelbyville in Sullivan, about an hour south of Champaign-Urbana. Overlooking the lake, this trail is over 100 acres of wetlands with ideal spots for viewing waterfowl such as Great Blue Heron and Spotted Sandpiper. Check out neighboring trails at Camp Camfield where you can also mountain bike.

Urban Parks

Did you know that 100% of residences in Champaign-Urbana are within a ½ mile of a green space? Our urban parks make for a quick getaway to enjoy a stroll during fall. West Side Park in downtown Champaign features numerous pieces of public art, a fountain, gazebo, and plenty of trees for spot of color. Meadowbrook Park in Urbana has over two dozen pieces of public art spread among the prairie, an ideal spot for a walk, run, or bike ride in the cooler weather.

Middle Fork River Dark Sky Park

Camping in fall provides the perfect opportunity to bundle up in those sleeping bags under the stars. There's no better place in Illinois to camp than Middle Fork River Forest Preserve, the only certified International Dark Sky Park in the state. Catch a spectacular view of the stars at night, and hike and spot wildlife by day.

Surrounding Wimple Pond at the end of Hillcrest Drive in Tuscola, Illinois, Wimple Park comes alive surrounded by the fall foliage. A perfect spot to take a walk with man's best friend, or just relax under a shade tree to soak in the chilly Autumn air.
Ready to plan your fall adventure?
Need help planning your visit to the greater Champaign County area? Check out our Experience Guide, or contact us for more information!