Support Local During the Coronavirus: Sam's Café
March 20, 2020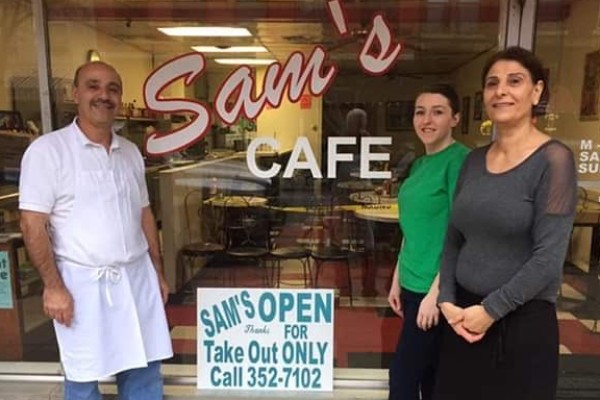 In the greater Champaign County area, local businesses aren't just businesses. Our neighbors, family, and friends are all working to keep things as normal as possible amidst the COVID-19 precautions as outlined by the Governor of Illinois and the Champaign-Urbana Public Health Department. These challenging times serve as a reminder to residents in the greater Champaign County area just how wonderful our local businesses, restaurants, and community truly is. If there's ever a time to embrace #OutsideofOrdinary, it's now.
Sam's Café
In downtown Champaign on any given morning, the tables at Sam's Café are packed with regulars and passersby drawn to its inviting environment. Sam Issa, the man for whom the café is named, is still serving his regulars, but in a bit of a different way.
Like many Champaign County area restaurants, Sam moved his service to curbside takeout, offering to-go orders to those who love his café. He's been touched to see so many regulars still stopping by to pick up breakfast or lunch. In fact, Sam shared with us that a regular tipped two of his servers, Katie and Ryan, $100 each to show support during these tough times.
It's not about how much you give, or how often you can eat out, but showing support to our restaurants at this time is crucial. These aren't just businesses run by strangers. These are people who we rely on for fun nights out, perfect starts to our day, and in the case of Sam's Café, a comfortable neighborhood home away from home to meet with friends and make new ones.
Sam's Café is open for its normal hours (M-F 6 am - 2 pm; Sat 6 am - 1 pm; Sun 7 am - 1 pm) for takeout.
HOW TO SUPPORT LOCAL BUSINESS DURING THE CORONAVIRUS
As we see a reduction in business to our area, we continue to encourage the support of our local businesses and the hospitality industry. As of Sunday, March 15, it is state-mandated that bars & restaurants close through March 30. Please note that carry-out and curbside pick-up options are available. We are collecting information on these options and posting them here, but also encourage patrons to follow their favorite spots on social media for updates or call for more information.
We will continue to post updates on our Business Updates and Cancellations page as we receive them, but encourage everyone to take guidelines from the Illinois Department of Public Health and the CDC seriously.