Spend Some Time on the Farm
April 30, 2019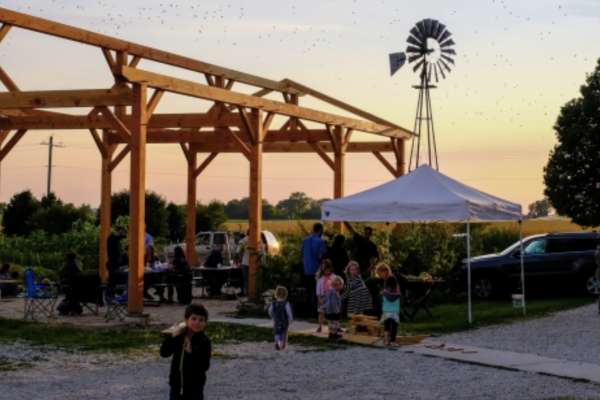 There's something that happens to you when you step foot on a farm. As you take in the sights and smells that come with farm life, those daily stresses and every day anxieties fade away. You put away your phone, you wander through the prairie and imagine a life quieter than the one you're living.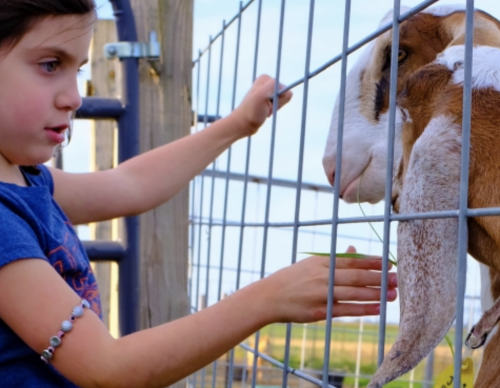 For the farmers themselves though, there's much work to be done. At Prairie Fruits Farm & Creamery in rural Champaign, owners Wes Jarrell & Leslie Cooperband start early feeding their herd of 80 goats, milking them just feet away from their pasture, and collecting that milk to begin the daily process of creating their award-winning cheeses and artisan gelato. To those visiting the farm, the goats bring smiles to those they interact with, showing off their vivacious personalities. To Wes & Leslie, these goats are part of their family, and sustain their business and their passion throughout the year.
In 2019, the self-named "recovering academics" have created numerous opportunities to visit the farm, to not only visit the goats and take advantage of their Outside of Ordinary culinary activities, but also to learn what it takes to manage a farm of this scale and to make the cheese and gelato that you often pick up at the market, or have unknowingly at some of your favorite Chicago restaurants such as Frontera Grill, Sweet Greens and the Girl and the Goat.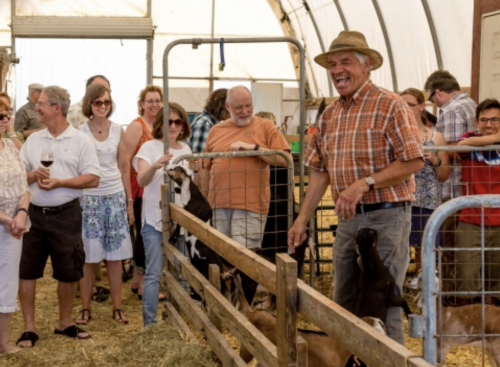 "People know us for us for our cheeses, gelato and dinners, but do they really understand the day-to-day workings of a goat farm and creamery? After all these years, I think people are now interested in learning more about the process of raising these animals and the cycle of milk production as it relates to the quality and availability of our products", says Leslie Cooperband. "We also want to expand opportunities for our patrons to come out and enjoy the beauty of the farm throughout the seasons," she adds.
This winter, as they prepare for the babies to arrive, they invited guests out for a new event, "Dote on the Does" to honor the hardest working animals on the farm, the female goats, or does, who are at the end of their 150-day gestation period. Over 200 guests braved the winter weather and pampered the female goats by brushing them, petting them, and by hand-feeding them some hay.
In late March, after over 100 babies are birthed, and sleep has long eluded all on the farm, they will once again host their popular "Babies & Brunch" for five straight Saturdays. It takes very little time for these youngsters to learn to climb and clamor for the attention of the guests as they enter the pen. Families gather to catch the first glimpses of spring while enjoying delicious breakfast items utilizing local ingredients not just from Prairie Fruits Farm, but from farms across Central Illinois. A favorite as the chill starts to dissipate is the goat's milk hot chocolate, creamy and rich. During these weekends, you can also shop from their Farm Store, where you can take home their various cheeses and gelato, along with other fun farm-related products.
April & May bring out another fan-favorite, Goat Yoga, from instructor Maggie Taylor, also the owner of Delight Flower Farm located on the property. The only real way to enjoy those up-dog positions is when you have the young goats climbing atop you.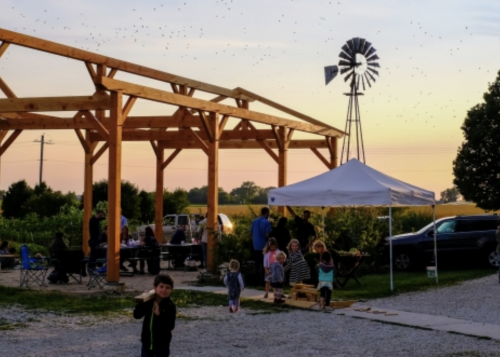 As we head into summer, staff member Michael Darin, will lead guided tours of the farm and the creamery every other weekend at 2pm and 3pm starting June 15th. The 30-minute tour will take you around the farm and the creamery, ending up in the Farm Store where you'll try three fresh goat cheese samples. (Cost of the tour is $10 for adults and $6 for children under 10.)
The annual "Dinners on the Farm" are hot tickets, proving to be a culinary experience of a lifetime. Starting May 25th, top-chefs from the area, as well as from Chicago and St. Louis, will be creating delicious slow-food style meals using hyper-local food, including Prairie Fruits Farm cheese and gelato, to enjoy outdoor under the prairie skies in their new pavilion. Highlighted guest chefs this year include Stephanie Izard from Girl & the Goat, Andres Padilla from Frontera Grill-Topolobamba-Leña Brava, Vie Restaurant's Dan Compton, Sunday Dinner Club, and local chefs Raquel Ritz, Ann Swanson and Mark Hartstein. Learn more about the dinners, and make your reservation here.
Visiting the farm doesn't always have to be a formal experience. This summer, Wes & Leslie invite you out to simply enjoy the peace that's found from being on the prairie. Enjoy an evening with their curated selection of wine and a cheeseboard as you watch the sunset beyond their iconic windmill. Follow along on social media to learn about their pop-up events with wine and beer pairings with the creamy cheeses. Learn about the insects that live hide in the various plants and trees on the property with night-time walks, and take twilight walks on the prairie with the goats.
While summer is a perfect time to visit the farm, fall is idyllic. As their harvest of produce from the garden is ready and the colors start to change, plan for additional opportunities to engage with the land. This autumn, Cider Days will return with fresh apple cider pressing and hayride tours, as well as a Harvest festival with wreath making workshops. As we head towards the holidays once again, enjoy the Christmastime favorite "Holiday Market and Goat Photo Booth," where guests can have their picture taken with dressed up goats.
This year will be filled with opportunities to visit the farm, and if we had our way, we'd be hanging out with the goats every weekend! If you want to learn more about what happens on the farm, and where & when you can get their products, subscribe to their newsletter, where Leslie vividly paints a picture of a week in the life of a dairy farmer.
Be sure to use #OutsideOfOrdinary on your next visit to the farm!