Support Local During the Coronavirus: Aikman Wildlife Adventure
April 14, 2020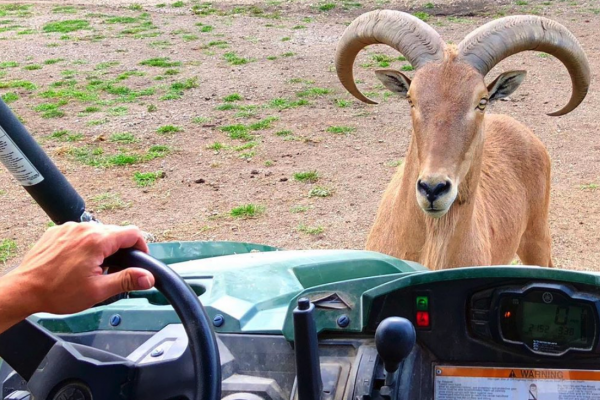 In the greater Champaign County area, local businesses aren't just businesses. Our neighbors, family, and friends are all working to keep things as normal as possible amidst the COVID-19 precautions as outlined by the Governor of Illinois and the Champaign-Urbana Public Health Department. These challenging times serve as a reminder to residents in the greater Champaign County area just how wonderful our local businesses, restaurants, and community truly is. If there's ever a time to embrace #OutsideofOrdinary, it's now.
aikman wildlife adventure
Aikman Wildlife Adventure is home to several species of animals ranging from wolves, black bears, mini horses, and more. The experience of seeing these animals up close on a driving or wagon tour is hard to beat when it comes to wildlife encounters in our area.
As we're all social distancing, Aikman began putting together a way patrons could visit with the animals from home. That's right: Sofa Safari! On the park's social media accounts, residents and visitors who loved getting to see these animals in person can keep up with them from home.
Keep your eye's peeled to Instagram and Facebook for episodes of Aikman's Sofa Safari. The episodes will give you a chance to see all your favorite animals at the park, including Cissy the Bear and Willow the Porcupine.
Like many visitor-based attractions, Aikman Wildlife Adventure is missing out on some essential revenue during stay-at-home orders. If you wish to support Aikman at this time, you can submit a donation here.
Be sure to keep up with all the wildlife adventures happening at Aikman in the coming weeks!
HOW TO SUPPORT LOCAL BUSINESS DURING THE CORONAVIRUS
As we see a reduction in business to our area, we continue to encourage the support of our local businesses and the hospitality industry. As of Sunday, March 15, it is state-mandated that bars & restaurants close through April 30. Please note that carry-out and curbside pick-up options are available. We are collecting information on these options and posting them here, but also encourage patrons to follow their favorite spots on social media for updates or call for more information.
We will continue to post updates on our Business Updates and Cancellations page as we receive them, but encourage everyone to take guidelines from the Illinois Department of Public Health and the CDC seriously.