Looking Ahead: 10 Outside of Ordinary Events in July
June 28, 2019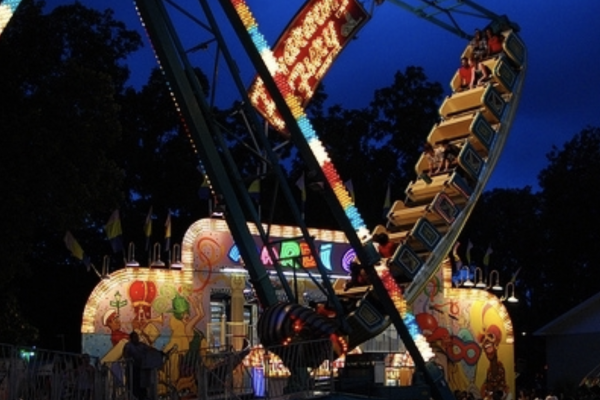 Fourth of July events will get their separate blog, but let's look at the rest of the month to come and see what Outside of Ordinary events there are to enjoy!
Thursday, July 11 at 7:30 p.m.
Diana Ross is considered one of the most successful recording artists and entertainers of all time. 2019 will be remembered as a milestone in history with a year-long Diamond Diana Celebration marking the 75th birthday of the iconic superstar. From her landmark solo career to the early days as the leader of The Supremes, Ross helped shape the sound of popular music, changing the landscape and paving the way for contemporary music. Catch her in concert at the State Farm Center this month!
Saturday, July 13 from 9:00 a.m. to 3:00 p.m.
The University of Illinois College of Veterinary Medicine's Poisonous Plant
Garden will present an Open House at no cost to the general public on Saturday, July 13 from 9 a.m. to 3 p.m. Pet owners, gardeners, veterinarians and the general public are encouraged to partake in this guided and informative tour of the Poisonous Plant Garden — led by experts in the field of toxicology. The Poisonous Plant Garden is located on the College of Veterinary Medicine campus. From Lincoln Avenue in Urbana, travel about one block west on St. Mary's Road. The garden is on the south side of St Mary's next to the horse pasture.
Saturday, July 13 from 3:00 to 10:00 p.m.
Join Imbibe Urbana for a perfect day of biking, bouldering, disc golfing and beer in Urbana. Your Urbana Tryathlon route starts at Urbana Boulders for registration, waiver signing, bike attainment, and camaraderie with Neutral Cycle. Once you're signed up and have your scorecards, Tryathletes will enjoy all that Urbana Boulders has to offer for all levels indoor climbing. After climbing, Tryathletes will follow their pack leaders and ride through to Lohmann Park. At Lohmann, play a couple of holes of Disc Golf with the Champaign County Disc Golf Club. Once we've got the competitive juices flowing, we ride to Riggs Beer Company. At Riggs, be ready to keg toss and celebrate Urbana with your friends, family and complimentary Tryathlon pint glass. Awards ceremony at 8:30pm and celebrations continue until 10 p.m.
Saturday, July 13 starting at 4:00pm
Come one, come all to the fourth annual Midwest Beer Fest! Free entry, family friendly, and a great selection of drinks. Sample your favorite and limited release beers from all over the local region. Bring a friend, bring your family, bring your thirst! Located in parking lot next to Barrelhouse 34 in downtown Champaign.
Saturday, July 13 at 7:00pm
Join us for live local music in the streets of Downtown Champaign. Enjoy local food and drinks available from your favorite downtown establishments and listen to some great CU talent.
Sunday, July 14 from 11:00am to 4:00pm
Come check out homemade goods, products and have some fun on the second Sunday of each month in beautiful Monticello! The Market will be open from 11 am-4 pm for shopping! If you are interested in selling at the market email monticellomakersmarket@gmail.com to reserve a spot!
Sunday, July 14 from 9:00 a.m. to 4:00 p.m.
The annual Mahomet Auto Fest hosts over 275 antique and classic vehicles in downtown Mahomet. The event will have food vendors, raffles, and the opportunity for you to cast your vote for the Best in Show! We hope to see you downtown!
Friday, July 19 – Saturday, July 27
Carnival rides, car shows and demolition derbies, and fair headliners Dustin Lynch and Dylan Scott lead this years Champaign County fair for 8 days of summer fun! Each day is themed around a particular event or concept, and there's a reason to come back often! Full schedule in the link above!
July 19 at 6:30 p.m.
Great music, all-ages enjoyment, and community wellness partnerships in an open, relaxed environment. The tree-lined, grassy space has hosted thousands of audience members each summer since the inception of OUTSIDE in 2007. This year features Chicago-born, Barcelona-based Alma Afrobeat Ensemble starting at 7:30 p.m.
July 20 at 9:00 a.m.
This area favorite opens again for the season with kids activities, a full orchard, fresh made honey, and a gift shop worth hours of your time. And don't think we wouldn't mention the delicious apple donuts and cider! Come by on opening day to see new additions and revisited favorite spots at this family run farm.