Supporting Local During Coronavirus: Art Coop
April 3, 2020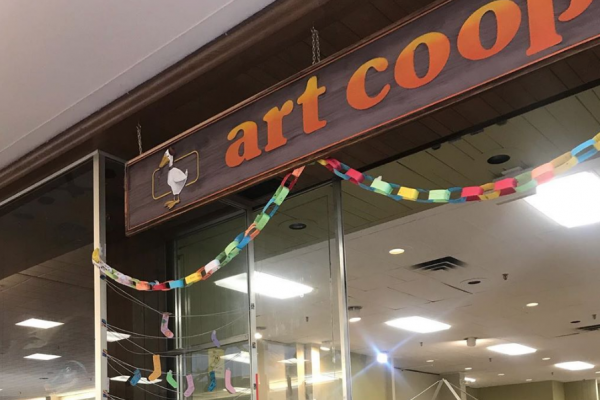 In the greater Champaign County area, local businesses aren't just businesses. Our neighbors, family, and friends are all working to keep things as normal as possible amidst the COVID-19 precautions as outlined by the Governor of Illinois and the Champaign-Urbana Public Health Department. These challenging times serve as a reminder to residents in the greater Champaign County area just how wonderful our local businesses, restaurants, and community truly is. If there's ever a time to embrace #OutsideofOrdinary, it's now.
Art Coop
There's no better way to sum up the Art Coop's approach to COVID-19: "we've been around since the 70s & we'll be back."
With the long-running arts supplies and craft store moving to alternative methods of business, Art Coop is innovating the way people use art to cope with tough times. While you can't visit their Lincoln Square Mall location like usual, the store is making it easy to still get your arts fix from home.
A new online store helps residents and far-away friends shop the Art Coop for their favorite items. Pre-arranged kits make taking up new hobbies or projects easy. Plus, if you know what you like and want something specialized to your interests, you can order custom art kits: choose an age, dollar amount, interests, and Art Coop does the rest!
If there was ever a time to explore an artistic hobby or project you've been putting off, it's now. If you're not the artistic type, but want to support Art Coop, you can find a selection of appeal and miscellaneous items as well. Or, buy a gift card and decide what to buy later!

Local delivery, or as Art Coop calls it, "ding dong ditch delivery" is available on orders for $5. Long-time supporters of the store who live out of town now can receive orders via USPS at cost.
As the state of Illinois starts its All-In Illinois campaign to support people staying at home, we're reminded of the importance of keeping ourselves and others healthy. A big part of that is mental self-care, and art can be therapeutic even if you're not usually the type to pick up a paintbrush or craft supplies.
The message from Art Coop is clear: stay safe and make cool art. You can shop from Art Coop's online store here, which is where you can also find an email address and phone number for questions and inquiries.
Follow Art Coop on Facebook and Instagram.
HOW TO SUPPORT LOCAL BUSINESS DURING THE CORONAVIRUS
As we see a reduction in business to our area, we continue to encourage the support of our local businesses and the hospitality industry. As of Sunday, March 15, it is state-mandated that bars & restaurants close through April 30. Please note that carry-out and curbside pick-up options are available. We are collecting information on these options and posting them here, but also encourage patrons to follow their favorite spots on social media for updates or call for more information.
We will continue to post updates on our Business Updates and Cancellations page as we receive them, but encourage everyone to take guidelines from the Illinois Department of Public Health and the CDC seriously.